Two more Vivo smartphones: Vivo V5 & V5 Plus feature a 20 MP selfie cam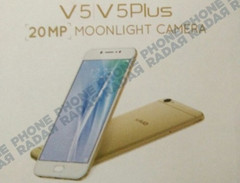 After the release of the X7 and X7 Plus, the upcoming announcement of the Vivo X9 and X9 Plus and the alleged plans for the Xplay 6, Vivo may update their low-cost selfie-phone lineup as well and announce the Vivo V5 and V5 Plus this week.
Vivo is preparing for a busy day on November 16th this week. After a successful launch of the X7 and the X7 Plus selfie phones, the Chinese smartphone manufacturer who is among the Top 3 in China is said to not only launch new midrange X9 and X9 Plus phones, the first ones with a dual-lens front camera but also to release new phones for the entry level Vivo fans in China. Those will be the Vivo V5 and V5 Plus and also target the selfie taking groups thanks to its 20 megapixel front camera.
Recently leaked promo posters reveal a lot of the phone's specifications in advance. The smaller V5 will feature a 5.5 inch display with HD-resolution, 4 GB of RAM and 32 GB of expandable storage. The processor is said to be a Qualcomm octa-core SOC, most likely a Snapdragon 652. The front camera will take 20 megapixel pictures and support Vivo's moonlight flash, that was also present on the X7 and the X7 Plus. The back camera offers 13 megapixels. A 3,000 mAh battery is included, as is an AKG DAC for better audio quality. Typically only LTE-bands used in Asia are supported on this device, which is said to start selling at $293 later this month.