Supersonic Fun Voice Messenger now available for download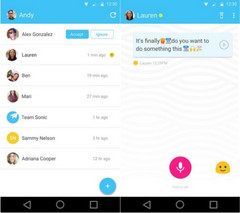 This app comes from the Google Area 120 startup incubator and, in addition to transcribing the words you speak, it also recognizes words that have a corresponding emoji and adds the symbols to the ongoing conversation.
Yesterday, Google's Area 120 incubator released its first app, the iOS-exclusive Uptime. Now, Android gets its first app that has been cooked inside the startup incubator backed by Google, namely Supersonic Fun Voice Messenger.
Leaving the rather strange name aside, Supersonic Fun Voice Messenger is a straightforward messaging app with voice support. The user just needs to press the microphone button, speak, and wait for the words to show up in the messenger's window. Even more, the app recognizes the words that have an associated emoji and adds the graphic symbol into the conversation. In addition to the written message, the app also sends the audio copy to be played along.
Supersonic Fun Voice Messenger seems to be more of an experiment for now since its Google Play page reveals that the current version number is 0.4.3. This app needs at least Android 5.0 Lollipop and has been installed by less than 100 people so far. After receiving 19 user ratings, its score is 4.1/5 stars.