Samsung launches full Bixby Voice capabilities in the US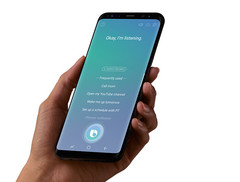 After a one month early access program, Bixby Voice is now receiving a full launch for the US market. Samsung is hoping that the deep integration with their applications will allow users to seamlessly switch between voice and touch input when using their phone.
Bixby Voice has been available to over 100,000 members of the Bixby Early Access Program since mid-June. After a month-long trial, Samsung has decided that voice commands are now ready for a full launch to all users of the Galaxy S8 and Galaxy S8+ in the United States.

Samsung created controversy when they introduced their Bixby digital assistant, with consumers asking why they needed a new voice assistant and a dedicated button when they already had Google Assistant. Developers even went as far as finding ways to remap the Bixby button to perform other functions, prompting Samsung to attempt to lock-down Bixby functionality.

Samsung is hoping that Bixby's deep integration with their own core applications, and the ease of switching between voice and touch input, will lead customers to believe Bixby to be more powerful than Google Assistant. Although, with developers currently winning the battle for button remapping, Samsung may discover that not as many customers use Bixby Voice as they would have liked.