Samsung Galaxy S10e (lite version) gets leaked pics and specs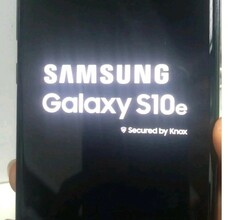 The "mini" version has been missing for quite a few years from the Galaxy S roster, but it looks like Samsung is finally bringing it back with the S10 family. The latest leaks depict a slightly smaller 5.8-inch screen with a punch-in selfie cam and thin side notch, plus a fingerprint sensor mounted on the power button. Additionally, the S10e will be the only model to come in Canary Yellow.
Samsung is supposed to officially unveil the Samsung Galaxy S10 smartphone lineup at MWC in late-February, but, thanks to all the recent leaks, we almost know all the specs and the design for each of the models. Previous rumors were claiming that the S10 family would finally get a "mini" version that was so popular with the first few Galaxy S generations. According to the latest Weibo leaks, the S10 lite version will officially be named S10e and this information is also supported by the Taiwanese NBTC certification agency.

Spec-wise, the Galaxy S10e will sport a smaller 5.8-inch screen, and it looks like this model will not be getting an in-display fingerprint sensor. Instead, it will have a fingerprint sensor embedded in the power button. There is no notch in the upper side of the screen, as the selfie cam features a punch-hole design, but it looks like a thin notch will be added on the right side. Furthermore, the S10e is rumored to be the only version to be launched with the Canary Yellow color option.

The entire Galaxy S10 family including the regular S10 model, the S10+ and the S10e is expected to be unveiled on February 20 at MWC and preorders will start on February 21.