Samsung Galaxy C7 Pro hits FCC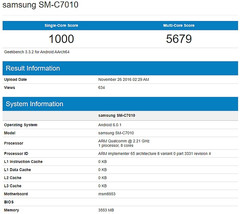 Not long after its appearance on Geekbench, this 5.7-inch handset surfaces at FCC. The filing reveals a 3,300 mAh battery, but Samsung still has to make the official announcement, so everything should be taken with a grain of salt for now.
The first time we heard that Samsung has started working on the Galaxy C7 Pro handset was a few months ago, thanks to an exclusive report by SamMobile. Unfortunately, the initial rumors mentioning that the device would launch this December turned out to be inaccurate. Now, after some leaked specs and images and an appearance at Geekbench, we see this premium mid-ranger surface at FCC.
Less than a week ago, the Samsung Galaxy C7 Pro also got its certification from the Wi-Fi Alliance. The FCC filing does not reveal any specs, except the capacity of the battery - 3,300 mAh. However, most details have been mentioned by earlier rumors so far - a 2.2 GHz octa-core processor, 4 GB RAM, 64 GB internal storage, a 5.7-inch Super AMOLED display with 1,920X1,080 pixels, as well as 16 MP cameras on both front and back. Sadly, the handset is expected to launch running only Android 6.0.1 Marshmallow.
For now, the launch of this handset is expected to occur next month. However, remains to see if Samsung delays it once again or not. After all, unveiling the Galaxy C7 Pro at CES 2017 would be the smartest choice.