Review External Graphics Cards for Laptops
For the original German review, see here.
Test results about external graphics cards have circulated and have spread via the Internet for many years. We will systematize and impartially evaluate the information and make an interesting topic of mobile gaming understandable.
Connectivity and Preconditions
Similar to replaceable graphics cards connected via MXM, not all notebooks allow connecting an external graphics card since most interfaces do not have PCIe architecture and do not achieve the required bandwidth. For example, the bandwidths of USB 2.0, Firewire, SD card slots, etc., are too low. USB 3.0 could achieve a high transfer rate, but does not have its own PCIe architecture. Separate graphics drivers would be required for each notebook in order to use an external graphics card. Therefore, it is also not possible to connect it via this widespread interface.
So, how to create a PCIe connection? The following interfaces can be used:
ExpressCard:
A connection via ExpressCard slot is most common. It supports a bandwidth of up to 5 Gbits - older device from before 2009 achieve 2.5 Gbits. Compared to USB 3.0, this standard has a PCIe x1 connection and so, allows connecting graphics cards. Because of its size and the available peripherals, less and less new laptops feature this slot.
mPCIe:
The mPCIe slot is seldom used to connect graphics cards. It is usually used for the WLAN or Bluetooth module. Unfortunately, this slot is on the underside of notebooks and the manufacturers often do not solder the important PCIe connection. The mPCIe slot features a PCIe x1 connection and a USB 2.0 connection, but the latter is sufficient for "usual" usage.

Thunderbolt:
Thunderbolt was developed by Intel in cooperation with Apple. It delivers, since the end of 2013, a bandwidth of 20 Gbits with an x4 PCIe connection. Thunderbolt is currently the fastest interface for connecting an external graphics card. Because of the complexity of the interface and as only few adapters are offered, the price of a graphics adapter is extremely high in comparison.
Contrary to native PCIe slots with 16 lanes, the interface mentioned above only feature an x1 or x4 connection. First of all, this means that the bandwidth is much lower. Then the question arises whether the bottleneck effect is so big that external graphics cards cannot outperform the internal graphics of a laptop. In early tests, a connected graphics card would often not pass. Meanwhile a lot has changed - but several things did not. In order to achieve a significant performance gain, we will consider special types of notebooks. They meet certain requirements that allow the connected graphics card to use its complete bandwidth. If your type of notebook is not listed, this does not mean that it is not possible to connect a graphics card. However, the performance gain might be limited and the installation could be quite time-consuming.
Type 1
Type 2
Type 3
Type 4
CPU
Intel Core 2 Duo
Intel Core

i

series
Intel Core

i

series
Intel Core

i

series

internal

graphics card
Intel HD 4500
Intel HD, Iris
possibly*
possibly*

further

graphics card (internal/dedicated)
-
-

any

NVIDIA card

any

AMD card
* Most CPUs of Intel's Core i series feature an integrated graphics card. However, it is not listed by the operating system.


It is especially easy to connect another graphics card to the first two types, since no preparatory work is needed and a high performance gain can be expected.
Type 3 (possibly) and Type 4 need some preparatory work and have to be discussed separately. Examples of implementations and experience are available in this English Forum.
Finally, we want to discuss briefly the other notebook types in this chapter. Notebooks with a Thunderbolt interface are a category of their own. You can always expect a performance gain on these, but installation sometimes requires an enormous effort. In addition, all older notebooks, which either feature weak internal graphics cards or cannot keep up with current standard office notebooks; belong to the other types. Seen relatively, you can also expect a big performance gain here.
So far, we know which interfaces are compatible and which hardware the notebooks needs. Only one question remains: Which graphics card?
Graphics Cards
One thing has to be mentioned before we turn to the manufacturers: If you connect another graphics card, it could happen that the notebook does not provide memory for the allocation of it and displays "Error12" in the device manager. Certain Linux distributions and setups allow deactivating a graphics card. This approach is very experimental and requires special "know-how" and willingness to take risks. The forum mentioned above discusses such problems.

NVIDIA
If you do not have a type 1-4 laptop and it does not have a Thunderbolt interface, you should select NVIDIA.
The release of the Optimus driver, known for switching between internal graphics cards (here), also brought a positive side effect for external graphics cards.
In case of a connection via an x1 interface, data for the graphics card will be compressed and the graphics card itself decompresses them again. Because of the high performance of the graphics card, the performance loss is low despite having only a fraction of the bandwidth. All graphics cards with Fermi architecture and newer since the GT 4xx are supported. Further, these graphics cards allocate the memory of the notebook in a way they will have sufficient memory.
AMD
Because of the advantages of Nvidia's Optimus driver, you should only consider AMD cards if there is a Thunderbolt interface. Here, AMD cards achieve very good results in reviews.
Manufacturers of external graphics cards
So far, we know the requirements of the notebook and suitable graphics cards. Let us turn to the manufacturers of the adapters and compare them.
| | | | | | | |
| --- | --- | --- | --- | --- | --- | --- |
| | Firmtek | HWtools | Magma | OWC | Sonnet | VillageTronic |
| Thunderbolt | yes | only with adapter | yes | yes | yes | only with adapter |
| mPCIe | no | yes | no | no | no | no |
| Expresscard | no | yes | yes | no | no | yes |
| Case | yes, but too small for a graphics card | +$60 | yes | yes, but too small for a graphics card* | yes | yes |
| Power adapter | no | +$30 (120W) | yes (150W) | no | yes (150W) | yes |
| Price | $199 | from $70 | $499 or $999 | $349 | $499 or $979 | $199 to $279 |
| | | | | | | |
| | | | | | | |
* Graphics cards with the size of two slots and full length
Firmtek:

Firmtek is a rather unknown and new manufacturer of PCIe adapters. So far, user reviews do not exist. Nevertheless, they stand out from the crowd with an aggressive price of $199 for a Thunderbolt solution. A small aluminum case, which is apparently not designed for graphics cards, is included.
HWtools:
HWtools is a good choice for those who like to tinker. You select the printed circuit boards and cables and build your own adapter. If you still own an old power supply and a suitable case for the graphics card, this is the cheapest solution.

OWC:
OWC offers identical adapters from Sonnet for a cheaper price. This model is unfortunately too small for most graphics cards and cannot be connected since it lacks a power adapter. In addition, the PCIe interface does not deliver the full 75 W according to Sonnet. So, be skeptical.

Magma:
Magma has produced PCIe-expansion boxes for ExpressCard and Thunderbolt for many years. Because of the high price, there are only a few applications described on the Internet and hardly any resellers in Germany. The aluminum case can house three PCIe cards and features a temperature-controlled fan.

Sonnet:
Like Magma, Sonnet has produced professional PCIe expansion boxes for a long time. The case also is from aluminum and houses a temperature-controlled fan, too. Sonnet is the only manufacturer producing ExpressCard-to-Thunderbolt adapters. Thus, an eGPU can also be connected to a Thunderbolt device via ExpressCard. We will discuss later, why this could be interesting. In our review, we used a Sonnet adapter as representative for the Thunderbolt interface.
VillageTronic:
VillageTronic belongs to the pioneers of external graphics adapters. The VillageTronic ViDock was already often tested in early reviews. Nowadays, we compare a new model to the Sonnet adapter. The ViDock comes with a 120/200/320W power adapter, and a precisely fitting aluminum case with a height of two slots.
Test Environment
If we stick to our categorization of laptops, our MacBook is a type 2 laptop. We present a Sonnet Echo Express III-D and a VillageTronic ViDockAls as representatives of the Thunderbolt and the ExpressCard class.
| | |
| --- | --- |
| Hardware | |
| Notebook | MacBook Pro Retina '13 (Late 2013) |
| CPU | Intel Core i7 (4558U "Haswell") 2.8GHz |
| RAM | 16 GB |
| Hard drive | 256 GB |
| Internal graphics | Intel Iris Graphics 5100 |
| External graphics | NVIDIA GTX 570 |
| Operating system | Windows 8.1 |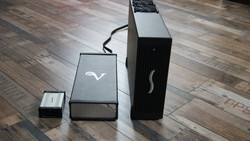 VillageTronic ViDock 4 Plus Overdrive

The ViDock features two 6-pin power connectors and can be connected via ExpressCard. As mentioned above, we need a second adapter - the Sonnet Echo Pro, in order to install it. The case of the ViDock is exactly two slots high (5.08cm; 2 inches), which could cause problems for graphics cards with tall fans. Otherwise the ViDock appears to be very robust and compact.
Installation
1. Turn the MacBook off
2. Connect the Sonnet Echo Pro to the MacBook
3. Turn the laptop on while pressing the "

Alt

" keys (to start Windows)
4. Select the Windows partition
5. Connect the ViDock with the Sonnet Echo Pro immediately after pressing the Enter key.
6. You have to repeat steps 1 to 5 every time the system is booted.
The start-up routine only appears arduous at first glance. It can be remembered easily after some repetition. You can switch between notebook display and external display in the usual way with "Windows key"+"P". With Thunderbolt, a safe removal as is known for USB drives is not possible, but it can be used with a pure ExpressCard connection. In this case, the notebook switches to the internal graphics card.
| | |
| --- | --- |
| Costs | |
| VillageTronic Vidock 4 Plus Overdrive + Shipping | $309 |
| Sonnet Echo Pro | $169.95 |
| NVIDIA GTX570 (Price 2012) | $299 |
| Thunderbolt cable | $39 |
| | ___________________________ |
| | $816.95 |
| | |
| --- | --- |
| Pros | Cons |
| Aluminum case | A further adapter (Sonnet Echo Pro) for $169 and a Thunderbolt cable for $39 are needed |
| Tools are not needed to open the case | Only thanks to the Optimus driver, a x1 connection is sufficient for a performance gain. This does not work with AMD cards |
| You can switch between internal and external display | Start-up routine required |
| Extreme performance gain | Waste heat |
| Easy installation | |
| Can be carried around in a backpack | |
| Online support in case of problems | |
| | |
Sonnet Express III-D


The Sonnet also features an aluminum case and can house three PCIe devices. However, it only has a 6-pin connector. So, an external power adapter is needed.
Installation
The installation is even simpler than the ViDock's. You only need to connect the Sonnet before booting.
Contrary to the ViDock, the Sonnet adapter appears very massive. Because of its fans and the bigger internal space, it is also quieter. Switching to the internal display will also switch to the internal graphics card. Therefore, the external graphics card can only be used for a connected display.
| Costs | |
| --- | --- |
| Sonnet Echo III-D | $979 |
| NVIDIA GTX 570 (price 2012) | $299 |
| Thunderbolt cable | $39 |
| Power adapter (for the second 6-pin adapter) | $20 |
| | _______ |
| | $1337; |
For the price of $1337, you will nearly get a gaming notebook. It remains to be seen, whether there will be cheaper alternatives available in the future. Find a list of things we liked and disliked below.
| | |
| --- | --- |
| Pros | Cons |
| Thunderbolt 2 x4 since February 2014 | Extremely expensive solution |
| A second adapter is not needed | Internal display can only be driven by the internal graphics card |
| Several devices can be connected simultaneously | Tool needed for opening. Some screws are placed unfavorably |
| Extreme performance gain | Only 6-pin connector |
| Quiet and temperature-controlled fans | In our test (Thunderbolt 1), not as fast as the ViDock via Expresscard |
| Not necessary to consider the size of the graphics card | No graphics driver support from Sonnet |
| | Difficult to carry around |
| | |
Benchmarks
| | | | |
| --- | --- | --- | --- |
| | 3DMark06 | 3DMark11 | 3DMark Vantage |
| Intel Iris Graphics 5100 | 8159 | 1443 | 5895 |
| ViDock with external display | 21779 | 5018 | 16762 |
| ViDock with internal display | 17247 | 4965 | 15269 |
| Sonnet Echo III-D (Thunderbolt 1 with 10Gbits) | 17776 | 4759 | 16018 |
The results prove that the external GTX 570 can significantly improve the performance. It is surprising that the ExpressCard connection scores more points than the connection via Thunderbolt. The reason is the data compression of the Optimus driver, while data via Thunderbolt is not compressed. We are excited to see, what Thunderbolt 2 and other graphics cards will bring in the future. In our tests, the MacBook could indeed keep up with gaming laptops, but it failed to reach desktop performance.
Verdict and Looking Ahead
In our tests, we saw that a usual subnotebook could turn into a more than capable gaming notebook under certain circumstances. The problem is that the notebook has to meet many requirements, in order to drive a graphics card via the interfaces mentioned above. One reason is that this upgrade remains a "hack" and was not planned by notebook manufacturers. However, if the requirements are met, the connection pays off a lot.
Although a bottleneck effect cannot be avoided when connecting via an x1 or x4 PCIe connection, it is small compared to the performance gain of the notebook. An example not mentioned in this article is my HP Pavilion TX-2050eg, which achieves 213 points in the 3DMark06 benchmark with its GeForce Go 6150 and just less than 6000 points with the ViDock. Compared to an x16 connection in a desktop computer, 6000 points are low, but they enable the HP to keep up in the office and occasional gaming range.
Looking ahead:
It is a problem that ExpressCard slots are disappearing and alternatives are missing.
Because of Intel's restrictions when it comes to Thunderbolt devices, there will hardly be any new manufacturers of external graphics cards in the future and the price will remain at this level.
The WiGig standard was certified last year and should be available for the first time in notebooks this year. Because of the bandwidth of 2.5 to 5 Gbits, several developers are already developing wireless graphics adapters that allow, for example, connecting to the Microsoft Surface, etc.
I am one of the founders of Notebookcheck, which I dedicated myself with after my studies at the Vienna Technical University were completed. Computers have been an integral part of my daily activities since the time of the Commodore C64 and Atari 1040ST. Besides new technologies such as electric mobility and environmental technology, I am also interested in architecture and construction engineering.