Review Archos 101 Tablet/MID

Tablets are already available starting at around 150.- Euros and seem to be outstripping netbooks bit by bit. Prices and mobile feature are nearly equal. We aren't dealing here with a newly conceived class of devices but rather more of a product segment which Apple once again brought to life despite all doubts. Apple not only set new standards for design, impression and equipment with the iPad, but, above all hit the mark with a well thought-out operating and control system. Using a computer has never been so easy.
The competition on the other hand relied primarily on Google's Android operating system, which is distributed chiefly as an open and free system. But here its also an expression of freedom that different system variants are employed depending on the product and manufacturer. Andoid 1.6 to 2.2 variants are currently in circulation, whereby free and branded variants are distinguished from one another even on identical models. The one or the other is first blessed with an update at different times.
The Archos 101 is one of the lower-priced tablets, particularly compared to its 10" competitors. With prices clearly under 300.- Euros, access becomes very easy on the one hand, and Apple's class-controlling iPad, in the entry-level configuration, is undercut by around two hundred Euros on the other. Our tester has a Cortex A8 processor, a 10.1" display in the 16:9 format, 8GB of flash memory and Android 2.2. A variant with 16 GB of memory is around 50.- Euros more expensive.
Case
The anthracite-colored case is made almost entirely of plastic and doesn't give a particularly high-quality subjective impression. The material doesn't lend itself to much torsional stiffness and it lets out audible responses even when holding it normally in one's hand. It's worst quality is the fact that one can produce slight waving on the screen by applying only moderate pressure to the rear of the case. We didn't like that at all.
But this deficiency in material also has a positive effect as it tips the scales at only 530g. Bulky arms are thus out of the question. But the alu-look coloring is less succectible to fingerprints than many high-gloss variants and further makes for a visually subtle appearance. Two shrouds on the rear, which in fact appear to be made of metal, allow access to the valuables inside. Here one also finds the perforations for the loudspeaker openings. A neat gimmick is the integrated stand-up display which allows for the various angle settings. In the base variant, it makes writing easier and in other positions the tablet can be changed to function as a digital picture frame or video display.
Connectivity
Just as on the Toshiba AC 100, we also find two different USB 2.0 connections on the Archos. One is like those we know from notebooks and can connect up memory solutions, and another is a mini design which allows the Archos 101 to be connected to a PC (Windows, MacOsX, Linux) as an external memory. The tablet thereby appears as an external memory on the PC and can be easily filled with data. A particular characteristic of the otherwise regular USB 2.0 ports is their flipped-over position. USB cables therefore need to be plugged in upside down. A further highlight is the integrated HDMI connection which also qualifies the tester as a video feed on a LCD TV. Though the mini version used here is space-saving, it does require purchasing a special cable since unlike the mini-USB cable, this is not included in the package.
Apart from that one finds a volume regulator, power connection, audio-out and the on/off switch. Unfortunately the webcam, which is integrated into the display frame and has VGA resolution, is hardly usable as it only delivers a coarse picture with significant delay and streaking. Perhaps enough for non-demanding video-phoning. Also in the display frame we find a typical microphone in "hole form".
Wireless interfaces are especially important for a tablet. Here the Archos offers W-LAN 802.11 b/g/n and Bluetooth 2.1+EDR. With that one has the necessary areas for home use covered, but is still reliant on open networks/ hotspots when underway. UMTS for mobile data connection is not currently available.
Apps and Appstores
Only a few apps are pre-installed and cover the base spectrum. Email, browser, picture control, video player and a music program are already on board. Unfortunately, the most important apps didn't work for several days during the testing period. AppsLib, Archos inferface to Appworld, was not usable as the server, perhaps also due to high demand during the Christmas season, was not accessible for several days. In the meantime we managed with AndroidPit and the Camangi Market before we finally did get access to AppsLib. Google's Android Market remains inaccessible at times for users of the Archos 101 (and also other Archos tablets) as the necessary requirements are missing, here for example no GPS and UMTS. Although our impression is that the AppsLib holds the most comprehensive offering of the three alternatives, nothing close to the full-range of the Android Market is available. This is a disadvantage compared to devices which can access this.
A document reader for reading Office-documents is not pre-installed, though it can be found in the AppsLib. Either way, you must yourself configure your system to your own needs and preferences.
For example, Android 2.1 was still installed on the tester, although Android 2.2 was praised as the operating system on the homepage. Using the internal software updates, an upgrade to the current 2.2 version (Froyo) was no problem and was completed within a few minutes.
For fast access, Archos put a user handbook in digital form on the desktop so that new-users can at least find answers to the most urgent questions.
Input Devices
Virtual Keyboard
The input device of the Archos 101 is the capacitive multi-touch screen. Multi-touch gestures are as usual used for zooming, rotating etc. and make using it easier for every-day demands. Folders and apps are opened by fingertip and writing is done with the virtual keyboard which pops up automatically in text fields. The keyboard has a layout that needs some getting used to, but with a bit of practice, and despite its small keys, it works relatively well for browsing and annotating. However, the input doesn't match the fluidity and precision of an iPad. One will probably not want to write longer texts as the keys generally demand too much concentration to avoid making false inputs.
Motion Sensor
An additional control option is offered by the motion sensor which primarily comes into play when gaming. Raging Thunder Lite, a racing game on the tester, is pre-installed and can for example be controlled with the motion sensor. To do so, the user holds the display in front of them and steers with it like a steering wheel in their hand. The most popular game on the iPad/ iPhone which for instance also uses the motion sensor is Doodle Jump. There, in the upright format, one controls a figure over the small islands and tries to keep it from falling into the depths.
Display
The reflective 10.1" display of the Archos has a resolution of 1024x600 pixels and is thus on level with most alternative tablets and netbooks. In contrast to Apple's 4:3 format, the 16:10 format is very compliant particularly with multi-media content since the black bars on films appear much smaller.
But on the other hand, you might miss some lines in vertical direction when reading documents or surfing the net. This often has to be made up for by scrolling.
The weak contrasts and limited viewing angle stability are not conducive for a good film presentation. While viewing it from the side only diminishes the brightness, the picture quickly inverts vertically or gets washed out even with only slight shifts from the ideal position. Especially in movies, a shift of just a few degrees from the named ideal position can even lead to unrecognizable image content. Use as a digital picture frame or as a mini-theater is therefore only reasonably possible as a "hand-held" option.
That, like other applications, should only be carried out indoors as the surrounding light outdoors outshines the picture to the point of unrecognizably. This is due on the one hand to a maximum display luminance of only 173 cd/m2, and on the other to the reflective surface which makes itself known with reflections of surrounding objects. The contrast ratio of 181:1 is in line with the current notebook standard and isn't all that impressive when it comes to displaying pictures or videos. In a direct comparison with the iPad the colors seem pale, and the viewing angle stability substandard.
Performance
An ARM Cortex A8 CPU from Texas Instruments delivers the computing power. This works at a maximum of 1 GHz, though it normally runs at 800 Mhz. A Power VR SGX530 chip is responsible for the graphics. That is about equivalent to the hardware equipment of the current iPad. Besides that, the Archos 101 has over 256 MB of RAM and 8 GB of flash memory.
The hardware combination generally manages well with the system and current apps. Everything runs fine and without any notable stuttering. The only niggle is that it takes a few seconds after starting the system before inputs really achieve a reaction. Users should also occasionally glance at the system monitor and close the apps running in the background. As promised by the manufacturer, HD Videos can be played jerk-free in various formats with a resolution of up to 720p. We tried this out using several of our usual test videos, like for instance Big Buck Bunny.
We didn't have any luck with Adobe's Flash Player 10. Although advertised for Android 2.2 by Archos, this was not installed in our upgrade. Because access to Android Market was, as already mentioned, also denied, we also couldn't install Flash afterwards.
Results of the Javascript Sunspider benchmark differed somewhat depending on the browser. With the pre-installed browser we achieve 8064 points with Android 2.2, and a somewhat better 9491 points with the Dophin Browser HD.
Games
The pre-installed racing game Raging Thunder Lite (demo version) can be played fluidly, but doesn't reach the qualitative level of comparable titles like for instance Real Racing HD on the iPad. Other titles we tested like Farm Frency and Fruit Ninja also ran without any problems, though they are also quite low-demanding. However, the outer-space game Space War HD proved to be touchy; it didn't even want to start at first and led continually to a system crash. We couldn't figure out whether this had to do with Android 2.2 or our system. In such cases one can get the system to restart by holding down the on-/ off switch.
Miscellaneous
Now and again the W-LAN and Bluetooth module wouldn't work after starting. A restart also improved the situation here. But one also experiences this at times on the iPad. Archos also integrated a screenshot function. One can choose this in the settings instead of the suspend mode. Screenshots are done by briefly pressing the on-/off key.
Memory
The memory furnishing is very very scant with a puny 8 GB, of which around 7 GB are openly available. A couple of MP 3 songs, a short film and a few pictures quickly shrink the usable memory space. One can still get along well with this since the memory can be expanded with a Micro SD or SDHC card. Micro SDHC cards with 16 GB are currently available starting at around 25.- Euros and 32 GB starting at around 45.- Euros depending on their speed rating. But external USB 2.0 memories also work well as we for instance could also play films from sticks and harddrives without any problem.
Emissions
System noise and Temperature

Like most other tablets, heat development and system noise also aren't an issue. The Archos 101 works silently and the temperature only just reaches 34°C on one spot under full load.
(+)
The average temperature for the upper side under maximal load is 24.6 °C / 76 F, compared to the average of 30.3 °C / 87 F for the devices in the class Tablet.
(+)
The maximum temperature on the upper side is 26.7 °C / 80 F, compared to the average of 34.2 °C / 94 F, ranging from 21.3 to 53.2 °C for the class Tablet.
(+)
The bottom heats up to a maximum of 33.3 °C / 92 F, compared to the average of 33.6 °C / 92 F
(+)
In idle usage, the average temperature for the upper side is 23.7 °C / 75 F, compared to the device average of 30.3 °C / 87 F.
Speakers
The speakers should at best be rated on the level of netbooks and are only enough for background acoustics. They are high-pitched with hardly any mid-tones and no perceptible basses. You are better off reaching for headphones or separate external speakers.
Battery Life
The power consumption when plugged in ranges from 3.7 watts (minimal brightness, W-LAN and Bluetooth off) to 6.2 watts (on maximum brightness with W-LAN and Bluetooh on) and to 7.3 watts (additional Raging Thunder or 720p video). If the battery is being charged at the same time, then it reaches 8.1 watts. Unfortunately we couldn't ascertain the battery capacity in order to put the values in relation to the achieved runtimes. Still, the current consumption appears to be lower on battery.
Power Consumption
Off / Standby

0 / 0 Watt

Idle

3.7 / 5.9 / 6.2 Watt

Load

6.3 / 7.3 Watt



Because we couldn't use our normal tools on the Android devices, the values given here for the battery life should only be taken here as an indication. They come from practical use and could therefore be very different in individual cases.
Three different energy-savings profiles are available to the user. Powersave, Optimal and Overdrive. On the later the clocking frequency of the ARM CPU is stepped up to 1 GHz. We carried out all the test in the Optimal profile whereby the performance potential is adjusted dynamically.
Using the Archos to surf the Internet via W-LAN, at full brightness, apps installed, music playing and while trying out a whole slew of different things, we got a battery runtime of 481 min. This, as usual, until the remaining capacity is at around 3%. The 10 hours advertised by the manufacturer thus appear to be realistic in "normal" use. Films in various formats and resolutions could be run for 369 min., whereby we concentrated here on formats sensible for the display at under 720p.
Verdict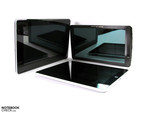 In terms of its features alone, the Archos Internet tablet 101 offers a lot for the money. USB and HDMI open up flexible application fields and Android 2.2 is a solid basis for the target group its aiming for. The mobile characteristics are very good with battery runtimes of around 9 hours and a test weight of 530g.
Unfortunately, its range of use is significantly and unnecessarily limited by its display characteristics, which are marked by a heavy dependence on optimal viewing angles, a brightness which is hardly suited for outdoors, as well as its limited contrast. The qualities of the case also fall victim to its light weight and aren't at all impressive. Furthermore, the internally built-in 8 GB flash memory is only just enough for the system, apps and a bit of data. A micro SD card should therefore be at the top of the list of accessories so that one can make proper use of the multimedia possibilities when on the move.
But overall, the Archos 101 is exactly what one would currently expect at this price. Those who can deal with the disadvantages and want to use the Archos primarily as a multimedia surf-station at home have themselves here a reasonably-priced alternative to some competitor products.
By courtesy of ...