Razer Blade 14 gets Kaby Lake CPU, new 4K display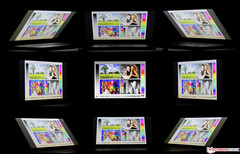 Razer has finally updated the QHD+ IGZO panel on their 14-inch Blade with a new UHD (4k) panel as well as swapped out the i7-6700HQ for its 7th generation Kaby Lake counterpart. The Kaby Lake processor should help battery life, but the 4K display is likely to severely punish the Blade's 70WHr battery.
Razer has just updated their popular 14-inch line of notebooks to current-gen Kaby Lake CPUs and replaced the aging QHD+ touch panel to a newer UHD panel. The FHD model has been updated with the 7th generation i7-7700HQ as well.
The move to Kaby Lake should give a welcome boost to the battery life of the late-2016 Blade, which eked out just over four hours in our WiFi surfing battery test. The hardware decoder present in Kaby Lake should give significantly better battery life over Skylake when watching video, especially 4K. Outside of watching video, you can expect a 5-10% increase in battery life.
The new UHD (4k) display is also an encouraging upgrade, as Razer had elected to use the same 14.1-inch QHD+ IGZO panel for four iterations in a row (the 2014 Blade was the first to use it). While the panel was solid at the time, its use of PWM (pulse-width modulation), poor viewing angles, and grainy appearance make it an inferior panel by today's standards. The downside of the new 4k display is that it will probably reduce battery life significantly more than the existing FHD and QHD+ panels as the 70WHr battery has not been upgraded.