Raspberry announces the new Raspberry Pi 3 Model B+ with same US$35 price as its predecessor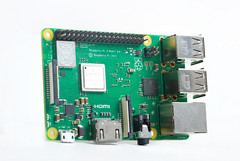 Raspberry have announced the new Raspberry Pi 3 Model B+, an update to the Raspberry Pi 3 Model B that originally released two years ago. The most significant improvements are in networking (wired and wireless) and an increase in SoC clock speed.
The success of the low-cost Raspberry Pi is evident in the 19 million lifetime unit sales, with the Raspberry Pi 3 accounting for nine million of these, despite only being released two years ago. Following earlier trends, this two-year release is an update rather than a full version upgrade, so no version 4 yet.
1.4 GHz 64-bit ARM Cortex-A53 (+200 MHz increase)
Dual-band 802.11ac and Bluetooth 4.2 (previously 802.11n 2.4 GHz)
Faster Ethernet
Power-over-Ethernet (separate PoE HAT)
Improved PXE network and booting from USB
Improved thermal management
Raspberry claims that the wired and wireless network upgrades result in three-times more throughput than the previous model (up to 102 Mbps on 5 GHz AC and 315 Mbps on ethernet). The various improvements made have increased the power consumption noticeably so those upgrading from an earlier model will want to check that their power supply can sustain 2.5 amps.
Raspberry has managed to maintain their US$35 pricing goal, with the Raspberry Pi 3 Model B+ selling for exactly US$35 (1B+ is US$25, 2B is US$35, and 3B is US$35). The Pi 1A+ is also still available at US$20 with the possibility of a Pi 3A+ to replace it in the future.
Broadcom BCM2837B0, Cortex-A53 (ARMv8) 64-bit SoC @ 1.4GHz
1GB LPDDR2 SDRAM
2.4GHz and 5GHz IEEE 802.11.b/g/n/ac wireless LAN, Bluetooth 4.2, BLE
Gigabit Ethernet over USB 2.0 (maximum throughput 300 Mbps)
Extended 40-pin GPIO header
Full-size HDMI
4 USB 2.0 ports
CSI camera port for connecting a Raspberry Pi camera
DSI display port for connecting a Raspberry Pi touchscreen display
4-pole stereo output and composite video port
Micro SD port for loading your operating system and storing data
5V/2.5A DC power input
Power-over-Ethernet (PoE) support (requires separate PoE HAT)
Working For Notebookcheck
Are you a techie who knows how to write? Then join our Team! Especially English native speakers welcome!
Currently wanted:
News and Editorial Editor - Details here