QNAP announces TS-831X quad-core NAS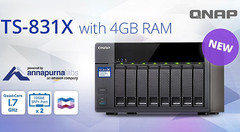 This new cost-effective NAS for businesses has eight hot-swappable bays, up to 16 GB of memory, and uses a quad-core AnnapurnaLabs Alpine processor. It also features a hardware-accelerated encryption engine, SSD caching, and two built-in 10GbE SFP+ ports.
Earlier today, QNAP Systems introduced a new 8-bay business NAS that also comes with an entry-level model with just 4 GB of memory for budget-conscious users. The TS-831X uses a quad-core processor and provides "everything needed for growing businesses looking for backup, restoration, private cloud, and to future-proof their IT infrastructure."
The QNAP TS-831X business NAS is powered by an AnnapurnaLabs Alpine AL-314 processor, a chip clocked at 1.7 GHz that employs ARM Cortex-A15 cores and uses DDR3 memory. The models available are these:
TS-831X-4G - 4 GB RAM (1X4 GB)
TS-831X-8G - 8 GB RAM (1X8 GB)
TS-831X-16G - 16 GB RAM (2X8 GB)
The list of common features is quite long, including two 10 GbE SFP+ ports and two Gigabit RJ45 ports, 3XUSB 3.0, as well as one PCIe 2.0 (x2) slot. The TS-831X can use 8-bay expansion enclosures to scale up to 24 drives.
According to the official press release, this business NAS is already available, but detailed information on pricing and availability should become available on the company's website anytime now.