Pixel 6a rumors: 4 highly intriguing specs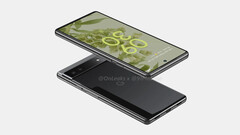 The choices and comments made on this list belong solely to the author.
1. Hello 5G
Last week, MySmartPrice noted three different FCC listings that are closely linked to the brand name "Pixel 6a" according to Canada's Radio Equipment list. Portions of the report indicate that n38 and n41 bands will be supported by at least one model, while mmWave 5G will be reserved for a separate handset.
All models are believed to support Sub6 5G networks with C-band support remaining unclear although likely at this stage. It would be interesting for Google to launch a budget smartphone with mmWave connectivity given that those antennas are usually reserved for higher end flagships with heftier price tags.
2. Goodbye, headphone jack
Late last year, esteemed leaker Steve Hemmerstoffer of OnLeaks (78.6% accurate via AppleTrack), shared detailed renders giving Pixel fans a supposed first look at what to expect from a lower end Pixel 6 model. Key takeaways from the renders included the lack of a headphone jack, a notable reduction in size, and a screen-embedded fingerprint scanner.
This would mark the first time Google has opted to omit the headphone jack on an a-series Pixel phone. The Pixel 6a is believed to be significantly more compact than its Pixel 6 and 6 Pro counterparts, bringing the display size down from 6.4 inches to a satisfyingly ergonomic 6.2 inches.
3. Proficient performance
Like its flagship siblings, the Pixel 6a is said to include Google's Tensor SoC, offering a noticeable leap in performance compared to the midrange Snapdragon chips typically used in low-end Pixel phones.
Back in March, benchmarks for the Pixel 6a surfaced on Geekbench revealing 6 GB of RAM down from the 8 GB of memory found in the flagship Pixel 6 models. The Pixel 6a scored marginally higher on benchmarks than the Pixel 6 and Pixel 6 Pro, suggesting that Google may have modified its design since last fall to optimize performance.
4. Same old snapshots
While Pixel phones are often praised for camera performance, the Pixel 6a will likely leave a lot to be desired. According to leaks, the Pixel 6a will feature the very same Sony cameras found in previous Pixel models. Google has allegedly opted not to upgrade the primary sensor to 50 MP as it did on the Pixel 6, instead offering a three-camera array including a 12.2 MP primary sensor, a 12 MP ultra wide, and an 8 MP hole-punch camera embedded on the front.
The lack of a telephoto camera will undoubtedly make for grainy zoom shots, though Google's computational photography expertise is likely to make the Pixel 6a camera one of the best on the market among Android smartphones.
Self-proclaimed coffee connoisseur and tech enthusiast Brahm Shank is captivated by the impact of consumer tech: "It's profoundly moving when people discover that the phone in their pocket or the tiny computer on their wrist has the power to enrich their lives in ways they never imagined." Apple, Inc. and its unique position at the intersection of technology and the creative arts, resonates deeply with Brahm and his passion for helping people unleash their potential using technology. Over the years, Brahm has held various podcasts - including famed technologist David Pogue of The New York Times on topics such as Big Tech and digital wellness.