Panasonic launches 12-inch Let's Note laptop with Intel gen 8 CPUs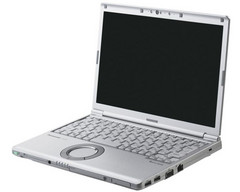 The CF-SV7 packs quite the specs for a mere 12-incheer: up to i7-8650U, up to 16 GB LPDDR3 RAM, SATA + NVMe storage combo, optical drive, and even optional specs like a 4G LTE modem. Prices are on the spicy side, but the models are only available in Japan for the moment, so MSRP could differ if Panasonic decides to bring them to the Western market.
Apart from the ToughBook rugged laptops, which are available worldwide, Panasonic also caters to the local Japanese market with series like Let's Note that cram very powerful specs into sub-14-inch models. These localized series rarely become available for the Western market, but, when they do, the prices tend to get a bit spicy. Take for example the latest Let's Note CF-SV7 model that comes with Intel's Kaby Lake-R CPUs. Even if it is only a 2.2/2.5 lbs 12-inch device, all the high-end specs on the CF-SV7 can push the prices towards the US$4,000 mark.

Panasonic lets users choose between all the Kaby Lake-R CPUs, including the top-tier i7-8650U. There is no discrete GPU, but there are several optional specs that are quite unusual for a 12-incher, making it a bit thicker than the average laptop. The list of specs includes:
• 12.1-inch FHD display
• 8 or 16 GB LPDDR3 RAM
• optional storage combo made of up to one 512 GB SATA SSD and up to 1 TB NVMe SSD
• optical disc drive (CD/DVD burner or Blu-ray reader + DVD burner)
• WiFi + Bluetooth 4.1 + GbE jack
• optional 4G LTE modem
• SD card reader
• connectors: USB 3.1 Type-C (Thunderbolt 3), 3 x USB 3.0 Type-A, HDMI, VGA, 2 x audio jacks
• S battery pack that lasts 14 h or L battery pack that lasts for up to 21 h

Prices start at US$2,300 and may go up to 4,000 with all the optional and high-end specs. Of course, all this is converted from Japanese currency, so the prices might not reflect the actual MSRP these devices could get on the US market.