OC'd Threadripper 2990WX beat 5.0GHz and topped Cinebench scores...with caveats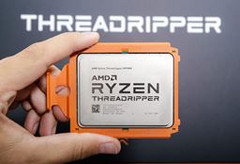 One of the new Threadripper CPUs beat the as-yet unreleased 28-core Intel "HEDT" chip previewed at Computex for Cinebench scores. In addition, it was overclocked to 5.1GHz while doing so. Unfortunately, as with the Computex performance, the conditions involved were not conventional.
AMD'S Threadripper 2990WX is a 32-core CPU with 64 threads that (normally) runs at up to 4.2GHz. However, Tom's Hardware has reported that the processor has been overclocked to 5.1GHz. This exceeds the 5GHz overclock in an as-yet unnamed 28-core Intel chip demonstrated at Computex 2018.
This speed allowed the Threadripper to post a Cinebench R15 Multi-core score of 7618. It comfortably beat that of the mystery Intel chip's score of 7344. However, as with this feat, there is a considerable and unavoidable 'but' involved.
We now know that Intel's Computex showcase required an industrial-grade water cooler to sustain the 5.0GHz run. Similarly, the Threadripper 2990WX was maintained at 5.1GHz using a liquid-nitrogen-powered cooling solution. For comparison, a stock 2990WX posted a Cinebench R15 score of 5089. On the other hand, this still beats the highest score associated with the Intel Core i9-7980XE (4136). This upcoming CPU is regarded as the 2990WX's nearest rival.
Therefore, it appears that the AMD chipset may well be ahead in many respects on release. In terms of using it for extreme overclocking, however, it may be best to have a liquid nitrogen supplier's contact details near to hand.