New video demonstrates USB 3.2 with transfer rates of up to 20 Gbps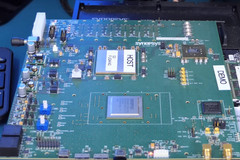 USB is about to get more complicated in the next couple of years. Now that USB 3.1 Gen. 2 is almost four years old, a Californian company is ready to introduce the world to USB 3.2 and has even demonstrated how fast the new standard will be through video. If all goes well, USB 3.2 could provide similar transfer rates as Thunderbolt 2 or twice that of USB 3.1 Gen. 2.
In July of 2017, we reported that the core specifications for USB 3.2 were nearing finalization with a promise of 20 Gbps transfer rates. The proposed standard was eventually set in stone two months later in September 2017. Perhaps the most noteworthy aspect of USB 3.2 is that existing USB 3.1 Gen. 2 cables would benefit from the faster speeds of USB 3.2 without having to purchase any new cables.
Now almost a year later, Californian tech company Synopsys has assembled a working USB 3.2 prototype running on a Windows 10 PC for demonstration purposes. Since a proper USB 3.2 external drive is not yet widely available, however, the Windows PC was connected to a Linux computer acting as an external drive via a USB 3.2 connection and host controller. As the video below shows, speeds are essentially double that of USB 3.1 Gen. 2.
No commercial products have been announced with USB 3.2 as of this writing and the earliest we can expect any to ship would be 2019. In the meantime, more and more laptops have begun adopting Thunderbolt 3 with transfer rates of up to 40 Gbps compared to USB 3.2 (20 Gbps), USB 3.1 Gen. 2 (10 Gbps), USB 3.1 Gen. 1 (5 Gbps), and USB 2.0 (480 Mbps). While Thunderbolt 3 will indeed still be the faster option, it still requires dedicated hardware controllers and Thunderbolt 3-compatible USB Type-C cables that may increase costs for both OEMs and consumers.
Working For Notebookcheck
Are you a techie who knows how to write? Then join our Team! Especially English native speakers welcome!
Currently wanted:
News and Editorial Editor - Details here

Source(s)