MSI Summit E13 Flip Evo | Determined to Succeed
MSI Summit E13 Flip Evo: Perfection in every detail for your business success
The pandemic has brought new challenges in almost every sphere of human endeavor, forcing us to rethink and restrategize the way we work. People are more reliant on their mobile devices, particularly laptops, than ever before which, while good in a way, presents new complexities on its own.
Most business laptops on the market today do not offer a holistic package of unhindered mobility, processing power, battery life, and something that is often ignored in this segment — a good design aesthetic.
However, all that changes now. The time has come for the next chapter in business productivity.
Meet the MSI Summit E13 Flip Evo
The Summit E13 Flip Evo, based on the Intel Evo platform, offers unhindered Intel 11th generation Tiger Lake CPU performance, superfast online connectivity thanks to Wi-Fi 6E - the first in any commercial laptop, a long battery life up to 20 hours, an extremely quiet noise profile, and a whole ecosystem of accessories including the MSI Pen to take your productivity to greater heights.
MSI will also be soon introducing the Summit E16 featuring the latest NVIDIA RTX 30 series Laptop GPUs, making it the first business convertible to offer a discrete graphics card.

In this article, we will look into how the MSI Summit E13 Flip Evo can give some much needed stimulus to your productivity all while making a lasting impression with its aesthetically designed 16:10 Golden Ratio display.
Your perfect business companion
Tackling modern business challenges requires an all-encompassing approach that brings together diverse aspects such as design, hardware, battery life, and connectivity. The MSI Summit E13 Flip Evo performs this synergy with élan and panache.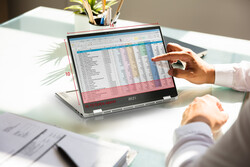 Every aspect of the MSI Summit E13 Flip Evo, right from the MSI logo to the display and even the lid, is made to conform to the golden ratio of 1.618. Maintaining the same golden ratio design guideline across aspects of the device gives a sense of proportion and harmony. Everything seems so coherent, which makes working on the Summit E13 Flip Evo a true pleasure. The extremely slim bezels help maximize the viewing area of the 13.4-inch 16:10 display and the added vertical area helps you see more of the content without having to scroll frequently.

The chassis is processed by CNC milling, which ensures a high precision yet smooth finish. The unibody design of the Summit E13 Flip Evo, available in a choice of Pure White and Ink Black color options, is just 14.9 mm thick and weighs only 1.35 kg, thereby enabling sleekness and portability like no other. This is one laptop you would want to flaunt while carrying around.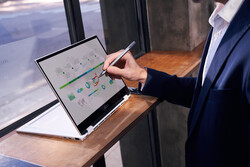 The Intel 11th gen Tiger Lake platform offers unprecedented levels of performance for business and productivity applications. The Summit E13 Flip Evo is powered by the Intel Tiger Lake Core i7-1185G7 processor that is up to 1.5x faster than the previous generation while helping conserve battery life. The Core i7-1185G7 also features Intel's latest integrated graphics solution, Iris Xe. Despite being just 14.9 mm thick, the MSI Summit E13 Flip can allow for longer, sustained utilization of the Core i7-1185G7's 28 W TDP.

Battery life is a critical factor in maximizing productivity on the move. The MSI Summit E13 Flip Evo addresses this issue by offering a large 70 Wh battery, which is about 50% larger than most 13.4-inch business convertibles on the market today. The large battery capacity can offer up to 20 hours of battery life on a single charge while MSI Center's Battery Master feature ensures battery longevity via an AI Charger mode. What's more, MSI's fast-charging technology can charge the battery to 60% in just 48 minutes. You can get up to 2.5 hours of battery life with just a 15-minute charge.

Work from home just like it's the office
With many businesses opting for remote work these days, it is necessary that your business laptop also adapts easily to the new work culture. The MSI Summit E13 Flip Evo blends the versatility of a convertible with modern I/O and storage technologies to ensure that your work goes unimpeded no matter where you are.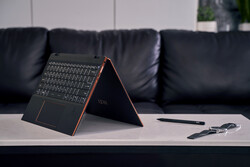 The Summit E13 Flip Evo is a convertible device that can easily adapt to the way you work. Apart from the traditional laptop mode, the device can also be used in desk, tablet, and tent modes as well.
No matter which mode you choose, the FHD+ touch display with wide-viewing angles and MSI Pen help you stay productive and entertained throughout.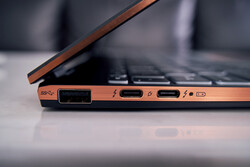 Thanks to the Intel Tiger Lake platform, the MSI Summit E13 Flip Evo offers superfast PCIe Gen 4 SSD NVMe SSD storage of up to 2 TB that enables transfer rates at over 7.88 GB/s. So, whether you are copying and moving large files or an assortment of file types and sizes, the MSI Summit E13 Flip Evo can save you a significant amount of time, which can be utilized towards real productivity.
The Summit E13 Flip Evo also offers an excellent port selection, including two full-speed Thunderbolt 4 USB4 Type-C ports for connecting a diverse range of peripherals. The notebook also offers microSD card expansion in a tray slot that handily complements internal storage without dust ingress.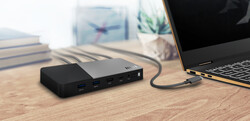 Want to increase productivity even while working away from the office? The MSI USB-C Docking Station Gen 2 can turn the Summit E13 Flip Evo into a highly capable and even smarter workstation by supporting up to three external 4K monitors while adding an additional five USB ports along with an RJ-45 LAN port. The MSI USB-C Docking Station Gen 2 is made with demands of IT in mind and supports PXE Wake-on-LAN and MAC address passthrough.

Enjoy unperturbed meetings and effective collaboration
Connectivity is of paramount importance in today's world. With business requirements that demand secure communication and file sharing, you can be confident that the MSI Summit E13 Flip Evo is not only geared for uninterrupted connectivity but also fosters collaboration like never before.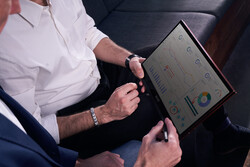 The MSI Summit E13 Flip Evo is the first commercial laptop to be equipped with the latest Wi-Fi 6E standard. Wi-Fi 6E is not only three times faster than Wi-Fi 5 but also offers a dedicated 6 GHz channel that drastically reduces congestion.
The notebook also supports Microsoft's Modern Standby feature that allows intelligent background task management, instant wake, and quiet operation while ensuring longer battery life — a near smartphone-like experience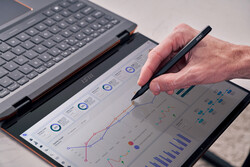 The Summit E13 Flip Evo's touchscreen enables effective collaboration, which is further augmented by the MSI Pen. With support for the latest Microsoft Pen Protocol (MPP 2.0), the MSI Pen, which was awarded the 2021 CES Innovation Award, is a great accessory to maximize productivity and it lends a personal touch to your business meetings. The MSI Pen offers USB-C charging, 4,096 levels of pressure sensitivity, up to a 166-degree tilt, and a choice of fiber and POM pen-tip types. It supports features like 10 mm hover preview and can also be used as a presentation remote via Bluetooth.
Security for the modern office
The ever-evolving nature of malware means that businesses have to be a cut above in order to safeguard their data. The MSI Summit E13 Flip Evo is built to offer a robust, secure, and a highly privacy-focused computing experience that can be easily configured to the needs of your organization.

The Summit E13 Flip Evo is MIL-STD-810G certified to ensure reliability even in unconventional operating conditions. MSI's gamut of reliability tests includes altitude, temperature, and humidity changes, mechanical vibrations, dust ingress, and more.
Check out MSI's dedicated MIL-STD-810G page to know more about how these tests are conducted and their implications in offering a reliable and durable computing experience.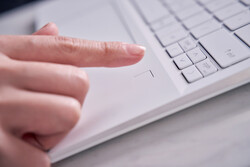 The IT department can have peace of mind in knowing that the Summit E13 Flip Evo supports Intel security features and easy deployment and configuration via Microsoft AutoPilot. A trusted platform module (TPM) enables hardware-based data encryption. The laptop fully leverages Windows Hello biometric login with IR camera or fingerprint ensuring that only intended users get access to the device. USB port and SD card lock take the worry out of unauthorized physical access to business data.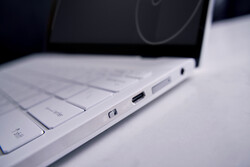 The Summit E13 Flip Evo also removes all possibilities of webcam hacking via a triple-layered webcam protection system. An alert light notification clearly indicates if the webcam is in use while the dedicated F6 key enables easy webcam turning on or off. This F6 key can only turn on the webcam when the camera lock switch on the right side is opened.
The very nature of work has changed quite significantly in the past year or so. Businesses are increasingly opting for remote work keeping in mind employee and customer safety. These changes have prompted the computing industry as a whole to rise up to the demand for solutions that offer excellent mobile performance and always-on connectivity.

No matter the nature of your work, you can count on the MSI Summit E13 Flip Evo to be your trusted companion in meeting your business and productivity needs now and in the near future.
Pricing and availability
The MSI Summit E13 Flip Evo can be purchased on Newegg. The following SKUs are available:
MSI Summit E13 Flip Evo | Determined to Succeed