LG G6 might adopt a replaceable battery and iris scanner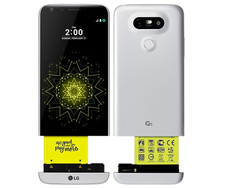 Early Next year LG is expected to unveil a successor to the G5. While most likely not adopting a modular design anymore, LG will keep the battery replaceable and adopt an iris scanner, according to a report from South Korea.
Not many smartphone manufacturers still keep producing smartphones with a replaceable battery. This may be one reason why LG is said to stay on track and offer replaceable batteries for the LG G6 as well, which is due to be unveiled early next year during Mobile World Congress in Barcelona. According to the Korea Herald, LG also decided to keep the battery replaceable because of safety issues, a recurring theme since the Samsung Galaxy Note 7 disaster, a few months ago.
However, LG will need more than a replaceable battery and a new design to make people want to buy the G6 next year. So even though LG apparently decided to drop the modular approach they only started with the G5 this year, they are determined to integrate innovative features like an iris scanner and other features, "that have never been available on an LG phone before". LG will also offer an alternative to Samsung Pay and most likely call it LG Pay. Meanwhile LG G5 users are reporting that the announced Android 7 update is available when they fire up the LG companion software LG Bridge.