Huawei: Honor set to announce a new smartphone with Dual-Cam at CES 2017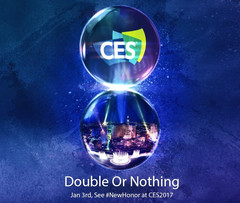 According to new posts on HonorGlobal's Facebook and Twitter pages, Huawei will release a new smartphone with dual-camera during CES 2017 in January of next year. Most analysts expect a global release of the Honor 6x.
Huawei recently started their #DoubleOrNothing campaign on its HonorGlobal Facebook and Twitter pages that is said to raise awareness for a new smartphone that Huawei is set to release during CES 2017 in early January of 2017. The campaign suggests, that the new phone will feature a dual camera on the back of the phone. Most analysts agree, that Huawei might announced the global release of the Honor 6x phone, that debuted in China more than two months ago.
The Honor 6x is a lower midrange phone with Kirin 655 processor. The dual-camera consists of a 12 megapixel camera and a second 2 megapixel depth sensor. The 5.5 inch display features Full-HD resolution and there will be 3 GB of RAM and 32 GB of storage. The battery on the China version of the Honor 6x offers 3,040 mAh of capacity. Pricing is expected to be around $200 but we will know more during CES 2017 in less than two weeks.