HTC U Series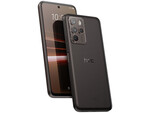 Processor:
Mediatek Mediatek Helio P10 MT6755, Qualcomm Snapdragon 652 MSM8976, Qualcomm Snapdragon SD 630, Qualcomm Snapdragon SD 636, Qualcomm Snapdragon SD 7 Gen 1, Qualcomm Snapdragon SD 710, Qualcomm Snapdragon SD 821, Qualcomm Snapdragon SD 835, Qualcomm Snapdragon SD 845
Graphics Adapter:
ARM Mali-T860 MP2, Qualcomm Adreno 508, Qualcomm Adreno 509, Qualcomm Adreno 510, Qualcomm Adreno 530, Qualcomm Adreno 540, Qualcomm Adreno 616, Qualcomm Adreno 630, Qualcomm Adreno 644
Display:
5.20 inch, 5.50 inch, 5.70 inch, 6.00 inch, 6.70 inch
Weight:
0.142kg, 0.145kg, 0.169kg, 0.17kg, 0.175kg, 0.18kg, 0.185kg, 0.188kg, 0.205kg
Price:
300, 349, 449, 450, 500, 600, 749, 799, 800 euro
price: 74%, performance: 84%, features: 85%, display: 84%, mobility: 84%, workmanship: 82%, ergonomy: 84%, emissions: 95%
HTC U Play
The HTC U Play is part of an HTC's new 2017 family of phones. The overall design of the handset is one of the HTC U Play's key appeals. It is made of metal and glass but has a smoother, more rounded shape. HTC calls it "liquid surface" design. The curvy glass back distorts reflections in quite a liquid-like fashion. The off-white version of the smartphone also has a pinkish, almost pearlescent tint to it, which makes it much funkier-looking than the average white phone. The HTC U Play is also available in pink, black, and blue. To protect the 5.2-inch 1080p Super LCD display, the HTC U Play uses the latest Gorilla Glass 5. It can survive a fall onto a hard surface from a pretty lofty 1.6 m 80% of the time, where Gorilla Glass 4 is only intended to handle 1 m falls. The HTC U Play's screen has a light texture of diagonal lines across it. As for hardware specification, the HTC U Play has a MediaTek Helio P10 processor and a solid 3 GB of RAM. Flicking around the interface and diving into apps most people use day-to-day such as Facebook and Chrome feel pretty smooth. However, the HTC U Play runs Android 6.0 Marshmallow rather than the latest 7.0 Nougat version. That means the smartphone has Android's older, simpler notifications system, and no full dual-app multitasking. The HTC U Play has a 16 MP camera on the front and a 16 MP camera on the back. Thanks to optical image stabilisation and HDR mode, night shots with this smartphone still display plenty of detail. There is an extra mode worth a mention which is Zoe. It is a mode that takes a snippet of video whenever the user takes a photo. Also, the front camera is a great selfie camera capable of producing natural-looking photos. For the battery, the HTC U Play has a 2,500 mAh battery. It does not have a quick charging feature since it uses a standard higher-power 2A charger. This could be less convenient if users intend to charge the device for a short period of time. The HTC U Play comes with voice recognition built-in. So it's able to recognise the voice and respond to unlock the smartphone, take or reject incoming calls, snooze or dismiss an alarm, send messages and even begin hands-free navigation. Like the HTC U Ultra, the smartphone comes with an extra feature called the HTC Sense Companion. It is a personal companion who is always learning from the user to offer relevant assistance based on his or her needs. The HTC U Play is another very good phone in the mid range section. It will be suitable for most users who don't need most of the fancy features a flagship has to offer. Hands-on article by Jagadisa Rajarathnam
Specifications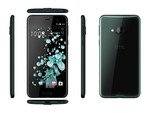 Notebook:
HTC U Play
Processor:
Mediatek Mediatek Helio P10 MT6755
Graphics Adapter:
ARM Mali-T860 MP2
Display:
5.20 inch, 16:9, 1920 x 1080 pixels
Weight:
0.145kg
Price:
449 euro
Links:
HTC homepage
Pricecompare
Average Score:
Average of 48 scores (from 124 reviews)
Reviews
Foreign Reviews
HTC U Ultra
HTC wants to try its hand at making a phone that's larger than its traditional flagship, which results in the HTC U Ultra. A 5.7-inch display may sound large, but it is slowly becoming the norm for flagships. The headline feature of the U Ultra is its dual-screen design. On top of the large QHD 5.7-inch display, there is a 2.05-inch screen sitting alongside the front-facing camera. This smaller display has a resolution of 160 x 1,040 pixels and displays a series of apps. It is similar to the one found in LG's V series flagships. The smaller display is a useful way to see information displayed without interrupting what a user is doing on the main screen. There are options for weather, music, contacts and calendar notifications. It can also be setup to display shortcuts to some of the most-used apps. For example, Spotify integration makes the music app useful if the user often wants to flick through tracks. Another highlight of the U Ultra is a new AI feature called HTC Sense Companion (HSC). It is a personal companion who is always learning from the user and the things user do every day. It can suggest the user to dress warmer and leave a little earlier for work if snow is forecasted; remind the user to take a power bank on longer trips, and even recommend a restaurant when the user is away for the weekend and then book seats for the user. The HTC U Ultra features a brave design choice of embracing a glass back design. HTC calls it a 'liquid surface' design, which combines glass and metal. It can appear both as a single block color and pearlescent, depending on how the light plays off it. The back of the phone is subtly curved and feels nice to hold in the palm, allowing for a better grip. However, The U Ultra is wider than the Samsung Galaxy S7 Edge or other phablets, so those with smaller hands may have some issues with holding it. The HTC U Ultra is available in black, white, blue and pink. The U Ultra features a Super LCD5 5.7-inch display with QHD resolution. Thanks to a pixel density of 513 PPI, it offers crystal-clear pictures. The brightness is also great on the U Ultra while viewing angles are exactly as good. HTC has packed Android 7 Nougat into the U Ultra, with its own Sense UI over the top to give it a unique flavour. Sense UI has a simple interface that makes everything easy to find. Under the hood of the HTC U Ultra there is a top-of-the-range Qualcomm Snapdragon 821 processor backed by 4 GB of RAM. As for storage, it comes in 64 GB and 128 GB options. On the 64 GB HTC U Ultra, even with HTC's software onboard, the user will still get 53 GB to fill up with media and apps. As for the cameras, the HTC U Ultra packs a 12 MP rear camera and a 16 MP front-facing camera. It has the Zoe camera feature. This is a mode that captures three seconds of video around your photo and works in a similar way to Live Photos on the latest iPhone models, enabling users to create short interactive video clips. The 16 MP front-facing camera offers video recording in Full HD as well as auto HDR mode. The HTC U Ultra is a worthy flagship from HTC but like many other HTC flagships, it may not be able to compete with the upcoming 2017 flagships. Hands-on article by Jagadisa Rajarathnam
Specifications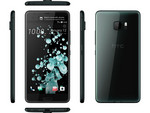 Notebook:
HTC U Ultra
Processor:
Qualcomm Snapdragon SD 821
Graphics Adapter:
Qualcomm Adreno 530
Display:
5.70 inch, 16:9, 2560 x 1440 pixels
Weight:
0.17kg
Price:
800 euro
Links:
HTC homepage
Pricecompare
Average Score:
Average of 114 scores (from 272 reviews)
Reviews
Foreign Reviews
HTC U11
Just when people thought HTC was done releasing phones, HTC surprises us with the new HTC U11 flagship. Running down the whitepaper specifications the HTC U11 is powered by Qualcomm's Snapdragon 835 SoC with an Adreno 540 GPU, a choice of 64 GB of UFS flash storage and 4 GB or memory or 128 GB of flash storage and 6 GB of memory. While the spec may not be impressive when compared with memory beasts like the One Plus 5 and its 6GB or 8GB memory configurations, prudence remains the key here. Since in the Android space there plenty of one-off gimmicks which hailed as groundbreaking but never caught on. So, what's new this time around? For starters that would be Edge Sense whereby squeezing the phone by default activates the camera although this is re-programmable with somewhat endless possibilities. Taking a look at the HTC U11 chassis it should immediately remind users of the U Play and U Ultra although instead of a full metal unibody now the U11 sports an amalgamation of glass and metal, which still proves rigid and sturdy enough although with a glass shine like that this would prove to be a troublesome phone to carry around considering what a fingerprint magnet this would be. Admittedly one cannot deny that the U11 does look great. Next on the checkbox would be the U11's screen while it may not be sporting an AMOLED display featured in Samsung's flagship the Super LCD5 Quad HD screen does remain vibrant with a sharp and crisp look and even scoring 166 percent of the sRGB rating, not only that the display is also quite bright with a rating of 512 nits which actually beats the Samsung Galaxy S8 and Google Pixel XL which comes in at 437 nits and 396 nits respectively. However, moving on to the aural and IO features of the U11 does bring some slight disappointment starting with the headphone jack because there is none, while USB type C is versatile there is only one which means you can't charge the phone while plugging in the earphones. In retrospect, the stereo BoomSound speakers equipped on the U11 is quite impressive, outputting a reasonably quality audio with some oomph to its volume. This actually makes single speaker flagships like the Galaxy S8 inferior and even when pitted against Apple's Iphone 7 it actually does win hands down. Next are the U11's camera setup, sporting a 12-megapixel rear camera the U11 is able to produce stunning shots with somewhat equal footing with Apple, Google and even Samsung however the front facing 16-megapixel camera ended up being a hit and miss incident which is not to say it is bad but just about average. Lastly turning to battery life, the U11 lifespan doesn't really stand out much with a rating of only 9 hours and 38 minutes it was just about average to an hour and a half less of its closest competitor. Bottom line HTC still can produce quality phones even though it lost its crown years ago. Hands-on article by Jagadisa Rajarathnam HTC U11 is a high-end Android smartphone that does basically what most other high-end Android phones do. What makes the U11 stand out is the liquid glass surface on the back. This design is bound to turn heads, and the way to color shifts and changes depending on the angle results in a stunning effect. HTC has always had a penchant for beautiful design and solid build quality, so it's no surprise to see the U11 excels in this area. Instead of a metal construction like it normally employs on its high-end offerings, HTC has opted for metal and glass with the U11. The device features rounded corners, curved edges on the front and back, and an aluminum frame sandwiched between two glass panels. This all makes for a seamless, comfortable in-hand feel. HTC has gone with a more traditional, familiar display on the U11. The device comes with a 5.5-inch Quad HD Super LCD 5 display, with a 16:9 aspect ratio. The quality of the screen itself is fantastic. It's sharp, crisp, has excellent viewing angles, and vibrant colors. Outdoor visibility isn't an issue, but it feels a bit too bright when using it at night or in the dark. In terms of specifications and hardware, the U11 ticks all the right boxes. Under the hood is the Qualcomm Snapdragon 835 processor backed by 4GB of RAM, and overall performance is just as fast and fluid. Touch response and scrolling are excellent and it runs apps and high-end games with no issues at all. Multi-tasking is also nice and quick on this smartphone. Shipping with Android 7.1 is also nice. This gives the U11 a slight edge as neither the Galaxy S8 nor the LG G6 did. The U11 features the same woofer and tweeter combo with the HTC 10, but it has been improved significantly this time around. It is much louder and with better clarity, and HTC is leveraging the entire phone as an acoustic chamber to make this happen. A user can literally feel the audio resonate through the device when holding it in hand. The U11 doesn't come with a headphone jack, but it's completely forgivable because of how good the audio sounds through the USB Type-C port. The USonic earbuds are included in the box too. If a user doesn't want to give up their current pair of headphones, HTC also includes a 3.5 mm to USB Type-C adapter in the box. Using the adapter will give a much better audio experience, as it actually sports a built-in DAC. One additional feature of the U11 is Edge Sense. Using pressure sensors embedded in the lower half of the U11's frame, Edge Sense can detect when a user physically squeezes the phone. With this function, one can turn on the flashlight with Edge Sense, launch the camera (or any app) and take a photo from sleep, or activate the Google Assistant. The U11 is a good addition to the high end category but fall short behind some of its competition. Nevertheless, it still the only phone that offers an unique squeezable function as an input.
Hands-on article by Jagadisa Rajarathnam
Specifications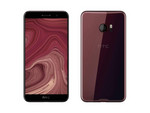 Notebook:
HTC U11
Processor:
Qualcomm Snapdragon SD 835
Graphics Adapter:
Qualcomm Adreno 540
Display:
5.50 inch, 16:9, 2560 x 1440 pixels
Weight:
0.169kg
Price:
749 euro
Links:
HTC homepage
Pricecompare
Average Score:
Average of 202 scores (from 404 reviews)
Reviews
Foreign Reviews
HTC U11 Life
HTC U11 Life with Android One is the next best thing. It's one of the "mid-range Pixel" made under the auspices of the Android One program. There's a lot to like about the U11 Life. At half the price of the HTC U11 or Pixel 2 but with a lot of similar perks, the U11 Life Android One looks great on paper. It runs a stock+ version of Android Oreo, augmented by a full-fledged version of HTC Edge Sense and HTC USonic audio tuning. It comes with guaranteed OS updates for two years and security patches for three via Google's Android One program. Rather than Gorilla Glass wrapped around an aluminum frame like the U11, the U11 Life puts a Gorilla Glass front on top of a polycarbonate frame with an acrylic back panel. Changes in material choice are pretty standard in a mid-range phone. For this phone, it is changed to plastic. It sounds hollow, is very light and scratches much easier than a glass-backed phone. However, the HTC U11 Life has basically the same bezel situation as the flagship U11. The U11 Life uses its large bottom bezel to house capacitive navigation buttons and a solid-state fingerprint scanner. The navigation buttons work fine and can be constantly illuminated or switched off entirely. It's a bit of a shame HTC didn't offer on-screen navigation buttons as an option. The fingerprint scanner is reliable.
There's a microSD card slot in the nano-SIM tray on the top edge of the phone, which lets you expand the 32 or 64GB of built-in storage. Those versions come with 3 and 4 GB of RAM respectively, with the 4GB/64GB version being an online exclusive available only via HTC.com. The mid-range Snapdragon 630 chipset lies at the heart of the U11 Life. While it might have been nicer to see a 660, the 630 is still used to good effect. With its IP67 rating, the U11 Life can withstand submersion in a meter of freshwater for up to a half hour, which is a nice addition to a mid-range phone. Like other U11 models before it, the Life doesn't have a 3.5mm headphone jack. The U11 Life also supports always-listening hotword detection, NFC, VoLTE and Wi-Fi calling, and Cat. 11 download speeds of up to 600 Mbits/s and uploads of up to 75 Mbits/s. The 5.2-inch Full HD display on the HTC U11 Life was a very nice surprise. The Super LCD panel offers rich colors, good dynamic range, stable viewing angles, decent if not exceptional outdoor visibility (in excess of 500 nits). HTC's Edge Sense is a particularly nice addition to the U11 Life. Despite the Android One software experience, HTC managed to get a fully functional version of its squeezable frame technology on board. The HTC U11 Life runs Android Oreo out of the box, with a guaranteed update to Android P and Android Q thanks to Android One. Android One devices are also assured security patches for three years, putting a very healthy shelf life on a mid-range phone.
Specifications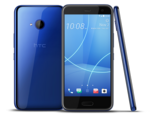 Notebook:
HTC U11 Life
Processor:
Qualcomm Snapdragon SD 630
Graphics Adapter:
Qualcomm Adreno 508
Display:
5.20 inch, 16:9, 1920 x 1080 pixels
Weight:
0.142kg
Price:
349 euro
Links:
HTC homepage
Pricecompare
Average Score:
Average of 78 scores (from 144 reviews)
Reviews
Foreign Reviews
HTC U11 Plus
Specifications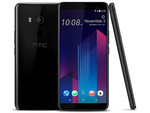 Notebook:
HTC U11 Plus
Processor:
Qualcomm Snapdragon SD 835
Graphics Adapter:
Qualcomm Adreno 540
Display:
6.00 inch, 2:1, 2880 x 1440 pixels
Weight:
0.188kg
Price:
799 euro
Links:
HTC homepage
Pricecompare
Average Score:
Average of 66 scores (from 116 reviews)
Reviews
Foreign Reviews