HP's Whiskey Lake update of the ZBook 15u shows some weaknesses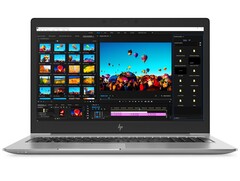 The HP ZBook 15u G6 continues to offer the usual quality in terms of exteriors. However, some weaknesses that ought not to occur persist on the inside. Let's just hope the new AMD GPU can save the day.
It's unusual for a hardware update to offer less performance than its predecessor. However, this is exactly what has happened with the new HP ZBook 15u G6, which can't even make use of the lower energy requirements of the Whiskey Lake CPU. Of course, this is not only due to the processor, but it's still annoying.
Fortunately, the fan noise is a lot more pleasant, so there have been some improvements. The device continues to include a Thunderbolt 3 port as well as all the other features. The manufacturer has a wide selection of display options for this series and we were very pleased by the 4K panel on this test configuration.
The last thing to mention is the price, which, unlike the performance of its hardware, gives the HP workstation a competitive edge. Find out more about our impressions of the HP ZBook 15u G6 in our review. (ZBook 15u G5 on sale now at Amazon)