Google Pixel Series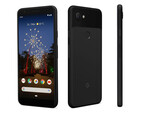 Processor:
NVIDIA Tegra X1, Qualcomm Snapdragon 670, Qualcomm Snapdragon 820 MSM8996, Qualcomm Snapdragon 821 MSM8996 Pro, Qualcomm Snapdragon 835, Qualcomm Snapdragon 845
Graphics Adapter:
NVIDIA Tegra X1 Maxwell GPU, Qualcomm Adreno 530, Qualcomm Adreno 540, Qualcomm Adreno 616, Qualcomm Adreno 630
Display:
5 inch, 5.5 inch, 5.6 inch, 6 inch, 6.3 inch, 10.2 inch
Weight:
0.143kg, 0.147kg, 0.148kg, 0.167kg, 0.168kg, 0.175kg, 0.184kg, 0.517kg
Price:
399, 479, 600, 700, 799, 850, 899, 939, 949 euro
price: 70%, performance: 88%, features: 82%, display: 85%
mobility: 84%, workmanship: 83%, ergonomy: 83%, emissions: 95%
Google Pixel C
Stylish and versatile; the Google Pixel C is a well-crafted tablet with powerful hardware to aid with productivity. Design is kept simple with a minimalist theme and solid anodized aluminium chassis that oozes class when held. The Google Pixel C comes with a full-sized keyboard that connects using magnets and is charged wirelessly when the tablet is shut. Display on the tablet is a 10.2 inch LTPS LCD panel with 308 PPI and a brightness of 500 cd/m². Users will definitely enjoy the clarity and rich colors, which this display even provides in bright surroundings. The Android 6.0 Marshmallow device is equipped with an NVIDIA Tegra XI 64-bit processor, 3 GB of LPDDR4 RAM, a 256-core Maxwell GPU and either 32 or 64 GB of internal storage depending on the selected variant. Audio quality is decent with the stereo speaker setup and the Google Pixel C is equipped with a full array of sensors ranging from ambient light to proximity. Weighing just 0.517 kg minus the keyboard, the tablet will be a joy to carry around even despite the large screen size. Other features on the Google Pixel C are Bluetooth 4.1+HS, dual-band Wi-Fi connectivity, a 8 mega-pixel rear camera, a 2 mega-pixel front camera and the convenient USB Type-C port. Battery on the Google Pixel C is rated at 34.2 Wh.
Specifications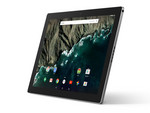 Notebook:
Google Pixel C
Processor:
NVIDIA Tegra X1
Graphics Adapter:
NVIDIA Tegra X1 Maxwell GPU
Display:
10.2 inch, 2:1.4, 2560 x 1800 pixels
Weight:
0.517kg
Price:
600 euro
Links:
Google homepage
Pixel C (Model)
Pricecompare
Average Score:
Average of 70 scores (from 86 reviews)
Foreign Reviews
Google Pixel 2016
Specifications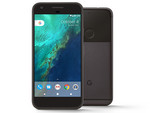 Notebook:
Google Pixel 2016
Processor:
Qualcomm Snapdragon 820 MSM8996
Graphics Adapter:
Qualcomm Adreno 530
Display:
5 inch, 16:9, 1920 x 1080 pixels
Weight:
0.143kg
Price:
700 euro
Links:
Google homepage
Pixel 2016 (Model)
Pricecompare
Average Score:
Average of 42 scores (from 125 reviews)
Foreign Reviews
Google Pixel XL 2016
With the Nexus lineup seemingly discontinued, Google has unveiled its own flagship devices – the Google Pixel, and its larger sibling – the Google Pixel XL. They are nearly identical, except the Pixel XL has a bigger and sharper display, and a larger battery. Picking up the Pixel XL, one would immediately notice the device is encased seamlessly within a sturdy glass-aluminium body with smooth surfaces and easy-to-grip curved edges. The Pixel XL has a larger bezel in comparison to its newly released competitors, such as the Samsung S7 edge and the iPhone 7 Plus. This design seems counterintuitive considering that the Pixel XL has no physical home screen button, only an on-screen one, and all that space is just dead space. Another thing users have to keep in mind about the Pixel XL is that the device is not waterproof. The Pixel XL sports a Quad HD AMOLED 5.5 inch display screen with 534 ppi, which is housed behind a 2.5D Corning Gorilla Glass 4 panel. With the ability to produce 16.7 million colors at 100000:1 super contrast ratio, the Pixel XL is able to convey vivid cinematic displays, even in outdoor conditions. The Pixel XL also comes with a night light setting that tints the screen yellow to reduce eye strain from viewing a bright, bluish display at night. Underneath the hood, the Pixel XL is powered by Qualcomm's brand new Snapdragon 821 chipset alongside 4 GB of RAM. The Pixel XL can also proudly claim to be among the first devices to run on the latest Android 7.1 Nougat out-of-the-box, probably making it the fastest Android smartphone to-date which is no surprise for a Google device. The Pixel XL is packed with a 3,400 mAh battery. Google claims that it can last 7 hours after just 15 minutes of charging. Designed to deliver users a Google-centric experience, the Pixel XL comes with all the services Google has to offer, including the latest Google Assistant, which is only exclusive to the Pixel. Activating the Google Assistant is straightforward. Simply press the home screen button or use the "OK Google" voice command. The Pixel XL comes in two variants, 32 GB and 128 GB of built-in storage, but this may not matter much because in both variants, the Pixel XL has unlimited photo and video cloud-storage via Google Photos. With the Google Keyboard – a GIF integrated keyboard, users can send GIFs in Google's Messenger app, making the Pixel XL more enjoyable to use. The back of the phone features the Pixel Imprint, Google's fingerprint scanner for added user security and services such as Android Pay. It works fast and accurate, and even has the additional perk of pulling down the notification menu by swiping the fingerprint scanner. Perched above the fingerprint scanner is a 12.3 MP camera with dual-LED flash. It is optimized for low light photography and has the ability to shoot 4K videos. While it does not feature optical image stabilization, it uses a combination of the gyroscope and software to steady the videos, and proves to do an amazing job recording videos on the go. Weather or not it will be able to be as good as the typical OIS is still a question yet to be answered. The Google Pixel XL is probably the device for anyone who is willing to spend more to get the best of what Google has to offer. Hands-on article by Jagadisa Rajarathnam
Specifications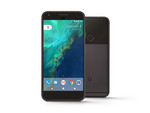 Notebook:
Google Pixel XL 2016
Processor:
Qualcomm Snapdragon 821 MSM8996 Pro
Graphics Adapter:
Qualcomm Adreno 530
Display:
5.5 inch, 16:9, 2560 x 1440 pixels
Weight:
0.168kg
Price:
899 euro
Links:
Google homepage
Pricecompare
Average Score:
Average of 170 scores (from 322 reviews)
Foreign Reviews
Google Pixel 2
The Google Pixel 2 has the best camera quality of any Android phone, and updates like water resistance and a best-in-class processor make it a top pick. The Android Oreo software will get regular updates, and Google's Lens feature taps into Google's vast search database so the user can immediately learn more about the world. Even though it's constructed from aluminum, the back has a story-like finish. It is harsh and textured; strange at first but ultimately, super-nice. It is far grippier in the hand than shiny aluminum and isn't as slippery when sat on a table the same way a glass back is. Neither does it appear to pick up fingerprints. Like the previous Pixel, there is a glass 'shade' just above the metal covering the camera sensor and flash. Aside from adding contrast to the metal, this is where all the cellular and Wi-Fi antennas live. Giving them plenty of space should help connectivity, but it also means there are no antenna bands elsewhere. Hopefully, this glass panel will be less prone to scratching. Like most flagship phones this year, the Pixel 2 is IP67-rated for water-resistance. Another, less desirable, trend Google has decided to follow is the removal of the headphone jack. The user gets a USB-C to 3.5 mm port dongle in the box and there are plenty of 'Made for Google' USB-C headphones coming soon. There is not a whole lot to get excited about with regards to the Pixel 2's screen. As in the first iteration of the device, it is a 5-inch, 1080p AMOLED panel that looks good but is far short of stunning. AMOLED panels are renowned for offering more saturated colors, perfect blacks and better contrast over their LCD counterparts. The panel on the Pixel 2 edges towards the warm side, so the user will likely find that whites will have a slightly orange tinge. Note that Google does not offer any capability to adjust colors on the display, which is annoying if the user prefers a slightly cooler screen. The Pixel 2 does not quite have the huge performance shift of its predecessor, probably because it uses the same Snapdragon 835 platform and 4 GB of RAM as the majority of other 2017 flagships. Nevertheless, it remains speedy in almost every single area. The single biggest reason to choose the Pixel 2 over any other handset is the camera. On paper, the 12-megapixel f/1.8 unit sounds pedestrian. In use however, it captures some wonderfully detailed images that are often much better than those produced by the competition. Video capture is excellent. The camera now uses both EIS (electronic image stabilization) and OIS (optical image stabilization) to help avoid shakiness, resulting in a smoother image. Hands-on article by Jagadisa Rajarathnam
Specifications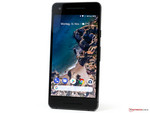 Notebook:
Google Pixel 2
Processor:
Qualcomm Snapdragon 835
Graphics Adapter:
Qualcomm Adreno 540
Display:
5 inch, 16:9, 1920 x 1080 pixels
Weight:
0.143kg
Price:
799 euro
Links:
Google homepage
Pricecompare
Average Score:
Average of 110 scores (from 248 reviews)
Foreign Reviews
Google Pixel 2 XL
The Google Pixel XL 2 is a fantastic phone with a stunning camera crafted by Google. While the Pixel 2 sticks to a familiar blueprint, the Pixel 2 XL mimics the Samsung Galaxy S8, iPhone X, and LG V30 by slimming down the bezel and extending the display. The Pixel 2 XL has an 18:9 display with rounded corners. But unlike those devices like Galaxy S8, there is still a prominent bezel around its sides. This makes the Pixel 2 XL feel big, and more comparable to the Galaxy Note 8 in terms of size. The bezel serves a purpose in the Pixel 2 XL. Above and below the display sit decent-sounding, front-firing stereo speakers, plus Google has added pressure-sensitive edges that will invoke the Assistant with a squeeze of the sides. The back of the Pixel 2 XL is a mixture of glass and aluminum. The aluminum is covered with a coating that gives a chalkboard-like feel; resistive, gripper and slightly textured. It is an excellent finish that goes some way to add the grip lost by the Pixel 2 XL's lack of curves. The Google Pixel 2 XL is powered by a 1.9 GHz octa-core Qualcomm Snapdragon 835 processor and it comes with 4 GB of RAM. The phone packs 64 GB of internal storage that cannot be expanded. As far as the cameras are concerned, the Google Pixel 2 XL packs a 12.2-megapixel primary camera on the rear and an 8-megapixel front shooter for selfies. At 6 inch, the screen on the Pixel 2 XL is the biggest seen on a Google-branded handset since the Nexus 6. Instead of using one of the fantastic Super AMOLED panels from Samsung, Google has opted for a plastic OLED, or P-OLED, from LG. With a quad-HD+ resolution, there's plenty of detail and movies look great. This screen is not touted as an HDR display, but Google has worked some software trickery to allow it to playback HDR-enabled clips from YouTube, and the extra contrast looks fantastic. One of the biggest reasons to choose a Pixel 2 XL over a Samsung Galaxy Note 8 or LG V30 is the software. Instead of layering Android with bloatware and proprietary apps. Google sticks with a very basic version of Android 8. The user will also get first dibs on the next three big yearly Android updates, something that is unlikely with much of the competition. Like most flagship handsets worth their price tags this year, the Pixel 2 XL is IP67-rated for water-resistance. This means a user can submerge the phone in 1 m of water for about half an hour without any resulting damage. In the Pixel 2 XL, Google has also followed the trend to remove the headphone jack. This might have pushed back many potential buyers but it looks like 'like-it-or-not', this is going to catch on. There is a USB-C to 3.5 mm port dongle in the box and there are plenty of 'Made for Google' USB-C headphones coming soon. The Pixel XL 2 is an Android perfection but it does come in a hefty price tag. Hands-on article by Jagadisa Rajarathnam
Specifications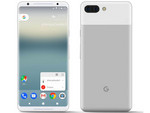 Notebook:
Google Pixel 2 XL
Processor:
Qualcomm Snapdragon 835
Graphics Adapter:
Qualcomm Adreno 540
Display:
6 inch, 2:1, 2880 x 1440 pixels
Weight:
0.175kg
Price:
939 euro
Links:
Google homepage
Pricecompare
Average Score:
Average of 156 scores (from 288 reviews)
Foreign Reviews
Google Pixel 3
The Google Pixel 3 is one of the best Android phones in the current market. With a great camera, powerful hardware specifications, latest Android version and user-friendly design, the Google Pixel 3 is capable of checking all user's requirements easily. The Google Pixel 3 is available in 3 colors, namely Just Black, Very White and Not Pink. The design of the Google Pixel 3 definitely feels a lot more premium than the previous Pixels. It is capable of competing with the high-end smartphones such as the iPhone XS. The glass back of the Google Pixel 3 has a smooth finish. It allows Google to introduce wireless Qi charging and helps retain the IP68 water-resistance rating. To lessen the fingerprint problem, the top of the glass panel is shiny, but the bottom of the glass panel is matte. However, a glass panel is less resistant to drops. Compared with the Pixel 2, the RAM is still 4 GB and the storage amount remained at 64 GB, but the Snapdragon 835 SoC from the Pixel 2 has been replaced by the newer Snapdragon 845 Soc. However, the display is smaller than the Pixel 2's at a 5.5-inch OLED display. The advantage of the OLED screen is that it allows for pixels to be individually lit, which allows the screen to display perfect black. Despite being smaller, it's an 18:9 panel with a thinner border, which looks very modern and up to trend. The smaller screen also makes it comfortable to use in one hand. For camera, the main camera boasts a single lens 12.2 MP with an f/1.8 aperture. The front-facing camera consists of two 8 MP lenses, one with an f/1.8 aperture and a wide-angle companion with an f/2.2 aperture. Pixel 3's image quality has to be reviewed not just looking at the hardware, as Google employs machine learning and A.I. to enhance photography in the Pixel 3. Besides that, Google has also implemented an algorithm to remove the distortion caused by the wider lens. Extra photography features include Top Shot, Super Res Zoom, and Night Sight. The only weakness of the Google Pixel 3 is the barely adequate 2,900 mAh battery while most smartphones come with more than 3,000 mAh batteries these days. However, the smaller screen size and the optimized system could help the smartphone to be more battery saving. As a conclusion, the Google Pixel 3 is a good looking and high-performance smartphone. While it does not come without raising the price tag, it is definitely suitable for users who take a lot of photos and are also looking forward to a premium high-end smartphone which can last a couple of years. Hands-on article by Jagadisa Rajarathnam
Specifications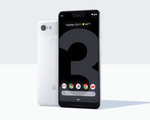 Notebook:
Google Pixel 3
Processor:
Qualcomm Snapdragon 845
Graphics Adapter:
Qualcomm Adreno 630
Display:
5.5 inch, 2:1, 2160 x 1080 pixels
Weight:
0.148kg
Price:
850 euro
Links:
Google homepage
Pricecompare
Average Score:
Average of 112 scores (from 224 reviews)