Formovie Theater UST 4K laser projector hands-on review: Great picture quality at a high price
Projectors are becoming more common in the average home. With this growth in popularity, more companies are popping up hoping to sell a projector for a home media setup. One of the newest is Formovie, a subsidiary of Xiaomi. Formovie sells a small selection of portable projectors, but the company's flagship model is the Theater, an ultra-short throw laser projector that supports up to 4K media.
There is no shortage of competitors from bigger players in the projector market, including UST 4K projectors from Samsung, LG, and Sony. I reviewed the XGIMI Aura, which I think is the closest competitor to the Theater, a few months ago, so I'll be comparing these devices to see which is a better buy.
I've spent several months with the Formovie Theater. Here are my thoughts.
Design and Case
Like most ultra-short throw (UST) projectors, the Theater is fairly large. At 55 x 34.92 x 10.75 cm (21.7 x 13.7 x 4.2 in), it takes up quite a bit of space. Compared to other UST projectors, though, the Theater is relatively compact. For comparison, the Xgimi Aura is 60.6 x 40.1 x 14.0 cm (23.9 x 15.8 x 5.5 in); the Theater is roughly 60% the size of the Xgimi. Considering UST projectors must sit close to the wall onto which they project, a deep shelf or counter is needed for the setup. If space is a concern, the Theater may alleviate some of that anxiety as its shelf can be considerably shorter than one needed for most competitors.
The Theater weighs in at 9.8 kg (21.6 lbs), which is about 1 kg lighter than the Xgimi Aura and on the lighter side of other UST projectors.
Like most other projectors at this price point, the Theater is made out of plastic. It feels well-built and densely constructed with a robust overall quality. The shell feels thick and sturdy. All said, I don't have anything to complain about with regard to the projector's case. It's a well-made machine that should last quite a long time.
The Theater has three HDMI 2.1 ports along the back, one of which supports enhanced audio return (eARC). This setup means the Theater supports the latest media devices, including consoles. However, the projector is limited to 4K at 60 FPS, largely because of the MediaTek MT9629 (more on performance below). There are also a pair of USB-A 2.0 ports, which are good enough for playing 4K media from a flash drive (though HDR content stutters badly), an S/PDIF input, an 3.5 mm audio output, and an Ethernet port. There are enough ports for almost any media setup, although the Theater may be somewhat limiting for Netflix subscribers (more on this below).
Like the Xgimi Aura, there is a key omission: onboard controls. Everything must be controlled via the included remote (except for powering the projector on), which is frustrating. Including simple controls (e.g., volume, input selection) on the unit itself would go a long way in consumer-friendliness. As it stands, you better not lose that remote or you'll be left with an expensive paperweight until you can get another one. As far as I can tell, the remote isn't available for standalone purchase, so you'd have to contact Formovie for one (if they offer replacements at all).
Picture Quality
The Formovie Theater can project 4K images at up to 2800 ANSI lumens. Compared to the Xgimi Aura, the lamp in the Theater is 17% brighter, though it's difficult to see a discernable difference at these levels. Like all projectors, the Theater still suffers with contrast and projecting a bright enough image. It works well in dark environments or at night, but even the slightest bit of sunlight through a slit in the blinds can wash out the image. The surface onto which the image is projected can also make a difference; a dedicated projector screen or flat wall is preferable as any texture shows through fairly easily.
The DLP projector uses a 0.47-inch XP digital micromirror device (DMD) from Texas Instruments (TI). Per TI, the micromirror array is only 1920x1080, but it shifts through four 1080p images at 240 Hz. The resulting image is 3840x2160 at 60 Hz. In my experience, the projector is very crisp, particularly given the size of the images the Theater produces (up to 150 inches). Even at the larger end, the picture remains clear (mostly). There are some caveats, though.
The biggest flaw I found is that the projected image gets blurry along the edges. No matter how I focused the image, the edges always had a smudgy quality to them. This was regardless of the surface behind the image; the border (particularly along the top edge) was never as crisp as the center of the image.
Another issue I encountered dealt with keystone correction. The Theater provides 4- or 8-point keystone correction, and while it works well, there was a bend along the top-right border that I could never straighten out. This is despite setting up the Theater in four different environments, adjusting the leg heights via the side knob, and fiddling with keystone correction for half an hour each time; that bend persisted. This may be an issue with my particular unit, so I won't fault Formovie here, but it is something to watch out for.
The biggest strength of the Theater is its wide color coverage and excellent color reproduction. Formovie claims the projector covers 107% of the BT.2020 color gamut, though I cannot objectively measure that claim. What I can say is that colors look excellent, at least after some calibration. Out of the box, the Theater looks a bit washed out and pales compared to the Xgimi Aura. However, after taking some time to adjust color levels, gamma, and the like, the projector looks great. Of particular note are colorful scenes with high contrast (think cartoons and video games, see the images above); these kinds of scenes look beautiful.
Formovie further claims the Theater supports HDR10+, but I don't think that's accurate. Standard HDR10 content looked washed out and contrast was lacking, even in dark environments, so while the projector may technically support HDR10+, I think the experience is lacking compared to HDR10+ content on a TV. This is a known downside to projectors, as contrast is typically lower due to the nature of projected images compared to a backlit TV.
Overall, the picture quality is excellent, but there are some small but annoying quirks. While these may not bother most people, once you see them, they'll nag you through your movie.
Sound, software, and features
The Theater has two 15 Watt Bowers & Wilkins-branded speakers. The speakers get very loud (roughly 90 dB from about 6 feet away) but remain clear at max volume. There is no discernable rattle or distortion. Bass is very full, though highs are a little weak. As such, sound leans a little bass-heavy, but the overall sound profile is good and makes for a rich movie experience. The projector is Dolby Atmos-certified if you want to use an external sound setup, though the speakers are good enough on their own.
The Theater runs Android 11 TV and supports all the expected apps with one crucial exception: Netflix. Other streaming services (e.g., Disney+, Hulu, YouTube) work flawlessly, and some simple games (like Crossy Road) are available. Formovie recommends using an external streaming stick like a Fire TV Stick for Netflix, although there are other methods to get the app loaded onto the projector. (As an interesting aside, Xgimi provides instructions for side-loading Netflix on the Aura and its other smart projectors).
Like other UST projectors, the Theater includes a preventative system to shut off the laser if it detects a body nearby to prevent eye damage. This system isn't turned on by default, so parents should enable this setting when they first set up the projector. Focus and keystone adjustment are manual, which is fine since the Theater isn't intended to be moved once its set up. It also has a Chromecast built into it, and streaming to this Chromecast is hassle-free.
The Theater implements MEMC for motion-smoothing, and the effect is rather good. Movies and media which normally play at 24 FPS is boosted to 60 FPS. As such, movies and shows look much more fluid (although some may prefer the "movie-like" motion of standard 24 FPS film). The motion-smoothing is perhaps most noticeable with games that are locked to 30 FPS. In my testing, Breath of the Wild (which normally runs at a static 30 FPS) looks fantastic. The only drawback is input lag. While input delay isn't as bad as it was on the Xgimi Aura, it is still noticeable enough that many deaths will be the result of lag. In my experience, there's roughly a 0.25 second delay between a button press and action taking place on screen.
Pros
+ high color depth
+ great color coverage
+ loud and clear speakers
+ Android 11 TV is well-featured
+ bright projection light
+ supports 4K60 and HDR10 content
Cons
– poor color calibration out of the box
– fan is noisy
– No native Netflix support
– pricey compared to competitors
Conclusion: Great picture quality at a high price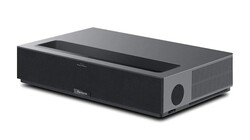 The Formovie Theater encompasses everything you'd need for a high-end home theater experience except the seats and popcorn. It offers excellent picture quality with fantastic color depth and a rich sound experience, all in a relatively small package. There are just a few sticking points that keep me from recommending it, though.
For one, the number of small annoyances (like the blurry edges, the uneven top border, and the lack of Netflix support) add up to a rather frustrating experience. These may be issues with my review unit, but at this price point (US$3499 as of press time), I'd expect more polish.
Is the Formovie Theater worth its cost? Currently, no. But if you can catch it on sale for under US$3,000, it's a pretty darn good projector.

That about sums up my experience with the Formovie Theater: rough around the edges. The product hits some high notes but largely feels unfinished. There are other 4K UST projectors from heavy hitters like LG and Samsung at or below this price point, and they don't have these small quibbles hindering them. Perhaps the biggest threat to the Formovie Theater is from rival Xgimi. The Aura has almost everything the Theater has, albeit with smaller color coverage and a larger shell. However, it's US$500 cheaper than the Theater ($1000 cheaper with a coupon available at the time of writing), and I don't think the advantages the Theater has warrant the increased cost.

Transparency
The present review sample was made available to the author as a loan by the manufacturer or a shop for the purposes of review. The lender had no influence on this review, nor did the manufacturer receive a copy of this review before publication. There was no obligation to publish this review.
I've been a computer geek my entire life. After graduating college with a degree in Mathematics, I worked in finance and banking a few years before taking a job as a database administrator. I started working with Notebookcheck in October of 2016 and have enjoyed writing news and reviews. I've also written for other outlets including UltrabookReview and GeeksWorldWide, focusing on consumer guidance and video gaming. My areas of interest include the business side of technology, retro gaming, Linux, and innovative gadgets. When I'm not writing on electronics or tinkering with a device, I'm either outside with my family, enjoying a decade-old video game, or playing drums or piano.