Do smartphones really need 120-Hz screens?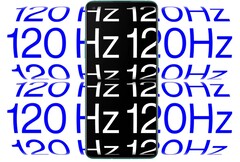 Views, thoughts, and opinions expressed in the text belong solely to the author.
I'd like to start with a confession: I love movie theater optics. The blurred movements that (in part) come from the fact that films shown at the movie theatre only have 24 frames per second. For me personally, they look a lot better than the perfect movements on a 100-Hz TV.
But here comes the but: When I used a 90-Hz display on a smartphone for the first time - I loved it. The difference between 60 and 90 Hz is enormous and I really can confirm that the smooth scrolling on a 90-Hz screen feels a lot more high-quality than the uneven movements that you call scrolling at 60 Hz. To be honest, I only really understood this once I had a direct comparison.
A few years ago, it was generally accepted that the human eye can't take in more than 26 images per second - or maybe the 50 to 60-Hz flickering of a display at most. Today, pur scientific understanding is a bit more nuanced: It highly depends on the circumstances and even high refresh rates of several 100 Hz can make a difference.
And: everyone sees differently. Like with the PWM flickering of a display, our sensitivity to different refresh rates varies from person to person.
The reason why I started thinking about this is because I was testing the OnePlus 8T. The manufacturer has now decided to equip its more affordable smartphone with a 120-Hz display rather than the 90-Hz screen of its predecessor. Now this might raise an eyebrow or two. A marketing trick - of course. And I admit I personally can hardly tell a difference between the 120- and 90-Hz refresh rate. Both seems very smooth to me.

The average user might think a refresh rate of 120 Hz is exaggerated. But as every person responds to different refresh rates differently, it's safe to say that everyone has to decide for themselves whether the additional 30 Hz are important to them or not.

Gaming alone isn't a good enough reason at the moment: 144-Hz displays might be standard for PC gamers, because every millisecond counts and the display has to update as quickly as possible. But it will take some time before high refresh rates will really offer benefits when it comes to smartphone gaming. At the moment, even smartphones with high refresh rates display games with a maximum of 60 Hz to save power, even if the games could offer more in theory.

The display is one of the most important parts of a smartphone. After all, it is the only interface between you and the device itself and it is responsible both for input and output. That's why I would always recommend testing the display before buying a new smartphone (particularly if it's expensive).

Only you can tell whether 120 Hz make a difference for you or not.
Views, thoughts, and opinions expressed in the text belong solely to the author.
I initially wrote about gaming laptops when I joined Notebookcheck in 2009. I was then involved with the setup of the comparison portal Notebookinfo and worked with social media concepts for large companies like BMW and Adidas, while also returning to work for Notebookcheck in 2012. Nowadays, I focus on smartphones, tablets, and future technologies. Since 2018 I have been Managing Editor for mobile device reviews, working alongside my colleague Daniel Schmidt.
Views, thoughts, and opinions expressed in the text belong solely to the author.
I completed my master's degree in translation at the University of Vienna a few years ago and have been working as a translator for English, German and French ever since. I first started translating for Notebookcheck in 2017 and have learned more about computers than I ever imagined, and I have even become the person my family turns to for advice when it comes to consumer electronics. Other than that I also focus on everything connected to sustainability and renewable energy.