These days it looks like it will not be climate change that brings us all to wrack and ruin. It might as well be a nuclear winter unleashed upon the Earth by an atomic superpower firing the lion's share of its warheads and thus turning the planet into an ice-covered wasteland, blanketing the surface of the Earth with a radioactive fog 300 metres thick.

At least, that is the premise of the building sim Cliff Empire, which was developed by Lion's Shade. The game spent almost a year in early access and was officially released on Steam on the 6th of August. Currently, the developer charges 9.99 Euros (~$11.30) for the title.

The game is not set far in the future, but there are still a few technological advances to contend with. The people who managed to survive the nuclear holocaust ended up at an orbital space station, and after they spent a few decades in space, they decided to go back to Earth. However, the surface of the planet is no longer habitable. The mountain peaks that jut out of the nuclear fog are the only areas suitable for settlement. The cliffs do not offer a lot of space, which is why players have to be especially careful in how they manage their colony.

By the way, our screenshots do not seem to do the game justice. This is why we decided to include a number of screenshots made by the developer, which we clearly marked.

Genre and Game Mechanics
In typical fashion for a city-building simulator, the game begins with us taking control of a colony which is spread across three separate cliffs. The location of the colony is randomly chosen whenever a new game begins. Players can easily reset the game if they would like to change the location of their colony.
After gaining control of the colony, we kick things off by building a storage facility. The first building is delivered in spectacular fashion from the space station by freight drones, which also serve as workers and are used for transporting goods and constructing buildings on our chosen cliff further on in the game.
Next we build housing units and a landing platform for the first people who want to return to Earth. They arrive in style by space shuttle and take over the colony. From now on, we have to construct other buildings to provide nourishment, electricity, income, and security for the colonists.

There are three different game modes: In Sandbox Mode, players can focus on building the most beautiful city without having to worry about resources. In Classic Mode, you build your city step by step. Here you also have to make sure that you are able to meet the needs of the settlers. In Tower Defense Mode, you have to defend the city from waves of incoming attackers. This mode is very different when compared to the Classic Mode.

Gameplay
Once the first settlers arrive, the gameplay loop, which is very similar to Anno games or even Cities: Skylines, begins. Settlers need something and in order to satisfy that need, you have to construct a building. At first the game appears a bit overwhelming: There are introductory missions, which give players additional resources. However, it is never explained, for example, that colonists will fall ill, even if you have a good medical facility, if they do not get any vitamins. Unlike in other games, fish, tomatoes and grapes are not a simple alternative to other foodstuffs. These are actual resources, which are needed to keep the productivity of the colony high.

Not all cliffs are equally good for food/energy production or resource extraction: If visible gusts of wind are sweeping across the platform, then this is where you should put your wind farm. If one of your cities has a lot of uranium, then this is where your mining operations should be located. If weather conditions are especially favourable for food production on one of your three cliffs, then you should build as many greenhouses there as possible.

You can build on all three of your cliffs right from the start. However, each cliff has its own budget and its own resource base. It is quite nice that you can build bridges to link all three cliffs together, and if you do so workers will automatically move from one cliff to another, depending on the amount of work and liveable space available on each cliff.

You can see the needs of the settlers at the bottom of the screen. The population size is the main determinant of the colonists' needs. In addition to food, water and electricity, residents may also need furniture, household appliances and electronic devices, all of which are produced at 3D printing facilities that require raw input materials that can be extracted from the depths of the cliffs.
When building, you also have to pay attention to the ecological impact and the attractiveness of the colony. Many buildings come in various sizes, which can be especially useful when you are running low on construction space and need to fit a building in between other buildings. The orientation of the buildings can be changed. Moreover, you can also expand the buildings. For instance, you can add more units to a housing complex.
Research plays an important role as well. It can make fulfilling certain needs of the colonists easier and allows players to construct new buildings. The more universities you build, that is to say, the more limited space on your cliffs you dedicate to research, the faster it progresses.
Cliff Empire is all about making the best of the limited space that you have at your disposal. This is what EA's much-criticised SimCity reboot, which was particularly disliked by the fans, was also about. However, because of the setting, these kinds of mechanics make a lot more sense in Cliff Empire. Moreover, the different sizes of buildings can really make you think about what you should build. You may find yourself thinking: Should I add another field to increase food production or should I build another turbine for the wind farm? Should I house settlers in large apartment complexes or should I build single-family detached homes, which take up more space but make the colonists happier?
There are a lot of mechanics to master. Players can construct office buildings and tourist attractions, which can generate a lot of money in the late game, or trade with the space station via a very cool warp gate. Mastering all of the mechanics is necessary for building a viable economy on tiny cliffs.

All in all, we spent almost five hours with Cliff Empire. We still have a lot of technologies to unlock and our third cliff is basically uninhabited, which gives us a lot of room for improvement. For most people, the first playthrough will be a learning experience, during which they will get to know the various systems of the game. The tutorial missions only cover the basics. They do not introduce players to more sophisticated mechanics.
By completing quests, you will get to take your colonisation efforts to outer space. The ever-changing climate and randomly generated cliffs further add to replayability.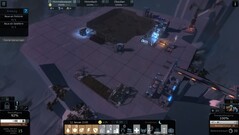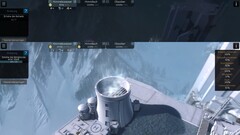 Technology
The game takes up less than 500 MB of storage space on the hard drive. The system requirements are also quite low. According to the developer, the game should run smoothly on a system with 2 GB of RAM and an integrated GPU. Nevertheless, the title looks very impressive: The camera can be rotated 360 degrees and the zoom level can be adjusted. The futuristic buildings are well-detailed and beautifully designed, individual drones fly to and fro over the colony and the residents stroll through the newly constructed parks with a clear sense of wonder. You can take a closer look at the impressive visuals by pressing "Tab" and enabling tourist mode, which allows you to explore the city from a settler's point of view.

The lighting is very good. There are impressive firework shows during special events, the buildings are illuminated at night and sea waves distort the contours of structures built underwater. The seamless transitions between day and night look quite impressive as well. Cliff Empire is not the best-looking game in the genre, but it still looks mighty impressive, especially if you take into account the low system requirements.

The music is not very memorable and sounds a lot like something you might hear in an elevator, which is quite common for building simulators. That being said, it is not annoying. Sound effects are used sparingly, but when they are used, as in the case of the firefighting drones, they sound very convincing. A female voice informs players of the goings-on in the colony.

In the course of our review, there was one time when the game refused to start. This issue was resolved after a restart. We did not encounter many graphical glitches during our gameplay session, except for the issues with screenshots. Problems may also rise if you make changes to the scaling through Windows settings. This can sometimes lead to text not fitting in the text boxes. The voice-over is only available in English, but the rest of the game has been translated into 12 languages, including German. We found the German translation to be very good.
The HUD is scalable, but the dark-grey numbers are sometimes hard to read because they are positioned against a dark background. At night, the world gets so dark that it becomes difficult to locate certain buildings.
Verdict
Cliff Empire is a good and reasonably priced building simulator that offers a fresh setting and numerous challenges to overcome. Due to limited construction space, such classic dilemmas as whether you should build wind farms, which produce clean energy but take up a lot of space, or nuclear power plants, which need less space but are more dangerous, abound. The in-game systems mesh well with one another. However, the title has a steep learning curve.
After five hours of gameplay, we cannot talk much about long-term playability, but we are certain that we have not seen everything this game has to offer just yet. The title is not especially difficult. For instance, we were able to quickly recover from a devastating fire on our second cliff. Nevertheless, there are still many things that we would like to improve and a number of buildings that we would like to try out.
We were impressed with the visual design and the graphics. The ability to construct buildings in architectural styles from different eras is also a major plus.
There are a few aspects of the game which do not make much sense: It would appear as though the people, who were stranded on Earth after the nuclear apocalypse, had nothing better to do than build tall cliffs just to abandon them. The materials of which the cliffs are made are also not known, and it is not clear why these cliffs contain so many resources. However, it is easy to overlook these enigmas because of the cool game mechanics such as the ability to build bridges over steep ravines. The smaller technical issues can certainly be overlooked. What is more, the longer you play, the more new buildings you unlock. The game also supports various mods.
All in all, Cliff Empire is not going to get old fast. There is also the Tower Defense mode to mention.

Cliff Empire is a very beautiful city-building simulator, which is going to be fun even after many playthroughs, thanks to its innovative setting and ideas.
We had a lot of fun with the game, which is very reasonably priced (€9.99 (~$11.30)). The title offers a very good price-to-fun ratio for any fan of building simulators.

I initially wrote about gaming laptops when I joined Notebookcheck in 2009. I was then involved with the setup of the comparison portal Notebookinfo and worked with social media concepts for large companies like BMW and Adidas, while also returning to work for Notebookcheck in 2012. Nowadays, I focus on smartphones, tablets, and future technologies. Since 2018 I have been Managing Editor for mobile device reviews, working alongside my colleague Daniel Schmidt.