CAT launches the rugged S41 smartphone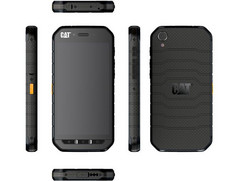 What sets the S41 apart is the military grade 810G casing that provides protection against harsh conditions, making it ideal for construction site personnel. The smartphone also packs mid-high end specs: a MediaTek Helio P20 octa-core SoC coupled with 3 GB RAM, and 32 GB internal storage, along with a 5-inch 1080p IPS display.
CAT is best known for its construction hardware and vehicles, but the company also tried getting into rugged smart devices in recent years. The S41 rugged smartphone is CAT's latest endeavor in this regard. Caterpillar collaborated with Bullitt Group in order to boost the performance of the older S40 and update the rugged specs.

In terms of durability, the new S41 model seems to be ideal for construction site personnel, as its case is designed to take quite the beating. It is waterproof, and users can shoot pics and videos in depths of up to 6.56 feet for one hour. However, the device can't provide any other use underwater, since the touchscreen is automatically locked. The S41 can take drops from up to 6 feet easily, and its hermetic enclosure covered with rubber provides protection against salt fog, sand, dust, dirt, vibrations, and under extreme temperatures ( -13 – 131 degrees F).

As for the actual smartphone specifications, these include:
• 5-inch superbright 1080p IPS display protected by Gorilla Glass 5
• MediaTek Helio P20 octa-core SoC clocked at 2.3 GHz
• 3 GB RAM
• 32 GB internal memory (expandable to 2 TB through microSD cards)
• 12 MP rear camera with LED flash
• 8 MP front camera
• Dual-sim
• LTE/Wi-Fi/Bluetooth 4.1/NFC
• Android 7.0 Nougat
• 5,000 mAh battery with battery share functionality that can provide energy to other devices

The S41 can be ordered from Catphones.com and retailers like Amazon or B&H for US$449.