AMD unveils Hierofalcon, Bald Eagle, Steppe Eagle, and Adelaar embedded products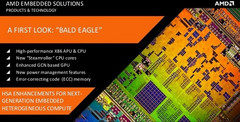 The official AMD Roadmap for 2014 reveals a brand new generation of chips aimed at the embedded community. This way, AMD becomes the first company to offer both ARM and x86 solutions for low-power and high-performance embedded applications.
Yesterday, AMD revealed the embedded product roadmap for 2014. The press release contains detailed information about four products: the ARM-based "Hierofalcon" CPU SOC family, the "Bald Eagle" high performance x86-based embedded APU/CPU, the "Steppe Eagle" APU SOC, and the next-generation discrete AMD Embedded Radeon GPU codenamed "Adelaar".
These are the products mentioned above, in detail:
"Hierofalcon" CPU SoC: This family of processors is based on the ARM Cortex-A57 chip and will debut in the second quarter of 2014. It will include up to eight ARM Cortex-A57 CPUs at up to 2 GHz and will feature two memory channels with ECC and a dedicated cryptographic security coprocessor.
"Bald Eagle" APU/CPU: Available as both an APU and CPU, this embedded processor features up to four "Steamroller" cores, as well as a new Radeon Graphics Core Next GPU that provides increased performance and reduced power consumption. It will become available in the first half of 2014.
"Steppe Eagle" APU SOC: This SoC will use an improved "Jaguar" CPU architecture, combined with an improved Radeon Graphics Core Next GPU and will also become available in the first half of next year.
"Adelaar" discrete GPU: This graphics solution will feature 2 GB of memory and will use a multi-chip architecture. It will support DirectX 11.1 and OpenGL 4.2, as well as both Windows and Linux. Like its two predecessors, it is expected to arrive in the first half of 2014.
For more information, please check the press release below.
Working For Notebookcheck
Are you a techie who knows how to write? Then join our Team! Especially English native speakers welcome!
Currently wanted:
News and Editorial Editor - Details here

+ Show Press Release