CES 2019 | AMD announces two new Chromebook CPUs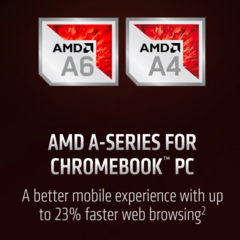 The new A4-9210C and A6-9220C are based on the old Stoney-Ridge series from 2016. Compared to the old non-C variants, the new APUs feature lower performance and clock rate to achieve a reduced TDP of 6 Watt. That, however could enable passively cooled devices.
Both CPUs are targeted against modern Pentium and Celeron SoCs in cheap PCs and Chromebooks. Compared to these, AMD advertises the better performance of the A4 and A6 powered Chromebooks. The efficiency however, should be a lot better for the Intel based processors.
More information on the "new" APUs can be found in our CPU benchmark pages: