3 inspirational DIY tech projects like the USB-C iPhone that warrant greater recognition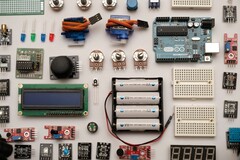 The choices and comments made on this list belong solely to the author.
1. Carter Hurd's gaming cyberdeck
If you're unfamiliar with the idea of a cyberdeck, it's basically a computer built into a keyboard—think laptops, but with an individual twist like a Raspberry Pi as the brains of the operation, or being built into a mechanical keyboard. They're not always the most practical, and the creators of cyberdeck projects generally know this, but they're always a labour of love, and there's always something unique to each new build.
If you're interested by the idea check out Carter Hurd's gaming cyberdeck (he never really gives it a name), Henry Edwards' COMPU-TOR, which hilariously contrasts hand-written keycaps with a beautiful mahogany case, and Daniel Norris' Chonky Palmtop, which is a 7-inch, 3D-printed, folding brick with an ergonomic mechanical keyboard. If you're interested in even more wacky cyberdecks, Hackaday has covered a great many of them.
If you want to try your hand at putting together a cyberdeck, you could start off with a Vemico Raspberry Pi 4 starter kit, available on Amazon.
2. The USB-C iPhone
Tired of Apple dragging its royalty-laden feet, YouTuber Exploring the Simulation (Kenn Pillonel) took matters into his own hands and built a USB type-C port into an iPhone. You can watch the YouTube video for yourself to see how he painstakingly reverse engineers Apple's C94 port, dances around copyright law, and ultimately mills a big hole into the bottom of a perfectly functional iPhone X to add the USB type-C connector.
The amount of effort that went into this insane project is nothing short of extraordinary, and it deserves far more recognition than the almost 1 million YouTube views the project received. Apparently, Kenn agreed that he deserved more than a million views and sold the USB-C iPhone on eBay for US$86,001.

3. The keyboard with so many tiny screens
Mechanical keyboards open up a world of customisation—users can change anything from the more basic keycaps and switches to the more advanced case materials, brass weights, and silicon inserts in an effort to make their keyboards look, sound, and feel different. Some people, like Twitter users James Brown (@ancient_james) and Thomas (@thpoll2), have taken it a step further and included tiny, programmable OLED displays in each keycap as the ultimate flex on the RGB keyboard trend.
Admittedly, these two are not the first to come up with this idea—a company called Art Lebedev Studio released the US$1,600 Optimus Maximus keyboard in 2007, but to say this product had issues would be putting it mildly. Both James and Thomas are developing their projects at the time of writing, with both also taking different design approaches—James has a more traditional TKL layout, while Thomas is going for an ergonomic, split design—so follow them on Twitter to keep up with the action.

My interest in tech started in high school, rooting and flashing my Motorola Defy, but I really fell down the rabbit hole when I realised I could overclock the i7 930 in my Gigabyte pre-built PC. This tinkering addiction eventually lead me to study product design in university. I think tech should improve the lives of the people using it, no matter the field. I like to read and write about laptops, smartphones, software and trends in technology.