3 future tech developments to actually be excited about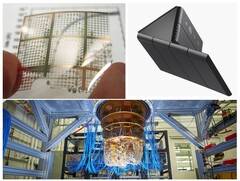 The choices and comments made on this list belong solely to the author.
1. Mature foldable phones
Foldable phones have been around since Royole released its Flexpai in 2018. It was mostly seen as a cool concept but lacking in execution. In 2019 and onwards, the folding floodgates broke and manufacturers including Samsung, Motorola, Huawei, and Xiaomi all joined the race to make the best foldable.
Arguably, the best executions to date have been Samsung's Galaxy Z Fold3 5G and Galaxy Z Flip3 5G. While more recent foldables have improved on the flaws of their forebears, they are still often overpriced and under-equipped. Foldables currently tend to lack features and tech found in more regular form factors, like waterproofing, durable display materials and reasonable battery capacities.
It may be necessary for manufacturers to reinvent a few more wheels and drop prices in order to make the foldable phone more ubiquitous. Finding a way to make scratch-resistant displays would be a huge first step.
2. Affordable electric vehicles
Long-range, convenient electric vehicles are truly a marvel of the 21st century. While it may be common knowledge that electric motors predate the combustion engine, most people don't realise that the first electric vehicle was invented in 1832. It has taken almost 200 years for battery and charging technology to catch up with the concept of electric cars.
Unfortunately, the technology still has a way to go before electric vehicles are a commodity item and can really compete with internal combustion engine-equipped cars. While auto makers have come a long way in developing the tech, even the most basic electric vehicles with pitiful range are unreasonably expensive.
Until prices come down, nobody will be saving any planets by buying an electric car, which is a shame since they're incredibly exciting. Electric vehicles often have more torque, are more quiet and more reliable, and have fewer moving parts to service.

3. Next-gen CPU designs
The underlying design and concept of the CPUs made by Intel and AMD remain largely unchanged from the Intel 8086, released in 1978. Silicon transistors switch between states in order to process data. The biggest changes we have seen in desktop computing are the number and type of transistors being used.
This changed somewhat as the ARM architecture has grown, especially since Apple started using its own silicon in its Mac and iMac products. ARM has proven to be very efficient and powerful, even matching the performance of desktop hardware in a smaller power envelope. However, ARM is not the only innovation we can expect in the CPU space in the coming years.
There are flexible, plastic CPUs that could be a great solution for the bending and flexing world of future smartphones. These could also help relieve the world's dependence on silicon and water-intensive manufacturing processes. Quantum computing could change the way we process and secure data and information entirely.
RISC-V (Reduced Instruction Set Computer Five) is a modular, open-source architecture that is pitched to reduce the complexity and cost involved in designing custom CPUs and make smaller devices and microprocessors far more efficient. These are new technologies that have already started to revolutionise the form factors and designs of our everyday devices. The future for tech looks bright.
My interest in tech started in high school, rooting and flashing my Motorola Defy, but I really fell down the rabbit hole when I realised I could overclock the i7 930 in my Gigabyte pre-built PC. This tinkering addiction eventually lead me to study product design in university. I think tech should improve the lives of the people using it, no matter the field. I like to read and write about laptops, smartphones, software and trends in technology.