Xperia headphone jack loyalty and 3 other ways Sony's premium phones out-flagship the rest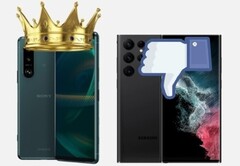 The choices and comments made on this list belong solely to the author.
1. Truly professional mobile cameras
The camera experience is one of the biggest marketing points of any modern smartphone. Manufacturers lean heavily on this as a marketing strategy - take the Samsung Galaxy S22 lineup and its 108 MP sensors, or OnePlus with the Hasselblad partnership. Often these crazy specifications mean very little - the same is true for the Hasselblad branding on the OnePlus 9 and 10 Pro models - and only serve to market devices to consumers who do not know better.
Sony is one of very few manufacturers that includes camera hardware that actually makes sense. Take the Xperia 1 III and 5 III's three 12 MP sensors: a 24 mm wide sensor, a 16 mm ultra-wide, and a 70-105 mm variable zoom lens. The main and zoom lenses feature some of the best OIS around, beating out even the likes of the iPhone 13 Pro. Even better, Sony includes a two-stage hardware shutter button for opening the camera, focussing, and shooting easily.
Effectively, Sony has one of the most flexible camera systems on a phone to date. The cherry on top of the great camera hardware is the camera app that allows you to customise just about any feature or option imaginable - from colour profiles, to ISO, shutter speed, and even eye-tracking autofocus. This unfettered access to camera options means that the images you take with the Xperia devices are truly yours - you are not leaving it up to Apple, Google, OnePlus, Samsung, or Xiaomi to decide how saturated, sharp, bright, or dark your images are.
2. Excellent near-stock Android experience
Companies like Samsung and Apple love to customise their mobile operating systems by adding all manner of features and, in some cases, with preinstalled apps. While Apple mostly maintains a fluid UI despite the host of preinstalled apps, the same cannot always be said for Samsung and other Android makers. OnePlus in particular had some serious software issues with the OnePlus 9 Pro that continued into the 10 Pro.
Sony handily avoids this software mess by keeping the OS a relatively stock version of Android, with only a few preinstalled apps - most of which are either tailored to the hardware, like the camera, or provide neat software tweaks that genuinely enhance the experience.

3. Displays made for media enthusiasts
Sony's Xperia 1 III, 5 III, and Pro-I all feature colour-calibrated displays with Rec. 2020 support and 100% DCI-P3 coverage, beating out just about any other phone on the market. This may sound like no big deal, but it means that you will see more colours, and content can be displayed as the creators intended by using Creator mode. The improved colour accuracy also means that editing photos and videos on mobile makes sense.
To add to the colour accuracy and perfect blacks of OLED, the Sony Xperia 1 III, 5 III and Xperia Pro-I displays all offer 120 Hz refresh rates with 21:9 aspect ratios - making them perfect for media consumption, gaming, and multitasking activities.
The Xperia 5 III, Sony's uniquely compact flagship, is available on Amazon.
4. A headphone jack on a flagship? Is this 2018?
Sony didn't cut any corners when it came to the Xperia 1 III, 5 III, or Pro-I. There are no notches to be found, and all of the devices feature a 3.5 mm headphone jack, microSD expansion and a notchless design with dual front-facing stereo speakers.
Even one of these features on a flagship in 2021/2022 would be considered a feat of engineering; having them all in one package is nothing short of extraordinary. Sony even managed to include an IP68 water-resistance rating, with all the expansion and ports intact - a fact that really makes one wonder about Apple and Samsung's excuses for removing those features.
By all accounts, the Xperia flagship lineup is an enthusiast's dream device - a flagship without the usual compromises.
My interest in tech started in high school, rooting and flashing my Motorola Defy, but I really fell down the rabbit hole when I realised I could overclock the i7 930 in my Gigabyte pre-built PC. This tinkering addiction eventually lead me to study product design in university. I think tech should improve the lives of the people using it, no matter the field. I like to read and write about laptops, smartphones, software and trends in technology.