Three new ChromeOS educations notebooks from Lenovo starting at US$219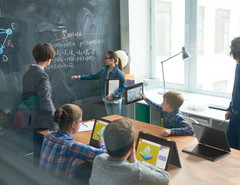 Lenovo has revealed three updated education Chromebooks for 2018, with the 100e and 300e providing rugged budget friendly options for classrooms, and the 500e adding some style and a pen for older children or university usage.
Chromebooks running Google's ChromeOS have been making decent progress at building a market share in the classroom. Much of the last two decades have seen computer labs dominated by Windows machines, with some MacOS models thrown in the mix depending on the school region. But Chromebooks have seen increased adoption in schools that are bringing student laptops into non-IT subjects.
To complement Lenovo's new Windows education notebooks, they have announced three new ChromeOS models, the 100e, 300e, and 500e. Note that the 100e and 300e are also available with Windows 10. All have been MIL-SPEC tested including drop testing up to 29.5 inches and keyboard which can handle up to 330 ml of water spills. The 500e includes a stylus, while all come with Google's G Suite.
Lenovo 100e (ChromeOS)
Lenovo 300e (ChromeOS)
Lenovo 500e
CPU
Celeron N3350 1.1/2.4 GHz 2C/2T
Mediatek MTK 8173C
Celeron N3450 1.1/2.2 GHz 4C/4T
RAM
4 GB onboard
4 GB onboard

4 GB or 8 GB onboard
Storage
32 GB eMMC
32 GB eMMC
32 or 64 GB eMMC
Screen
11.6-inch 1366 x 768 TN
11.6-inch 1366 x 768 IPS touch screen
11.6-inch 1366 x 768 IPS touch screen
Battery
42 Wh (up to 10 hours)
45 Wh (up to 10 hours)
42 Wh (up to 10 hours)
Connectivity
2 x USB-C
2 x USB3
MicroSD card reader
1 x USB-C
2 x USB3
HDMI
SD card reader
2 x USB-C
2 x USB3
MicroSD card reader
Wireless
802.11ac 2 x 2
Bluetooth 4.2
802.11ac 2 x 2
Bluetooth 4.0
802.11ac 2 x 2
Bluetooth 4.2
Dimensions
(W x D x H)
290 x 204 x 20 mm
(11.41 x 8.03 x 0.78 inches)
292 x 204 x 21 mm
(11.49 x 8.00 x 0.83 inches)
290 x 204 x 20 mm
(11.41 x 8.03 x 0.80 inches)
Weight
1.25 kg (2.75 pounds)
1.35 kg (2.98 pounds)
1.35 kg (2.98 pounds)
Availability
March 2018
February 2018
January 2018
Price
US$219
US$279
US$349