The Best Low-Light Camera Smartphones of 2018 – Comparison Review
Low-light photography is regarded as the supreme discipline for smartphone cameras and is often a challenge even for the best devices. We have picked out the cutting-edge flagship smartphones released this year to compare their low-light camera capabilities. The differences among our comparison devices are often significant, and our list includes a few surprises such asthe ASUS ROG Phone, whose focus is on gaming rather than photography. The ROG Phone has broadly the same camera hardware as that in the ASUS ZenFone 5Z.
We have included the Apple iPhone XS, Google Pixel 3, Huawei P20 Pro, OnePlus 6T, Samsung Galaxy Note 9, Sony Xperia XZ2 Premium and the Xiaomi Mi 8 in our comparison test along with the ROG Phone. Three of those on the list are equipped with Sony IMX363 sensors, but that does not necessarily result in those devices taking identical looking low-light photos. The P20 Pro and Xperia XZ2 Premium have additional monochrome sensors, but again these produce markedly different results. Both monochrome sensors have f/1.6 apertures, but the Xperia XZ2 Premium has a bigger sensor, which has larger pixels, than the corresponding P20 Pro sensor.
We have structured each section like a blind test with each result placed next to each other and numbered 1-8. You can find which smartphone corresponds to what number at the bottom of this article.
| Smartphone | Apple iPhone XS | ASUS ROG Phone | Google Pixel 3 | Huawei P20 Pro | OnePlus 6T | Samsung Galaxy Note 9 | Sony Xperia XZ2 Premium | Xiaomi Mi 8 |
| --- | --- | --- | --- | --- | --- | --- | --- | --- |
| SIM | Dual | Dual | Single | Triple | Dual | Dual | Dual | Dual |
| Camera sensor | Sony | Sony IMX363 | Sony IMX363 | k. A. | Sony IMX 519 | Samsung SAK2L3 | Sony | Sony IMX363 |
| Sensor size | 1/2.5" | 1/2.55" | 1/2.55" | 1/1.7" | 1/2.6" | 1/2.55" | 1/2.3" | 1/2.55" |
| Aperture | f/1.8 | f/1.8 | f/1.8 | f/1.8 | f/1.7 | f/1.5 und f/2.4 | f/1.8 | f/1.8 |
| Pixel size | 1.4 µm | 1.4 µm | 1.4 µm | 1.55 µm | 1.22 µm | 1.4 µm | 1.22 µm | 1.4 µm |
| Image stabilisation | OIS | OIS | OIS+EIS | AIS | OIS | OIS | EIS | OIS |
| Night mode | No | No | Yes | Yes | Yes | No | No | No |
| Manual mode | No | Yes | No | Yes | Yes | Yes | Yes | Yes |
| Maximum exposure time | - | 32 sec | - | 30 sec | 30 sec | 10 sec | 1 sec | 32 sec |
| Main camera resolution | 12 MP | 12 MP | 12 MP | 40/10 MP | 16 MP | 12 MP | 19 MP | 12 MP |
Scenes at 1 lux
We took the following scene under controlled lighting conditions in a dark environment, which we measured at 1 lux. We activated any AI improvements and took each photo in the device's default resolution. None of the pictures underwent any post-processing.
On the positive side, no device completely failed at capturing our first scene. By contrast, classic budget smartphones can only manage underexposed areas and blurred contours.
However, smartphone No. 5 clearly finished in last place in our opinion. The photo is well exposed, but image noise dominates the entire scene. No. 1 is a good mix and captures plenty of detail, but the image looks rather underexposed. No. 2 illuminates the scene excellently, but it irons out the details too much for our liking. No. 5 captures a good amount of detail, but the image looks harsh and too sharp. Moreover, No. 6 is well lit, but its details lack depth. No. 7 is the best representation of the scene in our opinion, although the photo has a slight red tint to it.
Test chart at 5 lux
We set up the next scene under similar conditions to our first test scene. We activated any AI improvements and took each photo in the device's default resolution. None of the pictures underwent any post-processing. The only difference is that we took the photos in a brighter ambient light, which we measured at 5 lux.
None of our comparison devices particularly impressed us in this test. Nos. 1, 2, 3 and 8 most accurately reproduce the centre of our test chart, with No. 2 exposing the chart well. Fine lines are captured too, but colours are slightly too pale for our liking, the latter of which is also a problem for Nos. 1 and 8. Nos. 3 and 8 reproduce our test chart too darkly, although No. 3 manages to replicate colours strongly. By contrast, No. 6 exposes our test chart surprisingly brightly, but fine lines look slightly jagged, and there are numerous image artefacts.
All our smartphones struggle with blurring and artefacts, particularly towards the edges of the test chart. Most manufacturers take a loss on image artefacts and work to significantly reduce image noise, which causes artefacts in colour areas. No. 7 reproduces the chart consistently, but the centre of the chart is blurrier than we would like. No. 4 finishes last in this test, which especially struggles with blurring and distortions, although it exposes the chart well.
In the wild at night
We also tested how well the smartphones performed in low-light conditions during daily use. We left all camera settings at default and took all the shots from the same position by hand in automatic mode with AI support activated.
No. 1 delivered good results during our tests under controlled light conditions, but it falls behind its competitors in a real-world scenario. Nos. 5 and 6 are unconvincing too, and cannot compete with No. 2, which offers the best mix between details and exposure. No. 8 took the darkest photo, but the image still captures details homogeneously and richly.
The remaining flagships take decent shots, but they are all lost in the midfield compared to No. 2.
Smartphones with night mode have an advantage
The P20 Pro was the first smartphone to have a dedicated night mode. Night mode combines several photos over a specific time interval to create an optimal image, which the P20 Pro does well. This mode is not yet widespread though. The OnePlus 6T and the Pixel 3 are the only smartphones of our comparison devices to have such functionality, so we have listed the smartphones below each shot.
The P20 Pro and Pixel 3 performed equally well during our tests using night mode. The Huawei smartphone exposes scenes better, but the Google phone captures more details in the first scene. By contrast, the P20 Pro performs better in the second test.
However, both devices are in a different league compared to the OnePlus 6T. The P20 Pro would have performed consistently better than the Pixel had not Huawei applied so much post-processing to photos. By comparison, photos shot with some of our comparison devices take up to three times the storage space than those captured with the P20 Pro. Moreover, the camera AI on the P20 Pro occasionally chooses an overlong exposure, which often makes the normal camera mode a better option, especially for portrait shots. This is particularly visible in the third scene, in which the P20 Pro sets an 11-second exposure. Interestingly, the resulting photo has hardly any blurring despite being taken by hand, which underlines how good the primary camera sensor is in the P20 Pro.
In short, night mode is a great feature that creates better low-light shots, but it is not always the best choice at present. The mode is great for taking photographs of architecture or expansive landscapes, but individual objects blur too quickly, particularly if they are moving.
Verdict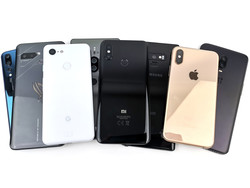 Low-light photography is currently the most challenging discipline for all smartphone cameras and one which quickly separates the good from the bad. Taking impressive low-light photos is more than just having good sensors though, as our test demonstrates. Software has also started playing a more crucial part, particularly with the growth of algorithmic camera modes that are marketed as AI, Smart HDR, Super HDR etc. The best sensor at the time of writing is the Sony IMX363, which is found in three of our comparison devices. The Xiaomi Mi 8 finished bottom of the pile overall while the Google Pixel 3 is far ahead of the rest. The ASUS ROG Phone performed admirably though, despite being an outsider.
Choosing an absolute winner is difficult though. Ultimately, it is also a matter of personal taste, but the best overall package for us out of our comparison devices is the Huawei P20 Pro, which offers a wide range of options that will cater to most people. The numerous modes did not always deliver the best results at automatic presets, which is something that the Pixel 3 excels at doing.
As surprisingly bad the Mi 8 is, none of our comparison devices convinced us in every low-light test. The OnePlus 6T should easily be outgunned with its smaller sensor, but it still delivers decent results thanks to its sophisticated software. Additionally, ASUS, Samsung and Sony place in the midfield of our comparison devices, whereas the iPhone XS takes impressive photos in isolation, but they look overly dark when viewed against those shot with the other devices in our comparison list.
Blind test order
ASUS ROG Phone
Huawei P20 Pro
Google Pixel 3
Samsung Galaxy Note 9
Xiaomi Mi 8
OnePlus 6T
Sony Xperia XZ2 Premium
Apple iPhone XS
As a child I was fascinated by my Commodore 16, and this sparked my enthusiasm for computers. Using my first modem, I surfed the BTX videotext system and later the World Wide Web. I have always been captivated by the latest technologies, and this is especially true for mobile devices such as smartphones and tablets. I've been part of the Notebookcheck team since 2013 and have also on occasion written for Notebookinfo.de, and I'm looking forward to testing new innovations for our readers. I like to spend my spare time indulging in photography and barbecues and being with my family.
Prior to writing and translating for Notebookcheck, I worked for various companies including Apple and Neowin. I have a BA in International History and Politics from the University of Leeds, which I have since converted to a Law Degree. Happy to chat on Twitter or Notebookchat.