Sony exiting mobile markets as price and availability of XZ2 Premium announced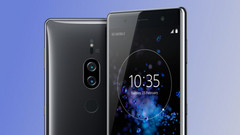 According to Evan Blass, Sony Mobile is pulling out of its operations in the Middle East, Turkey and Africa. The news that it is scaling back its operations comes just as the company reveals the pricing and availability of its latest flagship, the Xperia XZ2 Premium.
Evan Blass has taken to Twitter to reveal that Sony Mobile is pulling out of its Middle Easy, Turkey and Africa operations. According to Blass, Sony will cease local operations in these regions by October, as it seeks to restructure its devices business under new CEO Kenichiro Yoshida. The news comes at the same time that Sony is launching its latest flagship device, the Xperia XZ2 Premium smartphone.
Despite the launch of the generally well-received Xperia XZ2 flagship range, the Japanese company's Mobile division has continued to bleed red ink over many years. It has struggled to produce devices that have been able to compete with the Samsung juggernaut and has seemed at least one step behind the competition with the design and features of its devices. Even the new XZ2 range, while featuring a more contemporary design approach, still includes relatively sizeable bezels compared to its almost bezel-less competition.
What the news means for the future of Sony Mobile devices isn't completely clear at this stage. The company could be looking to focus on its better performing regions, or it could signal its exist from the mobile devices business altogether. In the meantime, the company has announced that its XZ2 Premium, which features a 4K HDR display and dual-rear cameras will launch on July 30 in the US for US$1000. While undoubtedly high-end, its iPhone X-like pricing could continue to keep customers away from the marque.