Rumors: New Acer gaming laptop with Nvidia GTX 980M approaching?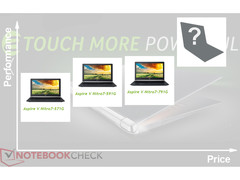 Acer further expands its portfolio for mobile consumer devices. According to the Nitro motto, "A Touch More Powerful", a new gaming notebook could supplement the top of the Nitro series in the near future, too.
Acer hit the bull's eye last year with the Aspire Nitro notebooks. The 15 inch models (Aspire Nitro V15) and 17 inch models (Aspire Nitro V17) are equipped with graphics cards from Nvidia and the latest models deliver mid-range gaming performance thanks to the Geforce GTX 960M. While the Taiwanese company also offers suitable high-end gaming products in the desktop segment, a mobile counterpart is missing so far.
This could soon change as Notebookcheck has received exclusive information from industry insiders that Acer is currently working on a new high-end gaming notebook. Since the Nitro devices are still quite young, a new top model could be added to the series. For example, future models may feature Nvidia's Geforce GTX 970M or GTX 980M, which could potentially double frame rates compared to the GTX 960M and ensure smooth gaming in Full HD resolution with maximum graphics settings.
A model featuring an Intel quad-core Broadwell processor may see the light of day in the second quarter of this year. Nvidia's G-Sync for notebooks has already been confirmed as well and may be available in the upcoming Acer gaming notebook.