Air Characteristic
The always running, generally relatively quiet ventilator unfortunately produces louder sounds in higher frequencies and therefore is clearly perceptible then. We did not succeed to calm the ventilator down with minimum performance adjustments (CPU, video card frequency). Under load it switches late to level 2, which however is not much louder and remains there permanently.
Positive: various useful tools, like for example a tool for reducing the speed of the DVD drive assembly (this becomes noticeably more silent) are provided.
Measured Volumes
Environment: 30,5 dB
Idle, exhaust on (level 1) 38,3 dB
medium load, level 2 40.5 dB
Load, level 3 43.1 dB
DVD LW rendition: 42.1 dB
DVD LW max.: 49.2 dB
Loudspeaker
The Harman/Kardon speaker could convince. A seperate subwoofer would be advantageous.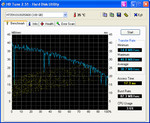 HD Tune
HTS541010G9SA00 bench mark
transfer rate minimum: 14,0 MB/sec
transfer rate maximum: 40,0 MB/sec
transfer rate average: 30,7 MB/sec
access time: 17,3 ms
burst rate: 87,3 MB/sec
CPU Usage: 3.6%
| | | |
| --- | --- | --- |
| 94,4 cd/m² | 99,0 cd/m² | 97,9 cd/m² |
| 96,8 cd/m² | 109,5 cd/m² | 101,0 cd/m² |
| 96,4 cd/m² | 101,8 cd/m² | 102,9 cd/m² |
illumination of the screen
result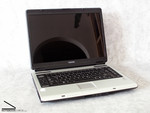 We waited for a long time until we got the first performance data of the Core Duo processor and ATI's newest video card generation, but apparently the waiting was worth.
CPU and GPU show a clear increase in performance output. There will be no future withort the Core Duo technology.
The Toshiba Satellite A100-153 presented itself as an adequate covering for the whole technical luxury. 1a quality of materials and workmanship are good arguments.
Apparently there are still problems with the cooling of the new CPUs and graphic cards, since we could observe the Toshiba Satellite A100 with always clearly perceptible ventilator.
Particularly pleasing are the well-known Toshiba qualities like analogue volume regulation, hardware WLAN on/off switch and various software-tools, which simply make the life more pleasant. In addition there are fine Harman/Kardon speakers.
battery runtime
Again 4 different run time tests were accomplished:
Despite the low brightness of the display the measured running times are to be judged as rather moderate. Every now and then a reason for that is the small 4000 mAh battery, but in addition the technical equipment of the Toshiba Satellite A100.
Battery Eater Reader test - resulted battery runtime: 2h 35min
(corresponds to the maximum running time - min. brightness, current savings functions, WLAN out)
Battery Eater Classic test - resulted battery runtime: 1h 34min
(corresponds to the minimum running time - all max., WLAN etc.)
WLAN activity - resulted battery runtime: 2h 40min
(brightness medium and/or still well readably, WLAN )
DVD rendition - resulted battery runtime: 1h 53min
(max. brightness, WLAN out)

Current consumption
Min 35.3 W
Idle 40.4 W
Max 63.7 W
The point of view stability is sufficient in the horizontal range. Within the vertical range there occur considerable color distortions with a too close viewing angle from above. During normal work there should be no impairments.
performance
With the comparison of the bench mark PCMark04 the power of the dual core processor becomes clearly evident. The inserted Core Duo T2300 with 1,66 Ghz resulted in the test about 10% more performance than a Pentium M 760 with 2.0 Ghz owing to the second core .
Also the ATI X1600 scores very well. With the bench mark test 3DMark05 the Toshiba Satellite A100-153 gets on the top of comparable ompetitors and delivers approximately 30% more performance with the Core Duo CPU.
However, to the power ratings of a Geforce Go 6800 as a representative of the performance-group 1 in our comparison of mobile graphics cards, the X1600 does not approach.
Remarkably: in the bench mark test (Doom3+Q3a) the Toshiba Satellite A100 suddenly booted again (video drivers?)
3DMark 06
1766 points
3DMark 05
3400 points
3DMark 03
6132 points
3DMark 01
16251 points
PCMark 04
4411 points
PCMark 05
3766 points
Aquamark
3952 points
Quake 3 Arena
The time demo bench mark (Four.DM_68) resulted in 259.8 fps
Star Wars Battlefront 2
With a resolution of 1280x800 and all details on high between 20 and 30 fps were amounted in a bot-match.
Doom 3
low 80.8 fps
medium 72.3 fps
high 53.0 fps
ultra 37.2 fps
Crashday
After a long periode we got the pleasure to stare into that all-side well-known bluescreen. The reason for that was probably the very current graphics card.
Nonetheless then the game ran perfectly with average 60 fps with all settings on high and highest possible resolution (1280x800).
F.E.A.R.
The following demo results could be obtained with Sierras horror-ego- shooter:
CPU min GPU min
min. 125fps / average 222fps / max. 289fps
0%< 25fps 0%< 40fps 100%> 40fps
CPU low/ GPU low
min. 145fps / cut 203fps / max. 344fps
0%< 25fps 0%< 40fps 100%> 40fps
CPU med/ GPU med
min. 35fps / cut 56fps / max. 108ps
0%<25fps 11%< 40fps 89%> 40fps
CPU high/ GPU high
min. 19fps / cut 33fps / max. 70fps
20%< 25fps 60%< 40fps 20%> 40fps
CPU max GPU max
min. 8fps / cut 22fps / max. 52fps
75%< 25fps 13%< 40fps 12%> 40fps
Cinebench 2003
rendering (single CPU): 244 CB-CPU
rendering (multiple CPU): 451 CB-CPU
multiprocessor speedup: 1.85
shading (CINEMA 4D): 287 CB-GFX
shading (OpenGL software Lighting): 1197 CB-GFX
shading (OpenGL hardware Lighting): 3249 CB-GFX
OpenGL Speedup: 11.33
emissions
Heat development
The heat development during surfing per WLAN is very moderate. The case hardly heats up and remains very pleasant while using.
Even under full load the Toshiba Satellite A100 remains surprisingly cool. Particularly the hand editions hardly heat up.
At the bottom of the laptop a maximum temperature of 43.4°C was measured under load.
Display
Das Display des Toshiba Satellite A-100 153 entpuppte sich im Test als etwas Leuchtkraftschwach. Maximal gemessen werden konnten lediglich 109,5 cd/m². Dieser Wert reicht zwar zum Arbeiten in geschlossenen Räumen, bei ungünstigen Lichtverhältnissen oder direkter Sonneneinstrahlung kann es jedoch zu Beeinträchtigungen kommen. Auch das verbaute spiegelnde Display trägt dabei nicht unbedingt positiv bei.
Die Ausleuchtung des Displays lag dennoch bei überaus guten 86 %
Hier die Ergebnisse der Helligkeitsmessung (Helligkeitsverteilung):
The display of the Toshiba Satellite A-100 153 resulted a poor luminosity in the test. The measured maximum was only 109.5 cd/m². This value is sufficient for working in closed rooms, with unfavorable lighting conditions or direct sun exposure impairments will be the consequence. Also the used reflecting display does not contribute positive arguments.
Nevertheless the illumination of the display was extremely good with 86 %.
Here the results of the brightness measurement (brightness distribution):
input devices
The Toshiba Satellite A-100 153 offers a keyboard of normal size for 15 inch laptop. The keys are somewhat wobbly and offer a soft feeling during writing. Nevertheless I could tap pleasantly and error free with it.
Unfortunately the entire keyboard bends easily through when tapping. The key arrangement succeeded well. One does find fast the wished key in every case and with the "10-finger system" don't occur mistakes.
The touchpad and the touchpad-keys are to be served pleasantly. It can be mentioned that the touchpad is inserted somewhat too deep in the case and therefore the finger is stopped again and again by the edge. Beyond that the inserted touchpad will accumulate dirt and dust.
A well-known nice Toshiba feature: the volume is adjusted at the front by an analogue turnable regulator and there is a switch for WLAN in the left front.
case
The Toshiba Satellite A-100 153 leaves an extremely high-quality impression. The chassis is very solidly processed and hardly any places are to be found, which tortion with pressure. If one presses too strong upon the display cover, sometimes color distortions at the display may occur. However this should be hardly relevant in practice.
With measured 2,8kg the Toshiba Satellite A-100 153 is pleasantly easy for a well equipped multimedia-notebook. Exclusively high-quality plastics were used, whereby particularly the bottom demonstrates an everlasting impression.
A pleasing outfit, color choice, an understandable and user-friendly layout are advantages of the Satellite A-100 153.
Detail: the Satellite A-100 153 is equipped with Harman/Kardon loudspeakers, which can quite convince according sound.
The connections are, according to our opinion, well distributed - possibly constantly occupied ports such as network, VGA, power connection and 2 USB 2.0 ports are concentrated at the left rear corner of the case and prevent thereby unnecessary cable salad. Only the audio in/out is in the front of the laptop - ideal for headphones, but problematic for the connection of an external sound system.
At the rear side of the notebook is free space for a parallel port, which however was not implemented with our test laptop.
Review Toshiba Satellite A-100 153
The first Notebook with Intel core duo processor and ATI X1600 passed our test! Enormous amounts of speculations over performance, emissions and current consumption arised the last weeks. Read on Notebookcheck.com what's reality - how a core duo computer is compared with a Pentium M and how ATI's new video card generation is evaluated. Here are the current informations.