Review Sony Vaio VPC-CW1S1E Multimedia Notebook
By Florian Wimmer 12.02.2009
Since recently, small and stylish netbooks are conquering living rooms, as computer manufacturers are also putting focus on trendy designs in bigger laptops. The times where technology presented itself as gray and functional are over with: Color and design are more important than ever.
Sony has already recognized this a while ago and wants to provide for more color in the multimedia notebook field with the new Vaio CW range. The Japanese supply their notebook in five different colors right away: No matter if in striking pink, chic white, discreet black, wicked red or cool blue, every buyer should find their color.
Currently all five colors are available on the open market, but there is only one configuration alternative available for about 850 euro: An Intel Core 2 Duo P7450 with 2.14 GHz is supposed to provide for performance together with a Geforce GT 230M. You can find offers for around 700 euro in the internet, but those are English models with a correlating keyboard and plugs.
You can extend the Vaio CW's configuration exclusively in Sony's official shop "Sony style" and equip it with a faster processor, a more energy sparing graphic card or more hard disk capacity.
Surprising here are the low prices to which Sony offers the upgrades: You can get a 2.53 GHz Core 2 Duo processor for 50 euro, a bigger hard disk for 40 euro. Even upgrades to a BluRay drive or Windows 7 Professional are within reason with 70 euro, respectively 50 euro. Sony shows itself as quite moderate with their price design in comparison to the upgrade prices of other manufacturers, such as Dell.
Case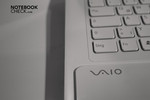 When Sony's black carton with the Vaio CW is opened, one of the five colors shine at you. In our case, the prototype was white. Sony has finished the lid in high-gloss and thus makes it susceptible for fingerprints. The good thing about our prototype is that fingerprints aren't as noticeable on the white case. For that, you see dust and other grime.
The case's bottom tray, by the way, is black in all models, just like in our notebook. The screen's frame and keyboard bezel are kept in a matt plastic, the wrist rests are again high-glossed. The keyboard has, as common for Sony since some time, single keys. Metallic particles are embedded into all plastic parts, giving the Vaio CW a pearl-like shimmer.
The wrist rest is, equally a Sony trademark, higher than the keyboard, which should allow for a more ergonomic typing. Aside from that, the surface is also made in a high-gloss finish, in opposition to the rest of the notebook's interior. This looks good but isn't really pleasant for the hands because a smeary film develops quickly there. The case slightly swerves upwards above the keyboard and accommodates the display hinges, loudspeakers, three hot keys and the power button.
Sony is sparing with status LEDs, at least on the case's upper side and the power button. The status LEDs for operating state, hard disk and WLAN have been placed on the front edge, but still can be recognized from above. A good decision because the user won't be blended in the dark by bright LEDs on the upper side, as by many other notebooks, and can still keep an eye on the notebook's status.
Generally, Sony has to be congratulated to design and material selection. Starting with the well-designed and reflective Vaio logo on the lid up to the shimmering white plastic - the materials look high-end and feel good, too. The workmanship has been equally well-executed. All parts fit well together, the case looks compact and stable and has a good torsional stiffness.
The keyboard is tightly fixed into the case and doesn't yield even at stronger pressure. Merely the display isn't especially twisting resistant and can already be bent with the slightest touch. In return, the display lid blocks pressure from the back without mercy and doesn't allow it to pass on to the screen.
The display hinges are fixed on the display frame's front bottom side and have been adjusted quite tightly. Opening the display single-handedly is nevertheless possible because of the notebook's weight. Additionally, the hinges reliably hold the lid in every position firmly and only permit a marginal teetering after adjustment.
The display frame tilts backwards because of the hinges affixed on the front and prevent opening the screen more than 135 degrees. Because this overhang is fairly short, Sony is able to place connections on the case's rear.
Connectivity
Ports have been placed on all four sides of the notebook. Underneath the front are two separate cardreaders, the one accepts Sony's own Memory Stick Duo and Memory Stick Pro HG Duo and the other can host SD cards.
Sony places, from front to back, an ExpressCard 34mm slot, the DVD burner, followed by the 3.5mm headphone-out and the 3.5mm microphone-in on the right. Last but not least, an USB 2.0 port is found.
On the left, also from front to back, are two USB 2.0 ports, a 4-pin Firewire connection, an HDMI-out, a VGA port and the louver in the far back.
And finally, Sony places the DC-in, the LAN port and a Kensington lock connection on the rear.
Sony builds all important interfaces into the notebook. The HDMI port is a feasible extra in the multimedia field in any case, for attaching modern monitors or projectors; a system upgrade, with for instance a TV tuner, is secured by the ExpressCard slot.
However, the port distribution isn't really optimal: Sony has put a few connection on the rear so that the LAN cable or the Kensington lock doesn't get in the way. But the headphone and microphone socket have been placed directly behind the DVD burner on the right, which could lead to cable difficulties with a mouse for righties. Also, the DVD drive is obstructed by the cables when it's opened.
In return, the monitor connections on the left, which are usually include quite thick and stiff cables, could make using a mouse difficult for lefties when a monitor is connected.
Additionally, the lateral ports aren't marked on the notebooks upper side so that you first have to look for the right socket on the notebooks sides.
Sony's CW range bids WLAN and Bluetooth as wireless interfaces. The wireless network is operated by Intel's WiFi Link 5100 card, which is proficient of the standards 802.11 a/b/g and also the new standard 802.11 n. A Bluetooth interface in a 2.1 "EDR" (Enhanced Data Rate) version is available.
A webcam is built-in above the display, is called "Motion Eye" by Sony, and has a resolution of 0.3 megapixels.
Supplies
Sony neither includes a comprehensive manual (to "save paper", according to Sony's environmental website) nor does the user receive recovery DVDs for his system. Instead, you are supposed to create this yourself via the integrated software tool "Vaio Recovery Center". You need, believe it or not, three DVDs. By the way, you can't use BluRays even with a built-in BluRay burner.
A total of 53 official accessories that you can buy are listed on Sony's homepage. Starting with a Bluetooth mouse in the same color for 59 euro, over bags equally matched in color for 69 euro, up to Mandarina Duck cases for only 190 euro. No matter if trolleys, backpacks, courier bags or modern shopping bags, Sony has a lot of possibilities to pack its notebooks - if you have the necessary change to do so.
A replacement adapter costs a bold 140 euro; warranty extensions of a year (100 euro) or 2 years (236 euro) are also offered and can be purchased in the entire two year warranty period.
Software
Sony delivers its CW range with Windows 7 Home Premium 64 bit. Additionally, Sony installs some annoying but also a few useful tools on its system. Aside from the just as mandatory as useless trial versions of Microsoft Office and McAffee Security Center, the Vaio CW also comes with, for example, the sensible Vaio Update that searches for new drivers for the system components automatically.
Microsoft Works 9 SE is also onboard. In opposition to Office, it's a full version but is financed by advertisements that are shown during use. Sony installs Arc Soft's Webcam Software and Roxio Easy Media Creator for burning DVDs, aside from Skype and a Google software package that includes a few Google tools that are free anyway.
At least a few users will find the software installed under the Vaio logo quite useful, such as the Vaio Gate that reminds of Apple's task bar displayed on the upper screen or, for example, the Media Gallery with which you can connect other devices via WLAN, such as Playstation 3 to stream video and audio. If and which Media Center you use, is a matter of taste. Because Microsoft has an integrated solution with the Media Center, Sony's software will likely be thrown overboard.
Overall, Sony definitely includes too much unnecessary software. Especially the annoying trial versions will be deleted by experienced users immediately, and slow down the system for inexperienced users.
Input Devices
Keyboard
Sony has been aligning its writing devices as single keys on the case in almost all its notebooks for a while already. This so-called "chiclet" design doesn't only look good, but is supposed to prevent striking adjacent keys unintentionally by a large space between the keys.
This has worked well in Sony notebooks up till now, especially as the keyboards are built-in stably and have a pleasant typing feel. The Sony CW1S1E isn't an exception here. The white or, depending on the model, pink or black single keys have a pleasant pressure point and supply a good tactile and acoustic feedback about the key pressure.
However, Sony doesn't have enough space in the case for a separate numerical block because of the larger gaps between the keys. Even the scroll keys, as well as "Pos 1" and "End" have to be triggered via a combination of the "Fn" key and arrow keys.
Sony doesn't build in extra buttons for volume control or for adjusting the display brightness; these are also only available with "Fn"-key combinations. A classic dial or at least a separate key for volume control would have been the better choice for a multimedia notebook.
Beside the power switch, placed between keyboard and display, are three hot keys that are lettered with "Web", "Display Off" and "Vaio". The "Web" key turns on the computer without starting Windows, but a Linux desktop with an own browser instead, so that you can access the internet quickly and without waiting a long time for the Windows' system start. Additionally, the system is especially energy sparing and makes a longer battery life possible.
The second key, labeled "Display Off", turns of the display, with which you can save energy at, for instance, listening to MP3.
Finally, the "Vaio" button can be assigned with various tasks, depending on the user's preferences: Either it mutes the speakers, accesses Sony's "Media Gallery" directly, increases the display's brightness or starts the help center. Aside from a few other functions, the key can be occupied with a task chosen by the user.
Touchpad
The big touchpad is found submerged in the center of the glossy finished wrist rest and can thus be seen and felt well. The surface additionally has minute gray points that make an optical differentiation even easier.
The touchpad bids a feasibly dosed, maybe sometimes a bit too weak, resistance for the finger and is capable of all multi-touch gestures, like scrolling via circular movements or zooming with two fingers.
Both touchpad keys are kept in the according case color, are big and have a good feedback when the key is pressed. You feel and hear exactly if and how often you have clicked.
Display
Sony builds in a 14 inch display that has a resolution of 1366 x 768 pixels. Thus, the LED backlit screen has an aspect ratio of 16:9. DVDs are shown in full screen, games have a better overview but web sites and text documents lack height so that you have to scroll more frequently.
Also, the Japanese engineers have sealed the screen with a high-gloss finish. The colors are supposed to subjectively be more luminous and the contrasts intensified. However, strong reflections in bright surroundings are also caused by this coating. Therefore, using the laptop outdoors is only possible to an extent.
Particularly because the given brightness is only average: Our measuring tool established an average of 202.2 cd/m2. The brightness decreased strongly especially in the upper edges and is altogether only homogenous to 80%.
Sony's X-black monitors are actually known for their quality, but the cost pressure was probably too high this time. Although the colors are luminous, the contrast of 144:1 is only average, just like the illumination and the maximum brightness. The display is subjectively alright for multimedia applications, though.
The viewing angles are, as in so many current devices, okay on the horizontal plan, and thus permit several people to sit beside each other to look at the display. But if you change your position to the screen on the vertical plane, obvious color deviations turn up quickly, the image becomes intensely brighter or dimmer, depending on the viewing direction.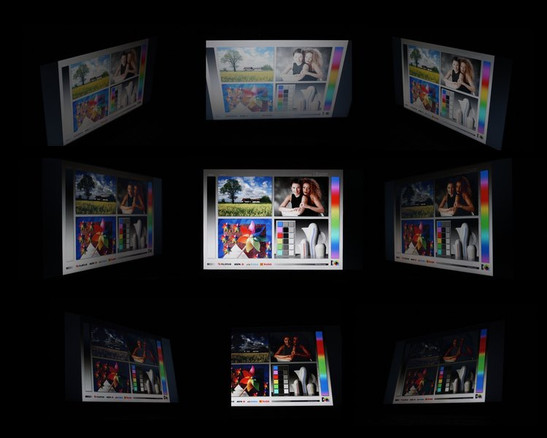 Performance
To fulfill the performance demand on a multimedia notebook, Sony trusts Intel's Core 2 Duo processor with the model name P7450 and a clock rate of 2.13 GHz. The "P" in front of the model number describes an energy sparing model with low power consumption and thus less waste heat. Intel states 25 watts as the maximum power consumption (TDP), whereas the performance automatically adapts to the demand.
Nvidia's Geforce GT 230M is employed as the graphic card, which has a fixed built-in memory of 512 MBytes and also reserves up to 2270 MByte from the RAM for itself, depending on the requirements.
Our prototype has received a 4 GByte DDR3 memory from Hynix, whereby the complete memory capacity can be efficiently used due to the 64bit system. The physical clock rate is 533 MHz, whereas the double data rate is achieved with the DDR memory principle because two data are transferred per cycle. By the way, a maximum of 8 GBytes in form of two 4 GByte bars can be built in. However these are still fairly expensive and aren't offered by Sony.
In application performance the Sony CW proves to be very solid and feasible for most tasks due to the two core processor, the large RAM, and the strong graphic card. This impression is verified by the synthetic benchmark results. The notebook reaches a total rating of 3945 points in PCMark Vantage and is thus in the center field with a classic result.
Cinebench R10 especially shows the performance advantage of the second core in applications: Both cores render an image 1.88-fold faster than if only one core does the job.
System information Sony Vaio VPC-CW1S1E
PCMark Vantage Result
3945 points

Help
Of course, the gaming performance of a multimedia notebook is important. We expect sufficient performance for current games, even in high details.
And we weren't at all disappointed. The recently launched Call of Duty: Modern Warfare 2 stays playable in the display's native resolution (1366 x 768) and high detail settings. We reached an average of 28.5 frames with it. Even Anno 1404 could be enjoyed in high details but you have to count with occasional jolts. The prototype achieved 17.4 frames. The latest NFS Shift proved that the notebook could even cope with race games, as it ran with a fairly playable 19.5 frames in high settings.
Older games are, of course, even less problematic. We played Call of Duty 4 with a quadruple anti-aliasing and high details at a smooth 50 frames per second.
The benchmarks of the gaming field also presented good performance rates for the system. The Sony CW reached 21391 points in the oldest benchmark, 3DMark2001, 15333 points in 3DMark03 and 10403 points in 3DMark05. Therefore, games of 4 years and older should run even in the highest details without problems. Our system could still reach 5647 points in 3DMark06.
Our prototype was rewarded with a score of 3332 in the PCMark Vantage gaming test and thus, according to its demand, can line itself in as a middle class gamer of current games.
Also worth mentioning is that numerous programs had been installed on our system in state of delivery. If these, partly superfluous, programs are deleted and the visual effects of Windows are throttled, then you should be able to gain the one or other frame or point.
Anno 1404
Resolution
Settings
Value
1280x1024
very high, 0AA, 4AF

17.4 fps

1024x768
low, 0AA, 0AF

53 fps
F.E.A.R. 2
Resolution
Settings
Value
1280x1024
high, all on, 4xAA, biliniarAF

27.5 fps

1024x768
medium, all on, 2xAA, biliniarAF

45.5 fps

800x600
minimum, all off, 0xAA, biliniarAF

94.5 fps
Racedriver: GRID
Resolution
Settings
Value
1280x1024
, 2xXMSAAAA

28 fps

1024x768
, 0xAA

34.9 fps

800x600
, 0xAA, 0xAF

67 fps
3DMark 2001SE Standard
21391 points
3DMark 03 Standard
15333 points
3DMark 05 Standard
10403 points
3DMark 06 Standard
5647 points

Help
Seagate Momentus 5400.6 ST9320325AS
Transfer Rate Minimum: 35.4 MB/s
Transfer Rate Maximum: 73.3 MB/s
Transfer Rate Average: 58 MB/s
Sony uses a Seagate HDD with a memory capacity of 320 GBytes, 5400 revolutions per minute and a SATA II connection as the hard disk. The hard disk presents the usual performance rates with an average throughput rate of 58.0 MBytes per second in Benchmark HDTune.
The DVD burner comes from Pioneer and burns DVDs with an 8-fold velocity. Sony also offers a BluRay drive and a BluRay burner for its CW range.
DPC Latencies
As Windows hasn't been conceived as a real-time operating system, problems with real-time audio or video streams that are exchanged with external devices could turn up under certain circumstances. An indication for this are the so-called DPC latencies that state how long a process is in the waiting loop before it is processed by the system. A few too high rates have been indicated by the tool "DPC Latency Checker" so that the system, in particular the employed drivers, has to first be revised for professional operation.
Emissions
System Noise
The Sony CW 1S1E presents itself as an overall quiet and modest notebook. The fan's volume has an average of 32.7 dB(A) in an activated state without load and is thus barely audible. The hard disk with 33.0 dB(A), as well as the DVD drive, which is slightly louder during rendering, are also on this level.
The fan turns up a bit under load and reaches an average of 36.2 dB(A) and a maximum of 41.5 dB(A). This is then very audible but actually not disturbing. The fan rotates with a pleasantly low frequency and we didn't notice any unpleasant fan noise pulsation.
Noise Level
Idle

32.7 / 32.7 / 33.2 dB(A)

HDD

33 dB(A)

DVD

35.8 / dB(A)

Load

36.2 / 41.5 dB(A)




30 dB
silent

40 dB(A)
audible

50 dB(A)
loud

min:

, med:

, max:

(15 cm distance)
Temperature
The Sony CW is also always very agreeable in terms of temperature. The maximum value of 39.3 degrees Celsius is reached underneath the louver under load. Otherwise all other notebook regions stay under 35 degrees, even under load. Those are really excellent values for a fairly powerful and compact notebook.
We assessed a maximum temperature of 35.1 degrees in its operating state without demanding tasks, again on the bottom. The upper side barely heats up, and always stays under 31 degrees. Also important: The wrist rest is always cool and doesn't cause moist hands.
Even the adapter remains within an acceptable range with 47.1 degrees Celsius and can always be picked up and placed on all surfaces without hesitation.
(+)
The average temperature for the upper side under maximal load is 29.3 °C / 85 F, compared to the average of 31 °C / 88 F for the devices in the class Multimedia.
(+)
The maximum temperature on the upper side is 34.6 °C / 94 F, compared to the average of 36.6 °C / 98 F, ranging from 21.1 to 71 °C for the class Multimedia.
(+)
The bottom heats up to a maximum of 39.3 °C / 103 F, compared to the average of 38.9 °C / 102 F
(+)
In idle usage, the average temperature for the upper side is 29.5 °C / 85 F, compared to the device average of 31 °C / 88 F.
(+)
The palmrests and touchpad are cooler than skin temperature with a maximum of 30.4 °C / 86.7 F and are therefore cool to the touch.
(±)
The average temperature of the palmrest area of similar devices was 28.9 °C / 84 F (-1.5 °C / -2.7 F).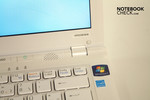 Loudspeakers
The small stereo loudspeakers have been placed conveniently above the keyboard and can thus carry their sound to the user in almost every position without being covered by soft surfaces or the palms.
The sound is adequate. However, the trebles are strongly overemphasized and the omission of a subwoofer becomes evident in the weak bass. But if you regulate the sound with Windows' own sound settings, you can use the loudspeakers for the one or other movie or game.
The supplied volume is very suitable and even fairly loud depending on the application. In any case, the little loudspeakers are barely audible in closed rooms with a high background noise.
A clacking of the loudspeakers, which only turned up in internet flash movies, was striking. We ascribe this to the Flash Player, which Adobe hasn't yet supplied in a 64 bit compatible version because we couldn't reconstruct this clacking in DVDs, DivX movies or MP3s.
The 3.5mm headphone-out, as already mentioned, has been placed a bit adversely on the right, but provides a good sound without clattering or creaking.
Battery Life
You shouldn't really expect a very high battery life from a multimedia notebook with a good gaming performance. But the Sony CW supplies a good 5 hours and 10 minutes without high load in an activated state, anyway. We could still establish a battery life of 85 minutes, so one hour and 15 minutes, when the laptop was put under full load, e.g. by a game.
Of course, tests with applications that are used most often on the go, such as internet surfing via WLAN or DVD rendering, are more true-to-life. The Sony CW reaches similar and similarly good values in both applications: You can surf in the internet on the go for 3 hours and 20 minutes without a cable and watch a DVD for 8 minutes less, so 3 hours and 12 minutes.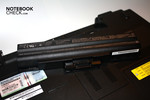 A Sony own 6 cell battery, with a capacity of 50.6 watt hours and which is based on the lithium ion technology, is responsible for this. Aside from that, the fairly low power consumption also contributes to granting a good battery life. 16.3 watts are the notebook's observed minimum consumption and up to 62.2 watts can be reached under maximum load.
It's practical that you can set a mode for sparing the battery in Sony's "Vaio Control Center" in the system control. It shortens the runtime but the battery's capacity loss is decreased when the notebook is mainly used on the mains.
When the notebook is turned off, it shouldn't actually consume any energy. Many notebooks still consume electricity from the mains, though. Not so Sony's CW. Our measuring tool indicates 0.00 watts. The prototype isn't quite as exemplary in standby mode, as it still has a power consumption of 0.6 watts then.
Power Consumption
Off / Standby

0 / 0.6 Watt

Idle

16.3 / 18.8 / 20.2 Watt

Load

48.3 / 62.2 Watt




Key: min:

, med:

, max:
Verdict
Sony's Vaio CW1S1E is worth a more than one look if you're looking for a stylish notebook of the multimedia field but don't want to set on Apple's MacBook. The two core processor supplies a solid application performance and the graphic card provides for enough power, even for the latest games. Not to mention the chic design. The materials are also high-end, but there is only plastic to be seen.
Aside from that, Sony's 14 incher impresses with a very good workmanship, an excellent keyboard, nice details like the energy sparing web mode, the possibility of sparing the battery or the "Display Off" button. The more than complete connectivity can also be added.
However, you have to put up with a few minor flaws. The installed bloatware exceeds every reasonable frame, the display is only average and the glossy coated wrist rest is susceptible for smudge and also quickly smeary. Also, the connections are numerous but partly adversely aligned.
Despite that, many a buyer will probably fall in love with the Vaio CW's looks, with its colorfulness and curves. And because the inner values coincide in this case, as the notebook always remains cool and modest and at the same time is mobile and compact, it can be approved of.
With courtesy of ...