Review OCZ Vertex 3 250 GB Solid State Drive (SSD, SATA 3)

Modern solid state drives are increasingly popular, and are getting cheaper too. Just a year ago this type of drive was considered a luxury which not many users had, or could afford. Since then, with their widespread use in various different types of machine, the cost per GB of memory has come down and their benefits have begun to be recognised. Minimal access times, along with fast transfer rates, are probably the greatest advantage of having an SSD. It is this that gives you a noticeable improvement in performance during everyday use.
With Intel's Huron River platform and the new Sandy Bridge CPUs, SATA 3 has also gained entry to mobile devices. There is currently no mobile platform from AMD that supports SATA 3 and with it 6 GBit/s; the forthcoming Llano APUs are the first that will be ready for it. Despite the maximum transfer rate of 6 GBit/s, we are still dealing with a standardized port, which is therefore backwards compatible. With this in mind we also try using the new SSD in a netbook with a SATA 2 Connector (3 GBit/s).
OCZ Technology unveiled the first models of the Vertex 3 Pro and EX Generation at the Consumer Electronics Show (CES) 2011, and also introduced the new high-end consumer SSD Vertex 3 at CeBIT 2011. According to its marketing information, it should be possible to achieve 550 MB/s reading and 525 MB/s writing. Most retailers list the Vertex 3 SSD in its 120, 240 and 480 GB models. Delivery problems are being experienced because of the earthquake in Japan, because Toshiba manufactures its flash memory there. There are currently no firm recommended retail prices for the SSDs, but the 120 GB model should be sold for around €249.
In our review, however, we take a detailed look at the OCZ Vertex 3 with 240 GB. What we are looking at is still a sample model for marketing purposes. The firmware and choice of materials for the casing will be modified before it is launched. In its final state the drive is supposed to weigh 77 g; but our sample model is considerably heavier at 91 g. Inside it is MLC flash memory made with the modern 25 nm process. In addition, OCZ also introduced its predecessor, the Vertex 2, with 25 nm memory chips (SATA 2). In the case of the Vertex 2, however, this is not an improvement - on the contrary, in fact, it slightly worsens its speed and theoretically its life span too.
To match the new SATA 3 port, the drive also features the new SandForce SF-2281 controller. OCZ has been working closely with the firm, and the firmware is also being specially adapted for the Vertex 3. The TRIM command and Garbage Collection (GC) are supported. TRIM can now also be activated under Mac OS X 10.6.7 (as we have reported).
The retail version of the Vertex 3 will probably come packaged with some screws for mounting, a 3.5-inch mounting frame, a small OCZ sticker and a handbook.
The test system
Test configuration:
Test configuration:
17.3 " HD+ LED display (1600 x 900 pixel, 43.9 cm diagonal)
Intel Core i7-2630QM (2.0 - 2.9 GHz, 6 MB cache)
Intel HM65 chipset
Nvidia GeForce GT 540M (1024 MB DDR3 VRAM)
4 GB DDR3 RAM (1333 MHz)
Intel SSD 510 series (250 GB)
Intel Centrino Wireless-N 1030 (including Bluetooth)
Windows 7 Ultimate (64-Bit)
Starting price: €799 (price depends on hardware configuration)
Benchmarks
The first of our tests is the ATTO Disk benchmark, which looks at read and write transfers of packet sizes between 512 KB and 8 GB. This is the tool of choice for most manufacturers, as it gives the highest transfer rates, and so generally meets the published marketing figures.
The read rates up until 16 MB are average, and comparable with other slower solid state drives. Only after this point does the true reading performance of the SATA 3 port reveal itself. The drives with SATA 2 hit a plateau from this packet size onwards, but the OCZ Vertex 3 still has plenty to give, settling at a constant high level of around 550 MB/s for packet sizes beyond 1 GB. The Intel SSD 510 series (Elmcrest) is around 40 MB behind (difference: 7.28%) at its peak. The previous Vertex model, the OCZ Vertex 2, reaches its maximum at around 285 MB/s (difference of 48.18%), and the difference quickly becomes clear.
The Vertex 3's maximum write rate is given as 525 MB/s, a very high level. Intel's direct competitor (510 series) on the other hand is only meant to reach 315 MB/s. The ATTO benchmark confirmed these figures. The Vertex 3 pulls away from the other drives after a transfer size of 2 MB, and leads practically from start to finish. From a transfer size of 256 MB onwards, the rate is constant at its maximum of 521 MB/s. To compare, the Intel SSD 510 series and the Vertex 2 level out at 335 and 263 MB/s respectively (difference of 35.70% - 49.52%).
The CrystalDiskMark test offers a variety of different measurements; we will be taking a particularly close look at the 4K writing and reading benchmark. This process occurs frequently during everyday use. In the reading operation the OCZ Vertex 3 takes the top position, overtaking all the drives listed in comparison. Its performance in the 4K writing is fine, reaching a good level, but Intel's new SSD 510 series a.k.a. Elmcrest is ahead, with 39.13 MB/s. The difference in performance between these two in this test is 31.56% in the Intel SSD's favour.
The HD Tune Pro benchmark is not directly configured for solid state drives, and results fluctuate strongly from measurement to measurement. We took a sensible average from five runs of the test. The maximum sequential read transfer rate at 332 MB/s is not even close to the level of the ATTO disk benchmark, but it allows a comparison to be drawn against other HD Tune results. The OCZ Vertex 3 and the Intel SSD 510 series are almost neck and neck, but the RAID-0 system of the Sony VAIO VPC-Z11X9E also puts in a respectable performance. A glance at the Seagate hard drive in last place shows the superiority of these three when it comes to transfer rates.
An access time of 0.073 milliseconds secures the Vertex 3 another top position in our comparison. Other drives need between 0.1 and 0.4 milliseconds. These figures are worlds away from those of conventional hard drives, with access times ranging from 17 to 20 milliseconds.
A pure test for solid state drives is the AS SSD benchmark, which also delivers consistent results, but does not come close to the measurements from the ATTO benchmark. The comparison of access times is useful. The good result in the reading operation is confirmed, but when data is being written the access time is 0.28 milliseconds, a slightly higher result in comparison.
The drive's final point score is also useful. The Vertex 3 finishes at the top of our data bank, with a total score of 670 points.
As well as the regular benchmark, AS SSD also offers a small copy benchmark, which is supposed to simulate everyday use. The data throughput and the time needed is measured for three different types of data. In this test the OCZ Vertex 3 is ranked in second place behind the new high-end Intel drive.
Finally we looked at the IOMeter program, which is another benchmark for storage media. From the numerous test profiles we deliberately chose the 'IOMix' (5 minute runtime) which was developed by the c't editorial team. This simulates everyday usage, as with the AS SSD copy benchmark.
With a result of 201.03 MB/s, the OCZ drive takes first place again with a clear lead. In second and third place are the Intel SSD 510 series and OCZ's own Vertex 2. The difference in performance is around 22.80% and 29.46% respectively.
We had to do without an energy consumption measurement in a notebook, but our colleagues at AnandTech provide a clear graphical comparison in their recent review of the Intel SSD 320 series. In idle, the OCZ Vertex 3 model with 240 GB used 1.79 Watts. This value is at the top end of the graphic, trumped only by a 10,000 rpm hard drive (though by some distance, with 4.33 Watts). The Intel SSD 510 series, also with a SATA 3 connection, consumes considerably less energy with 0.95 Watts. The leader of the pack is a Kingston SSDNov V+100 at only 0.21 Watts.
Under heavy use, the SSD requires between 2.91 and 4.46 Watts depending on the benchmark. Unfortunately this places it at the bottom of the heap again (on the same level as the Intel 510).
Keeping the energy consumption down is especially important for mobile devices, as it will ultimately have an impact on the battery life. So it seems that the Vertex 3, though fast, does not score highly in this area.
Verdict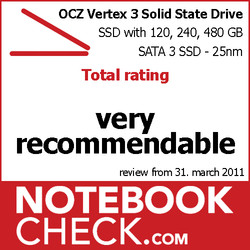 The OCZ Vertex 3 makes a thoroughly good impression as a new high-end solid state drive for end-users. The transfer rates in a notebook via SATA 3 (6 Gbit/s) are very high, with a maximum of 550 MB/s (reading), and concur with the figures in the marketing information. The access times are also minimal, allowing you to work fluidly and with the shortest of load times.
Currently only a marketing sample model is available, whose firmware and choice of materials are not yet that of the final product. Up until launch, which has been delayed due to the earthquake in Japan and its impact on the flash memory supplier Toshiba, OCZ will continue to work on these two points. Despite the modern 25 nm finishing process, the drive's energy consumption readings are slightly elevated, which could lead to shorter battery life in mobile devices. Using the OCZ Vertex 3 via SATA 2 does not bring any improvement in performance. If you are thinking of switching over to a modern SATA 3 system, getting the Vertex 3 could be worth the expenditure, in terms of being future-proof.
There are no official prices for the OCZ Vertex 3 just yet, but the solid state drive with 120 GB is likely to be offered for €249 (RRP). This price corresponds to a price of €2.08 per GB. In current price comparisons, 1 GB of the the OCZ Vertex 2 and Intel SSD 510 series (drives that are the same size) are only €1.46 and €1.92 respectively.