Review Logitech Speaker Lapdesk N550
Sound booster. Poor speakers are a weakness that many notebook users know especially well. Logitech offers a stable laptop tray with two high-end speakers called Speaker Lapdesk N550. Is it the perfect gadget even without a fan or USB interfaces?
Currently, five notebook laptop trays, listed under the product name "Lapdesk", are available from the Swiss company, Logitech. This assortment attends to various price ranges and application fields. From simple lapdesks, without any special functions, over devices with a fan or speakers, up to top models with a fan and speakers (N700). A device with an incorporated USB hub isn't available. The Logitech Speaker Lapdesk N550, which we and 10 Notebookcheck.com readers (see German review) have tested, is found in the midfield of the available solutions in terms of functionality and the recommended price of 49.99 euros.
Alike the other models in Logitech's range, the lap desk lacks a USB port for peripherals and it has two stereo speakers with an output performance of 2 watt each (neodymium driver spools). We'll clarify if the lap desk is worth buying, or if it's just another nice gimmick, along with our readers in this review.
The Logitech Speaker Lapdesk N550 is delivered in a slim box, which only includes a quick guide besides the actual device. The lap desk is made of a pleasant plastic and finished in a creamy white. Logitech doesn't offer any other colors. The haptics and manufacturing is convincing. The bottom is slightly padded and enveloped by a mesh fabric (material: polyester). This choice of material in combination with a weight of 1.1 kilograms allows you to work for a longer time or watch movies without fatigue.
Logitech has considered ergonomics and has opted for a beveled shape (10 degree angle). "It places the notebook in a beneficial position", our test reader Jan S. writes. Moreover, two foldable retainers keep the device stably in position. Another advantage in comparison to normal use on a soft surface is the improved air flow. Our test reader Sven W. notices that the fan sucks in fresh air without problems and could provide a noticeably better cooling. An additional active cooling performance would also be given with a dedicated fan (only available in Lapdesk N700).
The first use is very easy and there aren't any drivers needed for the plug and play speakers. For example, Sebastian F. says, "The comprehensively illustrated instructions are easy to understand". Microsoft Windows Vista and 7, as well as Mac OS X look for the necessary drivers autonomously and the Speaker Lapdesk is ready for use after about 30 to 60 seconds. The 40 centimeter long USB extension cable that can be stored on the right or left, depending on the device, is a nice feature. The fact that the N550 doesn't need an extra power source and is supplied by the USB port is agreeable. Since the lap desk doesn't have an incorporated USB hub, you lose one available port on your notebook when it's connected.
Which device sizes fit on the Speaker Lapdesk N550? According to Logitech, it's designed for devices with a 14 inch display. However, the perfect laptop category appears to be netbooks with a 10 or 12 inch display. They fit exactly between both speakers. A MacBook Pro 13 also fits on the Lapdesk N550, but it partly covers the speakers. The Acer Aspire TimelineX 3820TG from our test reader, Lars W., also had enough room. Devices with 15 inches or more will have room problems (picture: Apple MacBook Pro 15), which can be read in Peter G.'s reader's test. The speakers are covered by the sides and the device protrudes at the upper edge. The larger speaker Lapdesk N700, with speakers and fan, would be recommendable for such devices.
Both stereo speakers with 2 watts each are to provide a good multimedia feel. Inside, there are high quality neodymium driver spools that create a pleasant sound. You shouldn't expect any miracles from the speakers. Nevertheless, in comparison to the typically poor netbook and notebook speakers, you can hear an evident and positive difference. The fact that the hollow space inside is used as a soundbox for the speakers is interesting. It amplifies the basses a bit.
The Speaker Lapdesk doesn't have to compete with high-end speaker systems, but it is a very interesting solution for on the sofa or in bed. The volume can be controlled via three small buttons on the right, or it can be enabled or disabled via the output, which spares the usually awkward reaching for an FN key.
Verdict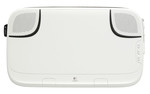 The Logitech Speaker Lapdesk N550 leaves us and our test readers with a basically positive impression. The manufacturing and choice of materials is convincing and the ergonomics are viable due to the beveled design. The Lapdesk can be used without covered speakers with laptops up to 13.3 inches. Logitech's lapdesk has to capitulate with devices that have a 14 inch display or larger. Logitech has the Speaker Lapdesk N700 for these cases. This Lapdesk also has its own fan, which should provide cool hardware even in larger devices.
The highlight of the tested lap desk is both stereo speakers. They supply a good sound quality, despite a moderate output performance. One flaw of the Logitech Speaker Lapdesk N550, which our test readers also write, is the lack of a USB hub. Many notebooks only have two or three USB port and consequently one will be occupied by the lap desk.
Ultimately, the overall impression is convincing and its use on the sofa or in bed is beneficial for laptops. It can be cooled better due to the hard surface. The current start price of about 30 euros is also acceptable for this gadget.