Review Intel Sandy Bridge Processors Gaming Performance
Decisions, decisions, decisions. More and more games are drawing on the power of three or four CPU cores. But does a high-end processor make much of a difference when combined with a mid-grade graphics card? We aimed to find out in testing the performance of seven Sandy Bridge CPUs on four recent games.
Working For Notebookcheck
Are you a loyal reader of notebookcheck? Are you a techie who knows how to write? Then join our Team!
Especially wanted:
English-Swedish-Translator - Details here
Review Editor - Details here
News Editor - Details here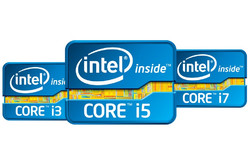 For our CPU performance comparison we used the 15.6" multimedia notebook XMG A501 from manufacturer Schenker, equipped with 4 GB DDR3 RAM, 256 GB SSD hard drive and a current Nvidia mid-range graphics card, the GeForce GT 540M. The notebook ran on Windows 7 Home Premium 64 Bit and the GPU driver in place (ForceWare 265.77) was the most current one available. The gaming benchmarks were run on seven mobile CPUs of the new Sandy Bridge generation (see list below), which were fortunately easy to install in the XMG A501.
The aim of the tests was to find out whether occasional gamers would at all profit from a high-end CPU when the graphics card in place is a mid-range GPU. For this purpose we chose four games from different genres that rely particularly heavily on the processor and/or are optimized for tri-core or quad-core processing. The native resolution of 1600 x 900 pixels was used in the course of the tests and those graphics settings that ensured a smooth, playable frame rate were selected.
Schenker XMG A501
Notebook Specs:
Windows 7 Home Premium 64 Bit
Intel HM65 Chipset
Nvidia GeForce GT 540M (1024 MB DDR3 VRAM)
15.6" HD+ LED Display (Non-Glare)
4 GB DDR3-RAM (1333 MHz)
Crucial RealSSD C300 (256 GB)
Starting Price: 749 Euro (Price depends on particular configuration)
Processors Used:
Links:
Battlefield: Bad Company 2
The action blockbuster from developer Dice is as appealing in its graphics as in its gameplay. Particularly the extensively destructible environment and addictive multiplayer mode have made the first-person shooter so popular.

The current Battlefield offshoot can give notebooks quite a hard time when the highest graphics settings are on, a smooth refresh rate being produced only by high-end graphics cards. With the GeForce GT 540M, high detail settings could not produce a fluid enough refresh rate and we had to fall back on moderate detail settings and 2x AF (anisotropic filtering). The benchmark used consisted of the in-game boat ride intro (until you reach the shore).
The results of the seven processors tested managed to give us a bit of a surprise. Other than the slightly outlying Core i7-2620M (33.5 fps), all the Sandy Bridge CPUs wound up producing refresh rates within the small scope of 34.0 to 34.1 fps. This acts as the first indicator that the mid-grade graphics card is performing at its very limits, so much so that even the most powerful processors can't improve the frame rate.
Colin McRae: Dirt 2
Although the all-terrain racer, Colin McRae: Dirt 2, has already been on the market for more than a year, it's still one of the most visually appealing games out there. Especially stunning are the DirectX 11 effects, which do however demand quite a bit from mid-range graphics cards. We, therefore, had to choose moderate detail settings and 4x AA (antialiasing). Dirt 2 conveniently has a built-in benchmark which we used to test out the Sandy Bridge processors.
The frame rates produced here varied only slightly more than those for Bad Company 2, never amounting to more than a single frame per second. As you can see in the image below, weaker CPUs sometimes produced a smoother refresh rate than their more powerful cousins. The reason for this is that the benchmark doesn't run exactly the same each time. That is, the race is not predetermined and unfolds differently each time.
Call of Duty: Black Ops
Despite its aging graphics engine, the Call of Duty series—which is alternately developed by Infinity Ward and Treyarch—has been a top-seller for years now.
Technically speaking, not much has changed in the series since Modern Warfare, demanding relatively little from the graphics card. Therefore, mid-grade notebooks manage to run the newest game in the series, Black Ops, just fine. Intel's Sandy Bridge CPUs were put in the test of reproducing the firefight in the streets of Havana (first mission of the campaign) in high detail settings, 2x AA and 2x AF.
Of the titles tested, Black Ops was the only game to produce considerable differences in performance among the CPUs in review. From the Core i5-2410M to the Core i7-2720QM, the refresh rate rose about 2 fps, from 39 to 40.9 fps. The Core i3-2310M—which lacks the Turbo Boost function—trailed behind at 37 fps.
Anno 1404
The visually stunning city-building real-time strategy from German developers, Related Designs and Blue Byte Software, is optimized for multi-core processing. Recent, half-way decent graphics cards need not fear Anno 1404. The GeForce GT 540M, for example, renders a good-looking picture. The campaign mission from the demo served as our benchmark here—we played for several minutes with high detail settings and 2x AF.
Once again, the refresh rate was practically unaffected by the CPU in place, all seven Sandy Bridge processors managed a frame rate between 34.2 and 35.3 fps. Since the quad-core CPUs could not distance themselves from their dual-core cousins, the limitations of the graphics card was most likely the determining factor for the refresh rate.
Verdict
After all the tests were done, we were able to draw two conclusions. One, Intel's Sandy Bridge architecture is so powerful that even the entry-level model, the Core i3-2310M, is without a doubt fit for gaming. Two, mid-range graphics cards reach their gaming limits so quickly that the choice of processor hardly has any influence over the refresh rate. In three of the four games tested, the CPUs produced results within one fps of each other. Only in Call of Duty: Black Ops did the difference between the least and most expensive CPUs rise to a still not-very-significant 4 fps.
Occasional gamers, therefore, don't need to dish out for a more powerful CPU when choosing a mid-range graphic card. To go along with the Nvidia GeForce GT 540M we'd recommend the Core i5-2410M, which unlike the Core i3 models sports the automatic overclocking feature Turbo Boost and offers the best price-to-performance ratio. Quad-core CPUs or dual-core processors with high clock rates will only start to make a difference when combined with real gaming notebooks or high-end laptops equipped with graphics cards on par with or better than the GeForce GTX 460M or Radeon HD 5870 .