Loudspeakers
The chassis of the HP laptop leaves room for 3 loudspeakers. In our cheap version with Sempron processor only the two front speakers from Altec Lansing were built in. Still they performed very good.
Viewing angles: When looking from above or beyond on the screen the color are fading very quickly. From the sides the colors do stay longer vivid, but still not very good compared to higher classified displays.
| | | |
| --- | --- | --- |
| 119,3 cd/m² | 128,6 cd/m² | 114,0 cd/m² |
| 126,1 cd/m² | 136,4 cd/m² | 117,5 cd/m² |
| 131,3,2 cd/m² | 127,1 cd/m² | 113,0 cd/m² |
Brightness distribution on the screen.
Many thanks to the familiy Svojtko for borrowing us the notebook.
Battery Life
The battery life of the Pavilion is average for the built in components. With 2 hours and 44 minutes during surfing it could be used for portable usage (if it wouldn't be that heavy).
During gaming the battery holded 1 hour and 28 minutes. still ok
Reading a text the HP ran 2 hours and 54 minutes (minimum brightness).
Power

Due to its Sempron processor the HP needs much more electric current than Centrino based laptops. Here are the exact measured values:
Minimum (min. brightnes, no Wi-Fi) 26,5 Watt
Idle (max. brightness, Wi-Fi on) 33,0 Watt
Maximum (everything on) 58,1 Watt
Performance
Tzv 6214EA offers a good office performance. The integrated graphics card from ATI (XPress 200) isn't a good choice for games. Only old games are running flawlessly. Nevertheless, Age of Empires 3 was running (in lowest settings and resolution) judder free.
Negative: The known problem of the ATI RS480 chipset is its bad USB 2.0 transfer rate.
For more information on the performance of the HP notebook refer to the following detailed benchmark results:
3D Mark01
3227 points
3D Mark03
889 points
3D Mark05
449 points
Quake 3 Arena
This old OpenGL based game from ID Software can be played in the highest resolution and highest settings without any problems.
45,7 fps im FOUR.DM_68 Timedemo
PCMark 04:
2819 points
PCMark 05:
1772 points
HD Tune:
Altough we ran HDTune several times without any programs running in the background severe performance drops (see diagram) were recorded.
Transfer Rate Minimum: 12,7 MB/sec (without extremas 16 MB/sek)
Transfer Rate Maximum: 24,9 MB/sec
Transfer Rate Average: 21,3 MB/sec
Access Time: 18,3 ms
Burst Rate: 65,9 MB/sec
CPU Usage: 4,8 %
Emmissions
The big, a bit clumsy, body of the HP zv6214EA is designed for fast processsors. Thats why the fan is running all the time with 41,1 dB. The positive side is that we couldn't get the fan to run faster (and louder). And you may believe us - we tried hard! ;-)
Here are the detailed results of the sound level measurements:
Laptop off: 30,5 dB
Laptop on, fan speed 1 of 1: 41,1 dB
+ harddisk 42,8 dB (rattles a bit)
Fan speed 2: I don't know if there is any, but in our test we hadn't found it.
+ DVD drive: max 48,5 dB
Furthermore, the air coming out at the rear of the notebook isn't very warm and thats why the whole notebook stays very cool (max. 35°C on the lower side). Perhaps in a future BIOS version the fans are turned off in Idle mode (there would be room for it in the heat management).
Screen
The screen on the zb6214EA is WXGA with a widescreen resolution of 1280x900 pixels. It has a matte screen that is averagely lit with 136 cd/m². Enough for indoor use but way too dark for outdoor use in the sun. The measured illumination of 82% (darkest to brightest spot) is above average.
Keyboard & Touchpad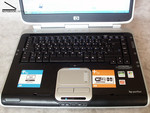 The normally sized keyboard is good to use and very solid. Nevertheless, it should be mentioned that one of our reviewers had problems with it becaus it "swallowed" some keys during typing.
The touchpad is average and works without any problems.
Positive: It can be turned off easily with the button between keyboard and touchpad.
Case / Built
The large, chunky chassis of the HP Pavilion zv6000 series laptops is build very good and leaves a very positive impression. The used plastic is feeling sturdy. Only the display lock is somewhat wobbly, but never the less it works perfectly.
Up to Firewire the HP zv 6214 deliveres all useful connections. Positive: Little Icons on top of the case mark all important ports.
Review HP Pavilion zv6214EA (zv6000 series)