Review HP Pavilion dv9074cl Notebook
Case
Following review is provided by notebookcheck.pl, our Polish editor team.
Overall, all notebooks of the dv9000 series have a common design. Also the dv9074cl has a piano coating and shows the already known wave pattern.
Generally, the workmanship of the dv9000 series is alright. However, the panel above the keyboard is not at the same level than the surrounding case.
The display cover slightly yields under pressure, but in total it is still rather robust. Tough the hinges are small, they hardly allow any wobbling.
The Pavilion dv9000 series and the dv6000 series mainly differ by their closing mechanism. While the dv6000 notebooks utilize a magnetic locking, the bigger 17 inch dv9000 series provide a standard latch with two bolts.
Because of its design specifics none of the interfaces could be located at the notebook's backside. Besides of the audio ports, the infrared port and the WLan switch, all other interfaces were located left and right of the notebook. Unfortunately, the dv9074cl lacks a HDMI interface. In turn the provided display rates rather good in our test.
Input Devices
The keyboard of the dv9000 series is basically identical to the one of the Pavilion dv6140ea. It provides a seperate numerical keypad, however the enter key extends only over one row.
Typing features a short travel and an extremely abrupt stop and is a little bit noisy.
The touchpad is not placed in the center, but a little bit moved to the left. This was not uncomfortable for us, but chances are that the touchpad is accidentally activated by the left wrist. However, it can be deactived by a little button, lit by a small blue LED. The touchpad is the same than the one of the smaller dv6000 series. Its sliding properties are not ideal, and the according buttons not really user-friendly.
A black value of 0.9cd/m² gives together with the measured maximum brightness a contrast ratio 224:1.
Performance
The HP Pavilion dv9074cl is equipped with a dual core AMD Turion 64 X2 TL-56 1.8GHz CPU. Together with two fast 1GB RAMs by Nanya clocked at 667 MHz this notebook's performance was at least equal to the dv9033cl and even outperformed the dv9033cl in some aspects.
A GeForce Go 7600 is responsible for graphics. All together this equipment is fit for office and internet applications and even for some older not so demanding games.

The reviewed notebook came with two 100GB HDDs by Seagate. Their data transfer rate and access time are pretty good.
Further information about the video card can be found here or in our comparison of mobile video cards. Detailed information about the AMD 64X2 CPU can be found here.
Please also look at our benchmark list of mobile processors or at our benchmark list of mobile video cards, in order to compare this notebook to other configurations.
3DMark 2001SE Standard

16678 points
3DMark 03 Standard

8073 points
3DMark 05 Standard

3588 points
3DMark 06 Score

2230 points

Help
PCMark 04 Standard

5011 points
PCMark 05 Standard

4001 points

Help
200 GB - 5400 rpm
Transfer Rate Minimum: 20.4 MB/s

Transfer Rate Maximum: 41.7 MB/s

Transfer Rate Average: 32.2 MB/s

Access Time: 15.6 ms

Burst Rate: 104.6 MB/s

CPU Usage: 4.5 %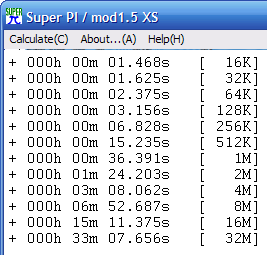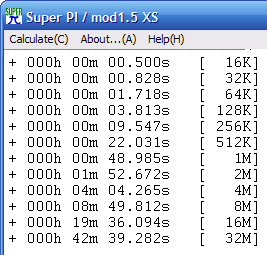 | | HP Pavilion dv9033cl (Core Duo T2300E) | HP Pavilion dv9074cl (Turion 64 X2 TL-56) |
| --- | --- | --- |
| Windows XP boot up | 47s | 50s |
| HP QuickPlay boot up | 22s | 26s |
| PCLinuxOS 2007 TR4 boot up | 2min29s | 2min14s |
| SLAX Linux (w/o GUI) boot up | 50s | 36s |
| loading a saved game HoMM V | 21s | 21s |
| MOV to MPEG conversion (on battery, 109MB) | 1min18s | 1min44s |
| MOV to DivX conversion (on PSA, 109MB) | 1min12s | 1min14s |
| installing .NET Framework 2.0 | 2min11s | 2min21s |
| Aquamark benchmark | 60516points | 57197points |
| x3: Reunion benchmark | 29.426fps | 29.271fps |
| WinRAR benchmark | 794KB/s | 817KB/s |
Emissions
Loudness
Under load the fan starts running immediately and reaches a noise level of 38.8dB. With graphic intensive applications the noise level exceeds 41dB.
Also the HDD's head parking is quite audible. The Hitachi-LG DVD drive is generally not too loud. It reaches a noise level of 35.3dB during video playback.
Noise Level
Idle

33.9 / 38.8 / 35 dB(A)

HDD

34.6 dB(A)

DVD

35.3 / dB(A)

Load

0 / 41.2 dB(A)




30 dB
silent

40 dB(A)
audible

50 dB(A)
loud

min:

, med:

, max:

(15 cm distance)
Temperature
The HP Pavilion dv9074cl too gets quickly hot. The slim case constricts the air flow inside the notebook and, so, leads to higher surface temperature. Furthermore, also the second harddisk contributes to the temperature increase.
Upper side
palmwrist: 43.3°C max: 47.5°C avg: 40.8°C
Bottom side
max: 52.5°C avg: 41.1°C
Speakers
The dv9074cl is equipped with Altec Lansing speakers. Despite of low power consumption, their sound is clear and rich, the maximum volume more or less alright.
Battery Runtime
The Pavilion dv9074cl is equipped with an 8-cell battery with a 4400mAh (63Wh) capacity. In practice you can expect a runtime of about two or three hours. Considering it is a DTR with a quite powerful video card, the battery runtime is very good.
Power Consumption
Off / Standby

0 / 0 Watt

Idle

35 / 39 / 41 Watt

Load

83.8 / 75 Watt



Verdict
Much to our surprise, the Pavilion dv9074 with Turion 64 X2 outperformed the dv9033cl with Intel Core Duo CPU in many aspects.
Furthermore, the dv9074 is quieter, gets less warm, but has a slightly shorter battery run time than the dv9033cl.
Its Quanta display is quite bright, with good illumination and good stability to the vantage point.
Many thanks to our partners of Notebookcheck Polen for this review.