More detailed renders of the Lenovo Legion gaming phone leak out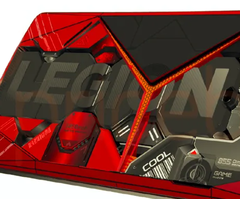 Renders coming straight from the Chinese patent office reveal a transparent case with prominent Legion logo and pulsating red led Y branding. Underneath the hood we can spot what looks to be an active SoC cooler and a 5,050 mAh battery, plus a tri-cam setup with ToF sensor. The renders also show two USB-C ports: one for charging and one for attachable accessories.
Lenovo is among the latest big OEM players to jump on the gaming smartphone bandwagon. Earlier this year Qualcomm revealed that its flagship Snapdragon 865 SoC will power a host of new models, including an unannounced Lenovo Legion handheld. As far as phone designs go, gaming handhelds tend to feature various takes on futuristic tech, and, judging by the latest leaked renders uncovered by Pricebaba, Lenovo's gaming phone appears to put an interesting spin on the established design.

The renders were spotted on the CNIPA website and reveal red and black color variations of a transparent back case that prominently features the Legion branding. We are not sure if this is indeed a transparent case, but underneath the hood we can clearly see a 5,050 mAh battery inscription and a COOL logo that could be suggesting the overclocked SoC comes with an active cooler. To support this, the design also features cooling vents on the top and bottom edges. The bottom edge also features an USB-C connector, and there is an additional USB-C connector on the left edge, confirming the rumor that this model will get accessory support just like the Asus ROG Phone II.

Surprisingly enough, the SoC branding appears to mention the Snapdragon 855 model from last year, so the renders might not be that new. Another element that can clearly be discerned is the tri-cam setup with what looks like a ToF sensor. The patents even include some schematics of the front display with the selfie cam integrated in the upper bezel. From what we can see in the renders, the Y brand integrates red leds and most likely pulsates with some other blue lights around the SoC cooler.