Microsoft's upcoming spring event now has a location and date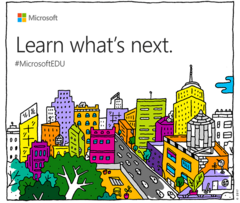 A Microsoft invite reveals that its spring event, which takes place before the Build 2017 conference, is scheduled for May 2 in New York City. It's not clear which, if any, products will show up.
Microsoft's Build 2017 conference is almost upon us, but the Redmond-based company is also hosting another event just prior to it. A recent invite has now provided the where and when for that event: it will take place in New York City on May 2.
There aren't any specifics about what Microsoft plans to show at NYC. Sources speaking to Mashable say that the event will be "consumer-focused and should feature hardware," but will likely not include appearances by either the Surface Pro 5 or Microsoft's rumored Surface Phone. The event's focus on education (the invite features a hashtag labeled "MicrosoftEDU") could mean the debut of a classroom-friendly Surface tablet or, as one rumor suggests, a new, affordable Surface Book. Microsoft could just as well decide to focus on showing off software and leave most of its new hardware for the following week's conference.
The one thing that makes it sound like hardware will be present in some capacity is the invite's tagline, "Learn what's next." Maybe it is suggesting the commercial release of the HoloLens? That's about as "what's next" as it gets. We'll know for sure in a few weeks.