Those interested in a smartphone by the Chinese manufacturer Xiaomi for around $300 to $400 have a number of devices to choose from. In addition to the current generation Mi 9 and Mi 9 SE we can also spot last year's Mi Mix 3 and Mi 8 as viable alternatives.
All Xiaomi devices offer a high-quality case and powerful hardware but how do the cameras compare? At least at first glance all of them were able to produce high-quality photos in our respective reviews. Does the cheaper Mi 9 SE fall back behind its significantly more expensive Mi 9 sibling? How do last year's Mi Mix 3, Mi 8, and Mi 8 Explorer compare to their 2019 successors? We shall find out by comparing various photos taken under different lighting situations.
But first, let's take a closer look at the contenders in question.
Four Cameras, Different Philosophies
All of the contenders for this comparison feature a total of four camera modules. The current generation boasts a triple-camera at the back as well as a single front-facing sensor hidden in a waterdrop notch. In comparison, the Mi Mix 3 features a dual-camera setup on both sides.
The Mi 9's and Mi 9 SE's rear-facing main camera offers a resolution of 48 MP and a wide-open aperture of f/1.75. The Sony IMX586 sensor then uses a Quad Bayer color filter to combine each 2x2 pixel segment into a single large pixel resulting in an effective photo resolution of 12 MP. This so-called 4-in-1 pixel binning can significantly improve light sensitivity in poor lighting conditions. A wide-angle and a telephoto lens offer two different optical zoom levels as well as a customizable depth of field. The latter differ between the two Mi 9 models: While the Mi 9 offers a 16 MP wide-angle and 12 MP telephoto lens the Mi 9 SE features a 12 and 8 MP lens, respectively.
Both the Mi Mix 3 and the Mi 8 feature a rear-facing dual-camera setup offering a 12 MP resolution (4032 x 3024), a wide-open f/1.8 aperture, and optical image stabilization. The Sony IMX363 sensor offers 1.4 µm large pixels. The secondary 12 MP telephoto lens is used for an optical 2x zoom and customizable depth of field.
Rear-Facing Camera
All Mi phones offer a respectable amount of photo presets, such as photo, portrait, and night-mode, in their respective camera apps. In order to ensure comparability all photos taken for the sake of this comparison were taken with HDR enabled in auto-mode with disabled AI. The camera settings were left on factory default.
In order to maintain comparability regarding details between the respective Mi models all photo files are available with their respective photos.
Daylight Photography
In daylight and decent lighting conditions all Mi phones performed similarly at first glance. The photos were crisp and rich in detail. A closer analysis revealed that the Mi Mix 3 had a slightly higher contrast range while the Mi 9 and Mi 9 SE suffered from a visibly decreased dynamic range. In both photos (scene 1) the sky cannot be differentiated from the clouds. In return, the 2019 cameras offered slightly higher levels of details in some photos.
The bokeh effect in portrait mode turned out very well on all four Mi phones, and the blur transitions looked very good. When zoomed in, the Mi 9 and Mi 9 SE showed significantly fewer artifacts than the Mi Mix 3.
We found almost no difference between the Mi 9 and Mi 9 SE. The high-end smartphone's color temperature was somewhat cooler, and the Mi 9 SE's colors were richer and photos sometimes even slightly over-sharpened in return. This was further corroborated by the rest of the sample photos. The wide-angle photos differed significantly, though, and the Mi 9 SE did noticeably worse than the Mi 9 as its photos turned out blurry and pale.
When using the 2x optical zoom all Mi devices suffered as expected. The Mi 9 performed best, followed by the Mi 9 SE and the Mi Mix 3. That being said, the differences were minute.
Twilight and Night Photography
Low-light photography remains the pinnacle of smartphone photography, and even the best camera struggles with low-light scenarios. Most notably the level of noise tends to increase drastically, and photos get visibly blurry. In poor light we found the level of details and focus much better on the Mi Mix 3 than on the Mi 9 and Mi 9 SE.
Thanks to the 4-in-1 pixel binning technology of Sony's IMX586 sensor low-light photos taken with the Mi 9 series generally turn out significantly brighter than those taken with the Mi Mix. However, focus and details suffer significantly. Low-light photos taken with Sony's IMX363 are clearer and higher in contrast. Using the integrated night mode, the Mi Mix 3's brightness approximates the Mi 9 series' yet the latter still performs worse and has to apply a much stronger soft-focus filter in order to eliminate noise. Photos taken in twilight show the same characteristics.
Using the wide-angle and telephoto lenses, details and brightness once again suffer drastically. As before, the differences between the various models are almost insignificant; however, the Mi 9 did perform ever so slightly better than its siblings.
A big issue with the 2019 generation cameras is their inability to focus in low-light situations. The Mi Mix 3's OIS-stabilized dual-pixel autofocus performed much better in these conditions. The Mi 9's laser autofocus was simply too slow and often failed to focus adequately.
Front-Facing Camera
The Mi 9 SE's and Mi 9's front-facing camera is hidden inside the waterdrop notch and offers a single 20 MP sensor and an aperture of f/2.0 while the Mi Mix 3's dual front-facing camera offers a resolution of 24 MP and an aperture of f/2.2. The latter captures slightly less light but offers a 4-in-1 pixel binning combining four pixels into a single 1.8 µm super pixel.
In addition to the aforementioned low-light photography, the front-facing cameras are what set the various Mi phones apart from each other. The Mi Mix 3 offers the best representation of colors but lacks details and focus in return. The Mi 9 and Mi 9 SE performed significantly better in low-light situations. To our surprise, we preferred the cheaper SE's white balance to the more expensive flagship device's. In other words: The Mi 9 SE's selfie camera bested its siblings in this category.
Verdict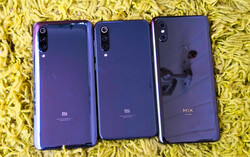 If we limit ourselves to comparing nothing but the cameras between the Xiaomi models selected for this comparison we are in for a big surprise. In daylight, the differences between the two Mi 9 models and the Mi Mix 3 were negligible. However, the Sony IMX363 sensor performed much better in low-light situations and was able to capture more details. The 4-in-1 pixel binning was not particularly good, at least not in its current implementation.
The front-facing cameras performed differently. Here, the Mi 9 SE and Mi 9 outperformed last year's model, and the 20 MP sensors the 9-series is equipped with were able to capture more details and produce sharper images.
In regard to photo quality, the 2019 generation's main camera was a step backwards.
What can we reason from this comparison? If you already own a Mi Mix 3 or Mi 8 then swapping it for a current-generation Mi-series smartphone is not going to improve upon photo quality, quite the contrary. Low-light photos in particular turned out much better with the 2018-generation cameras. A second observation was that the differences between the two 9-series devices were comparatively minor, except for the wide-angle lens. In this regard, the Mi 9 is a significant improvement over the Mi 9 SE.
I have always been very passionately interested in mobile technologies, especially smartphones. Being a tech enthusiast means the half-life of my devices isn't exactly long, and being the latest hardware is not enough to suffice as the manufacturer and operating system play a minor role – the most important aspect for me is that the device is state-of-the-art. After posting for Mobi Test I joined Notebookcheck in 2016, where I have been pursuing my enthusiasm for technology by reviewing the latest smartphone, tablet, and accessory trends.
Born in the United States and raised in Germany I became acquainted with both languages from an early age and turned this into my profession later in life. Computers have always played an important role in my life, and my love for all things digital is a huge part of my daily routine. Virtual Reality has captured my imagination and interest in particular, and I cannot wait to see what the (near) future will bring.