Intel establishing pilot plant to test 7nm manufacturing process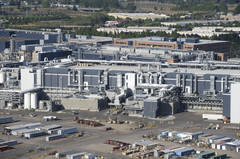 Intel has revealed its plans to pilot 7-nm semiconductor fabrication technologies. The pilot plant will work on perfecting the process over the next few years, and then replicate the process at its plants worldwide.
During an earnings call last Thursday, Intel announced plans to establish a 7-nm pilot plant, where the company would explore the advanced manufacturing process. Intel's current chip platform, Kaby Lake, is built on a 14-nm process. The move to 7nm would allow significant increase in power efficiency and speed over current chips.
Moving beyond 14nm has proved to be quite a challenge for the semiconductor manufacturer. Broadwell, a shrink of the 22-nm Haswell design, was released in 2014. It was followed by Skylake in 2015 and Kaby Lake in 2016. Their upcoming chip, Cannonlake, which premiered at CES 2017, is built on a 10-nm process.
Intel doesn't plan on mass producing 7-nm chips for several years, but it will need a pilot plant first in order to solve issues with production and yield. The finalized production methods will then be replicated for large-scale production at other plants, where billions of chips will be made.