Hands-On: Dell Vostro V13 Notebook
By: J. Simon Leitner 12.08.09
Aluminum for Everyone.

After the hyped-up netbook a slow trend to ULV-laptops is recognizable. These can be characterized by slim case, low weight, and special CPUs which allow the battery life to keep up with netbooks. Dell now launches the V13, which was especially designed for price-conscious business customers and consumers. Because of its case which is completely made of aluminum and an entry-level price below 500 euro the 13-incher could become a hot commodity.

The Vostro series gets an offspring. A slim ULV-model in completely new design joins the models already available for a longer time. Nevertheless, the existing range of models is not going to be changed.
So far there is no information available if further Vostro Vxx models are planned. Although, the name raises speculations that new family members might follow, there is no evidence so far.
Case & Design
Let's start right away with the most important change compared to the hitherto existing Vostro models: The Vostro V13 is completely covered by aluminum. So, it does not only look attractive, but, can also score with a particularly stable case, which is already apparent in the pre-sample. When handling with the notebook it hardly gives.
In general already the prototype reached a high level in terms of workmanship. Subjectively, the new model outstrips the existing Vostro laptops by all means.
Let's continue with the facts: Just 16.5 millimeter height and a weight of 1.6 kilogram (data according to Dell) let the 13-inch notebook nearly play in the netbook league. However, the clearly bigger and therewith user-friendlier input devices and the bigger, more ergonomic display bring about a clear advantage.
The design of the hinges is also striking. In the style of the Adamo series, the hinges were moved to the upper side of the base unit, so, allowing interfaces at the rear side. The folding mechanism also appears to be stable and durable. According to Dell the hinges were reinforced by zinc.
Connectivity
All interfaces are on the rear of the notebook. From left to right: a LAN RJ-45 port, an combined eSATA/USB port, a further USB port, an analogue VGA-out and the power-in. Well, that is all except of the audio-ports (headphones, microphone), which are in the right area of the front edge.
On the right side, a 34 millimeter ExpressCard slot and an SD cardreader (5in1) are offered. In favor of a slim case a built-in optical drive was omitted. An integrated 1.3 MP webcam with integrated microphone should also belong to the standard equipment.
The offered communication modules are also fascinating. Besides Gigabit Ethernet and WLAN, optionally Intel 802.11 a/b/g/n or Dell 802.11b/g, the V13 also comes with Bluetooth 2.1 on board ex factory.
Europeans will likely appreciate the UMTS option. At a surcharge you can opt for the integrated Dell 5540 modem and won't need to carry a USB-Modem with you any longer. Customers interested in 'mobile broadband' should really consider this option, because there are only two USB ports available, and both of them on the rear side. However, it's still not clear how much Dell is going to charge for this upgrade.
Shouldn't there be any improvements compared to the test sample, the connectivity is also the first aspect which raises criticism: A digital video interface would be great. It's to be seen in the test how well the VGA-port can drive external high-resolution displays. A docking port, which could improve the poor connectivity at least in stationary operation, would also be desirable. Well, somehow the clearly more expensive Latitudes have to stand out...
Input Devices
As the test sample came with an English key labeling we cannot say much about the German layout. Because of the big keys in the area of the one-row enter key, we hope for a two-row enter key in the German version. But, also the other keys of the keyboard in 'chocolate' design were quite big. So, extended type-writing should be trouble-free.
Alike, the touchpad is generous. The size of the input area is sensible and its comfortable surface proves good gliding traits. Its buttons responded precisely too.
Display
A 13.3-inch WLED display with a resolution of 1366x768 pixel and, believe it or not, matte surface, makes up the important user interface. Compared to the competition in the entry-level business segment, the V13 stands out here.
In particular users who want to use the laptop on-the-move and, so, cannot pay much attention to ambient light, will profit from this feature. Reflections and mirror effects are refracted and diffracted by the matte surface and, so, less disruptive. This reduces the stress for the eyes and allows working with the laptop for a long time.
Performance
What's now to be found under the hood of this small companion, the Dell Vostro V13? As a representative of ULV laptops, such CPUs from Intel are used. At the time of writing Dell lists an Intel Celeron 743 CPU (1.2 Ghz, 1MB L2-Cache, 45nm, 5W TDP), an Intel Core 2 Solo SU3500 (1.4 Ghz, 3MB L2-Cache, 45nm, 5W TDP) and at its best an Intel Core 2 Duo SU7300 (1.3 Ghz, 3MB L2-Cache, 45nm, 10W TDP) CPU.
Depending on the selected processor you can expect base functionality up to a respectable office performance with the two-core CPU. However, the CPU has not only an impact on the performance, but also on the price. While Intel lists the Celeron ULV CPU at 107 dollars, the SU3500 costs 262 dollars and the price raises up to 289 dollars for the SU 7300. It's going to be fascinating how Dell will charge for each option.
In any case, a dual-core CPU seems recommendable as it promises a smooth run of usual office applications. Especially when multitasking, it will be more powerful than the actually higher clocked SU3500. In terms of battery life the Core 2 Solo chip might be the best choice. Details will be clarified in a comprehensive review to follow.
An integrated Intel GMA 4500M HD graphic chip is responsible for calculating pixels data. Despite being optimized for low energy consumption, it offers sufficient power for a trouble-free office use.
Although it's not really designed for computer games, some older games might run at low demands. More information about this is available in our gaming list.
We should also note another aspect of the Dell Vostro V13: RAM. Dell specifies a maximum of four GB DDR3 (1066 MHz) RAM. The Intel GS45 chipset, which is used in the Vostro V13 only offers a single RAM slot. This should not be obstructive, as Dell's data sheet only mentions 32-Bit operating systems so far. Two GB, should be sufficient for office applications under Windows 7 anyway. As alternatives Windows Vista or Windows XP (downgrade) or Linux Ubuntu are also supported.
Now, only one component we missed so far is left, the hard drive. Dell lists standard hard disks with a capacity of up to 500 GB and a velocity of 5400 or 7200 rpm.
Mobile user might miss a solid state drive. But, up to now such are not mentioned. Furthermore, maintainability of the components has to be considered. We could not find any maintenance opening in our pre-sample.
Battery Life
In mobile laptops battery life is an important aspect. Even more, if the battery is fixed. That is not replaceable by the user as in some Apple notebooks.
Whether such a solution is sensible is to be discussed. Definitely you cannot expect any other options besides the 6-cell battery with 32 Wh capacity in the short run.
Anyway, how much battery life can be expect? Well, according to similarly equipped laptops of this category we can assume an energy demand of about 10 Watt during typical office load. This would give a battery life of about three hours. Depending of the actual work load the battery life can be longer or shorter. Nevertheless, it's quite unlikely that the V13 is comparable with endurance specialists of the netbook category or some slim series (Acer Timeline, Asus UL-series) in any way - at least if Dell sticked to the battery solution of the pre-sample. If in doubt: Our comprehensive review will clarify it.
Verdict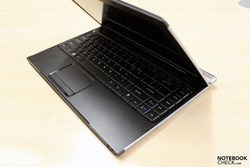 Beside the existing 'low-cost' models of the Vostro series Dell positions the new Vostro V13 as high-quality solution for SMBs and consumers who focus on a good price-performance ratio, but do not want to waive elegant design.
It actually offers a stable and attractive case, which is fit for mobile use. The connectivity is in one word rather meager, but should, nevertheless, suffice mobile office use.
Even if we do not have measurement data so far, we can say that the display stands out. Its matte surface supports mobile use. Something other so-called 'mobile' laptops lack.
We expect a performance typical for ULVs, which suffices depending on the actual configuration light office load. Because of the fixed battery, you should always care of the energy demand. Otherwise, the highly praised mobility might quickly and ingloriously end. Of course we already ordered a test sample for extended testing.
Finally the price might be a decisive criteria for many potential customers. We have good news: The entry-level model should be available for less than 500 euros (including VAT). With dual-core CPU from Intel you'll need to spend about 200 euros more. Details are available in Dell's online shop, which should list the Vostro V13 soon.