Column: Reader mails, the third ruthless rehash
by Stefan Hinum 06/13/2010
Working For Notebookcheck
Are you a loyal reader of notebookcheck? Are you a techie who knows how to write? Then join our Team!
Especially wanted:
English-Swedish-Translator - Details here
Review Editor - Details here
News Editor - Details here

"hi and do not tired" – Yes, I know. I am an abysmal person. Two readers have complained about how hideous I am to make fun of people who write us mails, after my last column about the mails that our readers have written. I am not going to make excuses by saying dozens of people are begging me to finally write a new editorial. The real reason for the "Battery shop in Lesotho" column series is simply – that's the way I am! When I read some of the mails, I have the compulsion to share the "pleasure" with others. I know. I'll go to hell for that – but no matter, I'll be meeting many old acquaintances again (there we go. The next faux pas right away – hurting religious feelings…).
The last time, a complaint came in stating we hardly list mails written in German, and racial motives were implied. Well, it is true that there are hardly any German quotations this time, but for other reasons: First, we have a longer English language range and second, we have a forum in German where many such inquiries are made (and also better placed). We unfortunately don't have any forums in foreign languages, and that's why people simply contact us in other languages via mail.
For a refresh, the following note is found in every language section in double font size, bold and directly over the contact input field: "Sorry, we can't give technical advice via mail. Neither will we provide any information about where notebooks or laptop components can be bought, nor do we sell these products ourselves!"
Those who ignore this are fair game for this column series, no matter how disadvantaged for whatever reasons this person may be.
Category: Desire to buy
Let's start with the standard purchase inquires, as we repeatedly receive:
"Hello, i am Andreas from Cyprus. I wanted to know if its possible to order a laptop from there and send it to me in Cyprus."
"i requird Fujitsu Siemens C1410 Battery in pakistan plz send me your price "
"Hello Dear Sir,
Would you please send us a copy of your price list
(CIF Jebel Ali -ship By air)about these items as below:
Notebook
------------------
DELL 1520
DELL 1320
With all config.
The minimum order will be 100 set."
It always fascinates me that someone wants to buy bulk amounts of something and doesn't even inform himself about whom he is sending the purchase inquiry to. I guess they are double dealers who send a lot of these mails with the intent to rip off naïve sellers blinded by greed in view of these large order figures.
"i want 'dell Latitude5400 battiry'"
Short, to the point and futile.
"how much can i pay to buy a Toshiba-Satellite-L505-13V to get it here in Egypt"
Well, ask in the next tourist shop in the Valley of the Kings (Yeah, the comment is rude and appears to have latently racial motives).
"AMIGO ESTOU PRECISANDO MUITO COMPRAR UM NOTEBOOK ACER 5740-6979 QUAL SERIA O PREÇO TOTAL CHEGANDO AQUI NO CEP 58040-090 NA PARAIBA - BRASIL
VEJA UM PREÇO LEGAL"
He wants to buy the above mentioned Acer model in the Brazilian city of Paraiba and he wants a "legal price". Darned it, legal prices? Where will that lead to. Not with us!
Dear Austrian tax office and trade control,
The latter statement was a joke; please don't order a company audit right away.
"Hi..
Some days ago i sow a ad about the Dell Adamo XPS and the store where you could buy it.. now i can't find it or the store name.. if you now the name i would be greatful i you could send it to me.."
Advertising for a non-existent shop would be a prime example for a poorly considered advertisement.
"quiero saber como puedo comprarla"
Translation: "I want to know how I can buy it." – That's all, folks.
"like buying a product with this company"
I want many things, too…
"hello,i am from romania ,end i like to now if i can buy hinges for a acer aspire 9410.if you have a phone namber her in romania ,please giv to me.tanks"
Hello, Notebookcheck Spare Parts Department? One set of hinges, please. But fast this time!
"Tiene la latitud E6500 puerto serial"
Translation: "I have a Latitud E6500 serial connection" Well, congratulations from my side. Maybe he just wants this answer?
"I am looking for motherboad new ASUS F£T.
I am in Malaysia Give my the price in RM."
I had to Google for that. Malaysian currency is called "Ringgitt", colloquially also known as "Malaysian Dollar". Now, we've extended our knowledge. However, Google couldn't find the model's name.
"plz send pci interface cards available in indian market.and also their prices in inr"
I didn't have to Google for that. Rupee is the currency in India.
Originally in German: "Hello!Have a laptop FujitsuSiemensAmilo 1650G
Model nr. M 52174
Serial nr. YSOB 0313198
Please, send me the price for a keyboard in the German language."
Naturally, we have the matching keyboard for hundreds of current laptop models in all languages. I would however sooner recommend a Bavarian keyboard with "okee dokee" instead of the disdainful "Enter".
Category: Purchase Advisory
Originally in German: "Hello, I know that you don't offer a purchase advise but I am forced to ask you for help because of your very expert and independent way of presenting notebooks on the internet I want to buy a new notebook and would like to ask you to limit the number of vendors it should be a 15.4 inch have a good and reliable technology as well as service you should have a processor i5 or i7 four-core and hard disk SSD so something modern I would be very pleased if you could help me with this issue it isn't a purchase advise but tips to support a not expert a bit thank you for your effort and a mail soon."
…and I am forced to deny the sales consultancy via mail, even if it is addressed at "not expert"
"heya, why is to low price this model notebook, Sony Vaio VPC-EB1S1EWI , what less likely to have ?! Tanx"
Sony's Marketing Department is trying to score secretly with surreptitious advertising of popular products.
Category: Manufacturer's Support
Originally in German: "I have acquired an Aus PC, Microsoft told me that I need technical support to license Windows 7 Ultimate
My product ID is …
My telephone number in case of questions…"
Sure, our Company's name is "Notebookcheck Microsoft Support GmbH". And no – we don't give away Windows' licenses.
"bought a unit in hongkong AND ended up with a mandarin brochure. Is it possible to get a brochure for ideapad 10-3. thanks"
I found Mandarin brochures in our store houses written in a simplified and traditional language. Now I only have to find out which of both he needs and I'll naturally send it out immediately…
Originally in German: "Hello, sent my Eee PC in for repair on 01. 13. 10. According to DHL No.: 25.4970045551, it has been delivered to you. Could you confirm this via email?"
Oops, I wasn't supposed to sell the laptop in the second hand shop…?!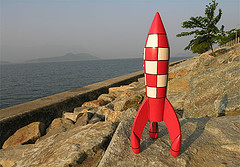 "Hi Dell,
I was in Haiti with my Vostro 1710, in the night saturday at 3.30 AM someone rob it.
Now, i take some informations about. If i don't have luck to find it, could you destroy it for me, but it has a lot of thing in the Data D."
I might not be Michael Dell, but I wouldn't mind having his fortune.
I've asked the writer if he doesn't want to reconsider his message but he underlined the destruction order the second time.
So, first thing, I commanded our Notebookcheck Secret Service Department to pinpoint the notebook via satellite. I had the intention to delete all data after the device's localization via remote control, but Dell first gave us a contract with permission to access data memory of all Dell devices worldwide after this incidence. Following detailed discussions, we have asked the Austrian military for support and ordered the laptop's destruction with an intercontinental missile.
Originally in German: "Please name a site where the keyboard for my netbook, model PP 19S, is explained."
I entered "PP 19S" in Google and got a lot of results for a Russian sub-machine gun.
"Are you support in windows7 in Acer emachine e725, all component in working"
If all components are working, why does he need support? If someone now asks for Windows Vista support, I'll get nausea.
"i had hp pc ,i put it password on baioos ,i did not remmber this password,how i can solve this problem?"
I would recommend memory training and many hours of trial. Hackers find all matching passwords within 2 minutes in many Hollywood movies, so it can't be all that bad.
"i have labtop dell workstatiton precisionm6300 and ihave aprolem on the bios version i am change abios and make bathword on the bios and i forget the bath word what can ido iwant to change opreating system thank you"
I had to disappoint him, too. I'm not in possession of his password, either. By the way, when I Google "forgot bios password", I find instructions on how to solve the problem right away. But why should you do any research yourself, if you can randomly pass the problem on to someone else?
"just buy aspireone 531h.in jakatra,indonesia.but i have not got operation system and hard disc truly i dont belive it and how come,please respond my problem.tqu vr much"
You should first marry a woman when you've first taken a closer look at her and also buy notebooks after you've seen the configuration specs. But this valuable sales advice is also not to be had via mail.
Category: Error Reports
"I would like to receive a manual re: my notebook, which I didn't receive when I purchased it. Also, I would like to know what causes the screen to jump when it is turned on."
Jumping displays – that would have been a nice Monty Python sketch.
"My stupid brother broke my E: drive and I need it replaced. How do I get this started?"
He could start by disciplining his brother.
"I tried to turn the sound up but have lost it all together now. Its my fault I know but can you held me get it back."
Oh dear. He's lost everything. Money, house, wife…
Category: Basic Computer Training
Originally in German: "How do I sort the addresses
alphabetically in the address book in mail on the Lenovo G550?
These are the cases, where once you start helping, you just can't stop.
"My home key will not take me to my home page, how can I fix this."
Call the locksmith? Ok, ok, he probably means the home key, which he hopes has a special function…
"where do I hook up a printer"
Would it be insensitive of me to think that he will have even greater computer problems than finding a printer port?
"i want uninstall your program from my lap top how do i do that"
Wait a second. We subsequently received a second mail from him:
"your program is in my lap top i want it out the program is call intel extreme graphics 2 how do i uninstall"
Incredible, he has actually achieved topping his first message.
Miscellaneous
Originally in German: "I am an Zouth African
I understand German.
My English is very good.
I am a electronic engineer.
Wat you want to know more?"
I guess that was supposed to be a job application. Regrettably, we didn't have a vacancy.
"hey...i am from pakistan. i love your website. i visit your website daily. because i am a big fan of notebooks. your website provides reviews of popular notebooks.. but i dont have money to buy laptop.. please you have alot of laptops.. i love asus G73 or asus N71 laptop. please can u send me any gaming laptop..i will be very thankful to you. i dont have money..i am a poor man..pleas edo me this favour. i need gaming laptop. please help me."
But unfortunately, we are greedy, tight-fisted, neo-liberal, capitalistic entrepreneurs, who bathe in gold in humongous, steel cased treasure vaults. By the way, he'd probably be surprised how few gaming notebooks we call our own.
"hi and do not tired
i have a question,your site is very good but is not up to date,i want to know why?thanks"
I really do get tired from some mails.
Originally in German: "Dear sir or madam,
Please send us your media data for next year, 2010. Many thanks in advance.
Kind regards"
We received this message in 2009 from an esoteric freak, who had seen the movie series "Back to the Future" one time too much.
"I love your site, I regularly use it as a reference to laptop video cards. However, you gave ALIENWARE, MACBOOK AND VAIO the highest review scores? Seriously were you paid by those respective companies? It is common knowledge everywhere that those 3 brands are the most overpriced pieces of junk on earth."
Well, the Marketing Departments of Alienware, Apple and Sony won't be too pleased if they happen to read this. But why should we care. Our treasure vault with the mountains of gold has been funded by those three companies. However, I ask myself if hardware sites that maintain hardware shops (and those are the majority) receive similar mails, in which impartiality and objectivity are questioned.
And now you can herald how mean and hideous I am in the forum.