Column: Netbooks for Gamers
Wishful thinking or already reality?

It's but just a year ago that Asus had triggered a wildfire with their original Eee PC, the 701 4G, in the notebook world. Looking back, it was just at the right moment as the economy crisis put both the manufacturers as well as the consumers under pressure and helped thrust the low-priced tiny tot to a meteoric ascent. Now, it's hard to imagine a life without netbooks. But - what does it look like in consideration of computer games?!
Who invented it?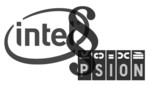 It's a general opinion that Asus created the netbook category with the first Eee PC. It is beyond any doubt that the Taiwanese manufacturer represents a significant part in the mini-notebook's success as a trendsetter. A generally less well-known company with the name "Psion" had already nominated one of their mobile computers as "netbook" several years earlier, which ultimately also brought a wave of lawsuits against manufacturers and media. Nothing has yet been decided and the mites may further on be flagrantly called netbook or mini-notebook.
A distinction to the classic notebooks is made primarily in the display size. As a rule, screens with up to a 10 inch screen are netbooks, whereas subnotebooks start at a 12" display diagonal. A thorn in the side for members of the writing press, as these boundries are becoming increasingly blurred. For instance, many manufacturers include netbook hardware in 12" notebooks. The rapid development of processors and graphic chips also give hope for a well and truly performance increase of mini-notebooks, but which has occasionally not been promoted, for let's say, retailing reasons.


Atom-Power is hot

If you dig around in the data sheets of current netbooks, it soon becomes obvious that the leading manufacturer Intel has the final word in view of the applied processors. As the first netbooks were equipped with "exotic" chips, like those from VIA, Intel quickly realized the potential of the mini-notebooks and developed a small, energy saving chip with the Atom-CPU, which should have sufficient performance reserves in order to run common operating systems and applications, anyway. With this, nothing stood in the way of the netbook's continued success.
Currently, the Atom N280 chip with 1.66 GHz and 512 kilobytes L2 cache is found utilized in most devices. The well-proven Intel GMA 950 graphic chip set predominately takes care of graphic issues, and distinguishes itself through its low power consumption of merely a few watts. This will probably conjure an ironical smile to the faces of hard-boiled gamers, but let's turn back the clock a bit, to about 2001/2002, to the launch of Windows XP, which hasn't only built a solid base in netbooks. This was the era of the mobile Pentium IV for notebooks, even before the revolutionary Pentium M models. If you look more closely at the chip's key data, the latest Intel Atom processor does gain somewhat impetus. Completely disregarding the lower cooling efficiency and power consumption. The question of which games then are "playable" on current netbooks can therefore be answered easily, even if unsatisfactory for many: Every game that also ran on average mobile computers about 7 years ago.


Gaming like in the past?
Do you remember with what you burned the midnight oil on your first Windows XP system? Here are a few striking names to help you on the right track: Diablo 2, Warcraft 3, Need for Speed Hot Pursuit 2, Counterstrike, Quake 3 Arena, Unreal Tournament. And, does it ring a bell? There are a few exciting names among them, which rightly tickle the senses of passionate gamers even today.






The practical test on a current Atom N280 system quickly lets high expectations on performance and graphic quality go up in smoke. Whilst 3D intensive games like for instance Warcraft 3, Diablo 2 or Sim City 3000 still run very smoothly at well-considered detail settings, in particular representatives of the shooter gender can only make it with lowest resolution and smallest detail level. Wolfenstein: Enemy Territory would be an example to be mentioned here, which barely delivers a sufficient performance in order to be at the very least competitive at the next oc.at "gaming-night" with about 15 frames per second (fps), at a resolution of 640x480 pixels and lowest possible details. Need for Speed - Hot Pursuit 2 cuts off a bit more convincing. The racing game can be played very smoothly at approx. 30 fps with minimum settable graphic requirements. The game's look fall by the wayside.
It doesn't look much better with the more current games, like the online racer Trackmania Nations. A performance of 7-27 fps could be noted on our test platform with the Intel Atom N280/GMA 950 hardware, which will include obvious studderings. We also followed the performance test of Counterstrike 1.6., the latest edition of the multiplayer-shooter, with anticipation. The frame rate remained within the range of 15-30 fps in the online multiplayer match at equally minimum graphic settings (640x480). But we weren't really incapable of competition (probably also due to the lack of gaming experience). The given performance was adequate for less demanding pastimes with a few "lucky shots", though.


It's all about WoW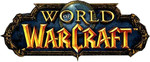 One central subject currently occupies the gaming world: Will World of Warcraft (WoW) run on netbooks, or won't it? As one of the most successful up-to-date multiplayer online games, of which the hardware requirements turn out almost modest in comparison to a few current shooters, this question is quite justifiable. Not least, as there are a row of quests in the gameplay of WoW that the gamer has to tackle, and are possible even at a low frame rate. No sooner said than done, and after a bit of waiting time, we found our character in the world of Northshire Valley once again.
The summary of our test system turns out as less than satisfactory, though. Fraps establishes a frame rate between 0 and 17 fps at a discovery hike through the forests, hence reoccurring short interruptions. It looks significantly better in interiors, though. A good 30- 45 fps could be observed, which adds up to a reasonably smooth presentation. Generally, this is enough to execute undemanding gaming actions, but performance-prone operations up to combats with flashing-fuming special effects are definitely not to be recommended. It therefore depends on the user's requirements, if the performance with WoW can be called just still adequate or entirely unsuitable. The current distributed netbook basis with Intel Atom N280/GMA950 is barely suitable for an advanced gameplay.


Pump it up!
The Overclocker-Community is probably screaming for various tuning measures in view of the rather meager performance return. However, caution has to be taken: As a rule, netbooks often barely have any reserves for the higher temperatures caused by overclocking due to their compact design and cooling system only construed for low loads. "Well, that's all no problem with liquid nitrogen." - many might think. As confirmed by various online reports, this is very well possible. Venturesome tuners are supposed to have squeezed up to 2.385 GHz out of an Intel Atom N270 CPU based on the MSI Wind U100 platform. That netbook typical user-scenarios aren't very well implemented with nitrogen filled copper bottles on the pc board should be clear. But anyway, Asus, for example, uses the very available potential of the Intel Atom CPU and makes a maximum clock rate of 1.75 GHz possible via its own tool "Super Hybrid Engine", which is an increase of +5% in comparison to the standard clocking of 1.66 GHz, all the same.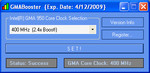 The onboard graphic chip Intel GMA 950 also offers reserves, which runs with a clock rate of 166 MHz in connection with the Intel 945 GSE chip set, instead of the standard 400 MHz. A freeware tool with the name GMABooster is used to raise the decreased clock rate to the actually possible 400 MHz again. A decisive advantage of this performance increase is that this has barely any, to only a low effect on the power consumption or rather the heat dissipation of the graphic chip and can generally be used in all netbooks based on the GMA 950. Our Acer Aspire One 531 test range could be discreetly tuned in this manner. The result in the WoW performance test fell short of our expectations. At least the previously observed interruptions ceased with a noted 11-18 fps in several test runs. You can only talk about a visible performance increase to a limited extent.
A further alternative to extract more efficiency from your netbook would be to completely deinstall the numerous, often useless and barely applied services, with which some manufacturers flood the mini-notebooks. The tool "PC Decrapifier" could be helpful with this. However, this won't provide for a spectacular frame rate increase in the diverse games.
Netbooks for gamers and for others...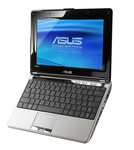 What does the market have to offer on netbooks and gaming capable mini-notebooks? That you can't really speak about gaming suitable netbooks with Intel's Atom CPU and the GMA 950 graphic solution is shown by the tests above. Beside the Intel platform, there is isolated hardware implemented from other manufacturers. The new HP Pavilion dv2 could be mentioned as an example, which promises more performance with an AMD Neo CPU and Radeon Xpress X1270 (WoW ran with 17-29 fps at min. details), with a 12" display and a weight of approx. 1.6 kilograms, but is placed one category over netbooks. The price of about 600.00 Euros also reflects this. Subnotebooks at bargain prices, such as the FSC U9200 with a Pentium Dual Core CPU and GMA X3100 graphic, proffer a slightly better gaming performance than the typical netbook representatives, in the case of WoW about 19-20 fps.
The title Most Efficient Mini-Notebook is currently given to the N10J from Asus. With a 10.2 inch LED display it shows the classic netbook format and has, thanks to the Geforce 9300 M GS graphic combined with Intel's Atom N270 CPU, a solid base for games. Reports from users, about the device placed above the common netbook price range of around 600.00 Euros, certify the N10J good results in the benchmark tests, but the built-in Atom CPU is detected as being a bottleneck in practical gaming. World of Warcraft can be played fairly acceptable at moderate graphic demand, but it's still a far cry from cheaper multimedia starter notebooks. At the moment, you can probably first start speaking of adequate gaming power at 13 inches, whereas LG cracks current game tracks with their P310, equipped with an Nvidia Geforce 9600M GT graphic.


Verdict

Netbook and gaming are not inevitably two completely incompatible terms, but it does depend strongly on the individual notion of the broad term "gaming", and if you can draw up a positive or a rather unsatisfactory summary in view of this. Generally, it can be said that older games, as in the time of the launch of Windows XP, run reasonably tolerable - at least at low graphic settings. Present-day games are a bit too much for the mini-computers, even for the efficient representatives among these. Also, you quickly move in price regions where low-priced multimedia notebooks, which easily top their little siblings in regards to performance, can also be acquired. So the only other option is to set on upcoming technologies, like Nvidia's ION platform, which give hope for a performance thrust in the low-priced netbooks. However, till then the offered processors still have to gain a bit on power in order to give a balanced relation in combination, and not to end up surprisingly as an invincible bottleneck.
Tip: Helpful tools for your netbook