Computex 2018 | Asus reaffirms Gal Gadot as their brand ambassador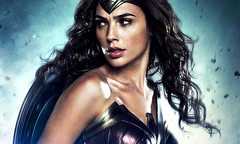 "Wonder Woman" and "Asus" come together like peanut butter and jelly. The titular actress was appointed to brand ambassador for Asus PCs early this year and Asus is leveraging that fact again for Computex 2018. The move will hopefully boost Asus' public image to ultimately sell more PCs worldwide.
Aside from the slew of new Asus announcements at Computex this year, the PC maker is still planning to boost its marketing reach and image moving forward with celebrity endorsements. The manufacturer first announced Gal Gadot as its new "brand ambassador" for ZenBook and VivoBook products in March and it is again reaffirming the partnership in all its press material.
The concept of brand ambassadors and celebrity endorsements are nothing new. Lenovo, for example, has been partnering with at least two celebrities including Ranbir Kapoor and Ashton Kutcher for various product development and marketing tasks while HTC pulled in Robert Downey Jr. to help advertise its One series of smartphone back in 2013. Dell in particular employed Tom Holland and Paul Rudd to make appearances at CES 2017 and CES 2018, respectively. In Asus' case, the partnership allows the Taiwanese maker to use Gadot's likeliness in posters, commercials, press events, and other advertisements to help sell its products.
Asus is clearly taking advantage of the worldwide Woman Woman phenomenon that will only become bigger once the inevitable sequel begins to take shape. There's no doubt that the marketing appeal for Asus products has just received a much-needed performance boost, but we'll have to wait and see if the crazy ZenBook and AI concepts can actually resonate with press and consumers.