Anker PowerCore Speed 20000 PD Review
Design and Build Quality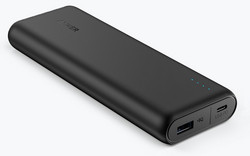 Design-wise, the matte black power bank is fairly simple yet surprisingly appealing. The blue USB-A port and the four blue status LEDs are the only optical accentuations. The matte plastic feels great to the touch but is not particularly scratch-resistant. In addition, the edge on the side is not perfectly flush. Overall, the power bank is firm and strong and does not creak when compressed.
Ports
As is quite common for power banks, Anker's PowerCore Speed offers a USB-A port for charging devices with up to 10 W (5 V, 2 A). The second port, a USB-C port, is used for charging the power bank, but also for providing more power hungry devices with, well, more power. According to the manual, it supports up to 30 W of power delivery: 5 V/3 A, 9 V/3 A, 15 V/2 A, 20 V/1.5 A.
Teardown
Unfortunately, our review unit's USB-C port broke a few weeks into our tests, and we were unable to charge the power bank henceforth. On the plus side, this meant that it was open for disassembly. We are certainly not experts when it comes to power banks, but it looked fairly decent on the inside, where we found six LGGBF1L1865 battery cells. According to our research, these should be 3350 mAh 18650 battery cells made by LG Chem. The cells are glued to each other and into the case, and seem very stable and rigid. A temperature sensor that shuts off the PowerCore at 60 °C (~140 °F) or more sits right above the battery cells. The ports are connected to two stacked PCBs. The 100 35V PH739 capacitors seem to be of questionable quality according to some older sources (see for example Tomshardware).
Real-World Experience: Smartphones
In the course of its life, we have charged various devices with the power bank - from Apple's iPhone X to the Nvidia Shield Tablet or the Motorola X Play - and have never encountered any problems at all. The iPhone X was charged via the USB-C port and started out at 8.9 V and 1.6 A (14 W) but eventually settled at 5.26 V and 1-1.1 A (5.3 - 5.8 W). Accordingly, the power bank's 72 Wh capacity should be more than enough to charge the iPhone X's 10.35 Wh battery multiple times. According to Anker, an iPhone 7's 7.5 Wh battery can be charged up to six times (which would result in 45 Wh total capacity). Extrapolated from this manufacturer information we should be able to charge the iPhone X 4-5x. Despite support for QuickCharge 2.0, the Moto X Play was only charged with 5.8 W via USB-C.
Charging Notebooks via USB-C PD
More and more notebooks are equipped with USB-C and support for power delivery (PD). Accordingly, the PowerCore should be capable of charging these notebooks as well. Unfortunately, the experience turned out to be a mixed bag of sorts. Due to its rather low power of only 30 W many notebooks completely refused to charge. In our tests we were only able to successfully charge a 15-inch MacBook Pro with the PowerCore. Not only was it charging, it also kept its charge level at 100% while we were using it. This obviously changed with more demanding tasks, which discharged the internal battery to ensure proper power supply.
Our experiences were much worse with other notebooks, such as the Eve V. While we were using the device, it kept flapping between "plugged in" and "discharging". Consequently, we were only able to charge its battery in standby or when completely powered off. Our colleague "Technikfaultier" tried charging the XPS 13 and Xiaomi Air 12 to no avail: both devices failed to recognize the external battery at all. It worked well on the MacBook 12 though.
According to the specifications, the higher capacity PowerCore+ 26800 is not more powerful than our review unit at hand. We were thus not able to charge any notebook other than the MacBook Pro.
Verdict
Despite the broken USB-C port the Anker PowerCore Speed 20000 PD left a very good overall impression. Touch and feel, looks, and build quality were decent, and it seemed to be very well-built on the inside, too. It reliably charged smartphones, tablets, and Apple notebooks in our tests and even supported fast charging the iPhone X at higher voltages.
Its usefulness for charging Windows notebooks was severely restricted though. Many manufacturers configure their USB-C ports in firmware to ignore low-wattage power sources. It would thus be highly advisable to make sure your notebook supports charging from low-wattage power sources beforehand.
Born in the United States and raised in Germany I became acquainted with both languages from an early age and turned this into my profession later in life. Computers have always played an important role in my life, and my love for all things digital is a huge part of my daily routine. Virtual Reality has captured my imagination and interest in particular, and I cannot wait to see what the (near) future will bring.