Review Wacom Bamboo Stylus Pen iPad
A vast number of assorted input pens are available for the iPad and other tablets in the meantime. In addition to price and design, the existing devices mainly differ in the used pen tip. Here, they can roughly be categorized in two groups: the first have a rounded ball-like tip and the second have a beveled shape. Arcane alternatives with a brush-like shape or with a sponge-like surface are also available. But they are usually only suitable for special sketching or painting jobs.
General
Wacom's Bamboo Stylus Pen belongs to the group with a rounded rubber tip and can therefore be used for various tasks. The very well-manufactured stylus is pleasant to hold thanks to the beneficial top-heavy weight distribution and confirms the optically high-quality looking impression. The combination of matt aluminum and a black center part is appealing. The pen's tip is exchangeable and the clip at the back prevents it from falling out of the shirt pocket. Alternative tips are not yet available, but would be a welcome expansion option.
The aforementioned solid material quality can however also have a negative impact, depending on handling and managing. The stylus resting on an iPad, as seen on the manufacturer's product pictures and on ours, will hardly be seen in reality because the risk of scratching is too high. It can even happen that the edge where the rubber tip is inserted touches the display while sketching, shading or writing at a narrower angle. This could cause the one or other scrape. That could also happen when the tip is pressed harder on the screen, like children tend to do while drawing. Care has to be taken here. Children have to be attended to, or the option of a display film should be considered. It serves as a protective cover and should prevent direct damages on the display. The film could however have an impact on the responsiveness of the capacitive surface and thus not come in question for every user.
Apps (iOS)
The app, Bamboo Paper, belongs to the stylus and is available for free in the App Store. It basically includes the functions of a notepad and you can choose among ruled, quadrille ruled or unruled sheets in various colors and pen tip sizes. Notes can be sent and saved or transmitted to a monitor or projector via an adapter. Sketches and memos for which this app has been conceived are quickly and intuitively jotted. However, this app is hardly suitable for longer, handwritten text, letters or lecture notes because there is simply too little room for so much text on such a sheet. Just like on a notepad. The apps, Paperdesk or Penultimate, could be an alternative. They can be found in the App Store among various other applications for stylus inputs. For example, Sketchbook Pro is a circumferential sketching program and Inspire Pro is a useable drawing program that even goes beyond the iPad's desktop resolution of 1024x1024 pixels. Wacom has made a list of apps that work particularly well.
Accuracy
The stylus tip's accuracy is sufficient for many tasks. The use of buttons, creating handwritten notes or sketching is easy. However, continuing fine lines or dots hardly works perfectly on the first try. You can thwart this a bit by zooming in – if that is supported by the app – but it won't be enough for perfectionists. Ultimately, those are technical limits that the resolution and a capacitive surface include. This is also occasionally the reason for incorrect inputs caused by resting palms or fingers swiping over the screen. The capacitive touchscreen can't discern between hand and stylus. But those are problems that all iPad pens have to struggle with and isn't a peculiarity of the Wacom Bamboo stylus.
However, a greater peculiarity is the very self-confident price design. While the competition are all in price range of somewhere between 7.00 and 20.00 euros, Wacom currently demands just under 30.00 euros in its own online shop for its alternative.
Verdict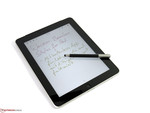 The Wacom Bamboo Stylus for iPad is a well-manufactured input device that works well and that can complement an iPad's functionality in specific tasks pleasantly. The accuracy is sufficient for many applications and is ultimately limited by the iPad's hardware. The exchangeable pen tip and the removable clip are convenient. However, you have to take care when the stylus' massive case touches the screen's glass surface. If the fall is too heavy or happens in an adverse angle, the screen can be damaged. A display film could remedy this, but would also additionally boost the ambitioned price of currently 30.00 euros.